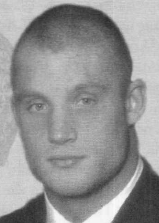 Nationality

United States

Position

ST, OLB

Birthday

2/7/1984

Hometown

Avon Lake, OH

High School

Avon Lake

Height

6'3"

Weight

240

Current Team

Ohio State

Seasons

2002, 2003, 2004, 2005, 2006
Major: Consumer Affairs (2004-06), Undeclared (2002-03)
Weight: 248 (2004-06), 240 (2002-03)
2006 Media Guide: Has been granted an additional year of eligibility by the NCAA and hopes to return to action this fall … got through last year's bowl practice without any problems and then was held out of spring ball as a precautionary measure … fall camp will be his litmus test … is a very good football player when healthy and the prototype middle linebacker with size, strength and outstanding speed … his return would be a huge plus for the linebacker corps especially in terms of the speed factor … is one of the strongest players on the team.
2005: Sat out the first six games of the year because of his knee injury … played a total of four minutes against Michigan State, Indiana and Minnesota but was clearly not able to function without discomfort and did not see any game action the rest of the year … applied for, and received, a medical redshirt for 2006 … did not have any stats on the year.
2005 Media Guide: A very gifted football player who has had more than his share of bad luck the past two seasons and has not been able to showcase his considerable talents … did not take part in contact drills last spring, but appears healthy heading into the fall and hopes to put his recent misfortune behind him and play the entire season … is the prototype middle linebacker with size, speed and strength … his ability to run separates him from the pack and reminds many of former Ohio State All-Americans Andy Katzenmoyer and Tom Cousineau … heads into the fall bracketed with Anthony Schlegel (who took over for him after he was hurt) in the middle (the Buckeyes did play four linebackers a couple of times early last year) … with his speed he could also play rush end … wants to have a breakout year … is a difference maker.
2004: Injured his right knee in practice on Friday of the bye week … tried to give it a go the following week at Northwestern, but was in for only a series or two before limping to the sideline … underwent surgery and missed the remaining eight games of the season … had 13 tackles in the four games he played before being hurt, including 3.5 tackles-for-loss and one sack … made his first collegiate start in the season opener against Cincinnati … his best game was five tackles against Marshall … also had his lone sack against the Thundering Herd.
2004 Media Guide: Mike D'Andrea is the prototype linebacker with size, speed and strength … heads into fall camp as a candidate to start at middle linebacker, but will see extensive action regardless … a key component of what many analysts consider the best linebacker corps in the Big Ten … ranks sixth on the team in tackles among returning players.
2003 Season: Was an integral part of the linebacker rotation through the first ten games of the season before suffering a separated shoulder against Michigan State and was lost for the remaining three games … totaled 24 tackles, 14 of which were solos … had three tackles behind the line of scrimmage and forced a fumble, that coming on the first play of the fourth quarter vs. San Diego State, setting up a Mike Nugent field goal … saw a season-high 11 minutes of field time vs. San Diego State and played 10 minutes in four other games … had four tackles against Bowling Green, Wisconsin and Iowa … two of his tackles vs. the Hawkeyes were for loss.
2003 Media Guide: Mike D'Andrea is a highly regarded linebacker prospect … expected to battle Fred Pagac for playing time in the middle as the replacement for All-America Matt Wilhelm … prototype linebacker with size, speed and strength … coaches love his attitude and intensity … one of the Buckeyes' most ferocious hitters … did spend some time at defensive end in the spring and was impressive there … played in 12 games last year, seeing time both at linebacker and as a member of the special teams … considered one of the top high school linebackers in the country … should be something special as he develops and gets the opportunity to play on a more regular basis.
2002 Season: Worked his way up the depth chart and by season's end was the backup to Wilhelm … played in 12 games … recorded seven tackles, including four solo tackles … had a season-high three tackles against San Jose State … also forced a fumble in the game that ended a Spartan drive at the OSU 24-yard line just before halftime.
High School: Parade Magazine All-American and rated by Parade as the best prep linebacker in the country … also a first-team USA Today All-America selection … first-team Division II Associated Press All-Ohio selection … SuperPrep rated him as the No. 1 overall linebacker in the country … prototype linebacker with size, speed, and strength … renowned for his hitting and tackling as well as his competitive attitude … recorded 140 tackles as a senior and also averaged 15 yards-per-catch as a tight end … led his high school to a 9-1 record … had 15 tackles, including five tackles-for-loss and an interception, in a regional semifinals victory … also a national caliber shot and discus competitor and hopes to continue his track career at Ohio State … parents are Bob and Sue D'Andrea … high school coach – Dave Dlugosz … born Feb. 7, 1984.
Defense
| Season | Team | G | GS | Tkl | Solo | Asst | TFL | TFL Yds | Sacks | Sack Yds | FF | FR | Int | Int Yds | PBU | Blk | Def TD |
| --- | --- | --- | --- | --- | --- | --- | --- | --- | --- | --- | --- | --- | --- | --- | --- | --- | --- |
| 2002 | Ohio State | 13 | 0 | 7 | 4 | 3 | 0 | 0 | 0 | 0 | 1 | 0 | 0 | 0 | 0 | 0 | 0 |
| 2003 | Ohio State | 10 | 0 | 24 | 14 | 10 | 3.0 | 6 | 0 | 0 | 0 | 1 | 0 | 0 | 0 | 0 | 0 |
| 2004 | Ohio State | 4 | 3 | 13 | 7 | 6 | 3.5 | 4 | 1.0 | 1 | 0 | 0 | 0 | 0 | 0 | 0 | 0 |
| 2005 | Ohio State | 3 | 0 | 0 | 0 | 0 | 0 | 0 | 0 | 0 | 0 | 0 | 0 | 0 | 0 | 0 | 0 |
| Total | - | 30 | 3 | 44 | 25 | 19 | 6.5 | 10 | 1 | 1 | 1 | 1 | 0 | 0 | 0 | 0 | 0 |