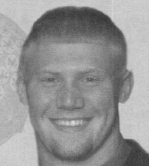 Nationality

United States

Position

OLB

Birthday

8/1/1983

Hometown

Lancaster, OH

High School

Lancaster

Height

6'3"

Weight

240

Current Team

Ohio State

Seasons

2002, 2003, 2004, 2005
Post-OSU Update: Bobby Carpenter was selected with the 18th overall pick in the 2006 NFL Draft by the Dallas Cowboys. Carpenter did not live up to the lofty expectations of Dallas fans, though he did play seven years in the NFL. He recorded 170 tackles and 3.5 sacks over 93 career games. After football, Carpenter received his MBA from Ohio State and has pursued a number of different ventures. including board work for a charity, running a contractor company, and sports talk (he is a regular on the Pat McAfee show). (updated: Mar. 2023)
Major: Business (2003-05)
Weight: 255 (2004-05), 240 (2003)
2005 Media Guide: Heads into his senior season with 39 games, including 15 starts, under his belt the past three years … is an outstanding player and an integral part of what may well be the best corps of linebackers in college football … is big, rangy and physical … has the physical attributes to play defensive end and could see some time there this season in a relief role … also plays on the special teams and has turned in a couple of highlight hits on kickoff coverage … has 142 career tackles.
2004: Played his best football and wound up the season as the second-leading tackler on the team with a career-high 93 total participations … finished the season on a strong note, recording 13 tackles at Michigan State and nine against both Purdue and Michigan … also had an early interception in the Alamo Bowl that led to a 7-0 Ohio State lead before some of the fans had settled into their seats.
2004 Media Guide: Skilled veteran linebacker … played in all 13 games in 2003 and started the Iowa, Michigan and Kansas State games … has played in all 27 games during his still young career and seems to get better with each outing … tripled his minutes from 46 as a true freshman to 150 a year ago … tops the depth chart at strong side linebacker entering the fall.
2003 Season: Finished the year with 37 tackles, including 24 solo stops, and had at least one tackle in every game but Indiana … had a season and career-high six tackles against Bowling Green … also recorded 6.5 tackles-for-loss and 4.5 sacks in a stellar first year of play … credited with forced fumbles against Bowling Green and Michigan State … started the Fiesta Bowl win over Kansas State, his third career appearance in a starting role … responded well with five tackles, 2.5 for losses, a pass break up and a pair of sacks vs. the Wildcats.
2003 Media Guide: Bobby Carpenter is a talented young athlete with the ability to make a significant impact both as a linebacker and a member of the special teams … one of ten true freshman to see playing time last season … finished the 2002 campaign and will go into this season as the backup to senior Robert Reynolds … intelligent player who does everything well … is an outstanding hitter … has a thorough understanding of the game, thanks in large part to the influence of his father, Rob, who played in the NFL and served as Bobby's high school coach at nearby Lancaster … has a bright future.
2002 Season: Recorded 12 tackles as a rookie, including eight solo stops … played in all 14 games … began his collegiate career by making a tackle on the opening kickoff of the season opener against Texas Tech … five tackles against Kent State was his top effort.
2002 Media Guide: One of the most sought-after linebacker prospects in the Midwest … won first-team All-Ohio honors from the Associated Press as a senior … finished his senior season with
128 total tackles, including 12 tackles-for-loss … regarded as a playmaker and hitter throughout his high school career … combines size, speed and athletic ability with a thorough understanding of the game … rated by Rivals.com as the 13th-best outside linebacker in the country .
Personal: His father, Rob, played for Miami of Ohio as well as in the NFL and now is the head football coach at Lancaster … parents are Rob and Susie Carpenter … has three younger brothers, Jonathan (a freshman football player at the University of Cincinnati in 2004), George and Nate … enjoys bowling (best game is a 240) and playing pool … also likes to play piano (took lessons for six years) … two of his uncles played collegiate football (one at Northwestern and one at Kent State) … favorite pro athlete is Lawrence Taylor … enjoys playing chess … would like to be coaching his high school team in Lancaster in 10 years … the "Tunnel of Pride" is his favorite OSU football tradition … would like to be playing basketball at Ohio State if not on the football team … born Aug. 1, 1983.
Defense
| Season | Team | G | GS | Tkl | Solo | Asst | TFL | TFL Yds | Sacks | Sack Yds | FF | FR | Int | Int Yds | PBU | Blk | Def TD |
| --- | --- | --- | --- | --- | --- | --- | --- | --- | --- | --- | --- | --- | --- | --- | --- | --- | --- |
| 2002 | Ohio State | 14 | 0 | 12 | 8 | 4 | 0 | 0 | 0 | 0 | 0 | 0 | 0 | 0 | 0 | 0 | 0 |
| 2003 | Ohio State | 13 | 3 | 37 | 24 | 13 | 6.5 | 43 | 4.5 | 37 | 0 | 2 | 0 | 0 | 1 | 0 | 0 |
| 2004 | Ohio State | 12 | 12 | 93 | 46 | 47 | 6.5 | 25 | 2.0 | 16 | 0 | 0 | 3 | 19 | 3 | 0 | 0 |
| 2005 | Ohio State | 11 | 10 | 49 | 33 | 16 | 10.5 | 72 | 8.0 | 65 | 0 | 0 | 0 | 0 | 2 | 0 | 0 |
| Total | - | 50 | 25 | 191 | 111 | 80 | 23.5 | 140 | 14.5 | 118 | 0 | 2 | 3 | 19 | 6 | 0 | 0 |