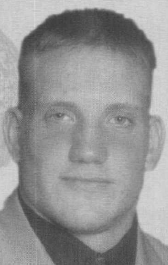 Nationality

United States

Position

OLB

Height

6'2"

Weight

230

Birthday

1/6/1984

Hometown

Centerville, OH

High School

Centerville

Current Team

Ohio State

Seasons

2002, 2003, 2004, 2005
Post-OSU Update: A.J. Hawk was selected by the Green Bay Packers with the fifth overall selection in the 2006 NFL Draft. Hawk played nine of his eleven years in the NFL with the Packers, all of them as a starter. In all, Hawk totaled 946 tackles, 20 sacks, and nine interceptions in 159 NFL games. He has four children with his wife Laura, famously known as Brady Quinn's sister.
Major: Criminology (2004-05), Undeclared (2002-03)
Weight: 240 (2005), 238 (2004), 230 (2002-03)
2005 Media Guide: A returning first-team All-American and one of the top defensive players in college football … will be a candidate for all the major defensive awards in 2005, including the Butkus, Lombardi and Bednarik awards … is a tough, smart, relentless football player who thrives on competition and excels in big games … will be in his third year as a starter … has led the team in tackles each of the past two years and goes into his senior season with 273 total … his 141 tackles in 2004 are the most by an Ohio State player since Chris Spielman's 156 in 1986 … has a chance to become just the fifth player in Ohio State history to record 400 career tackles, joining Marcus Marek (572), Tom Cousineau (569), Spielman (546) and Steve Tovar (408) in that select circle … bidding to become the first player since Tovar (1990-92) to lead the team in tackles for three consecutive years … has played in 38 games the past three years and started 25 times … is a two-time All-Big Ten pick … was a semifinalist for the Butkus Award last year and certainly embodies everything the award stands for.
2004: Was the media's pick as the preseason Big Ten Defensive Player of the Year … led the Big Ten in tackles most of the year and wound up finishing second in the league with an average of 11.8 stop per game … led the team in tackles nine times, including a career-high 20 against Wisconsin to become just the ninth Ohio State defender to record 20 or more tackles … was named to the Football Writers, Sporting News, Associated Press and Walter Camp All-American teams … was selected as the team's defensive MVP, which is named for former Buckeye and NFL great Bill Willis … had eight tackles for loss, including a sack, to go along with five passes broken up and a pair of interceptions … his acrobatic interception at Michigan State, thwarted the Spartans' final drive with OSU clinging to a 25-19 lead … had a forced fumble against Wisconsin and recovered one against Iowa.
2004 Media Guide: The defensive MVP of the 2003 Tostitos Fiesta Bowl and one of the top linebackers in college football … tops the depth chart at the Will (weak side) linebacker spot in 2004, his second season as a starter … coming off a monster year in which he led the Buckeyes in tackles with 106 … also was second in solo tackles behind Dustin Fox (55) with 52 … blessed with size, speed and instinct … runs to the ball well and is a punishing tackler … won first-team All-Big Ten honors last year and should be a Butkus Award candidate this year … has already been named to the 2004 watch list for the Lombardi Award.
2003 Season: Finished the 2003 campaign with 13 TFLs (second on the team to Will Smith's 20) and four sacks … also had a pair of interceptions and five passes broken up … had a career-high 13 tackles against Northwestern and was in double figures on three other occasions, including the Fiesta Bowl, where he had 10 stops … led the team in tackles seven times … had a 55-yard interception return against North Carolina State and also had a pick against Bowling Green … an OSU Scholar-Athlete … more than tripled his playing time with 333 minutes as a sophomore (100 as a frosh) … tied for second-most returning minutes on the defensive side with Nate Salley (Dustin Fox is the defensive leader with 365 in 2003).
2003 Media Guide: A.J. Hawk is one of the young lions on defense … expected to take over for graduated Cie Grant at the "will" linebacker spot … played his way into the two-deep last year as a true freshman and demonstrated a penchant for making big plays … is tough, smart and aggressive … coming off a solid spring … was the leading tackler in the spring game with 14 total stops, 13 of which were solos … makes good things happen when he is on the field … has made tremendous progress in a short period of time and has the potential to be a special player if he continues to work hard and is able to remain healthy.
2002 Season: Was the backup to Cie Grant at the weak-side linebacker spot … recorded 26 tackles as a true freshman, 13 solo and 13 assisted … had 3.5 tackles-for-loss including a half-sack against Washington State … had two interceptions, including one he returned 34 yards for a score against Kent State … had five tackles and made his first career start against Penn State … intercepted Penn State's Zach Mills on the Nittany Lions firsts possession and returned it 10 yards … also had five tackles against Kent State and Wisconsin … came off the bench at Wisconsin and played the entire second half in place of the injured Grant.
2002 Media Guide: Missed much of his senior year because of injury, but still finished the campaign with 82 tackles … a much more accurate reflection of his ability can be found in his 583 career tackles (142 as a freshman, 192 as a sophomore and 169 as a junior) … always around the ball and has demonstrated a penchant for making plays … played the middle in high school, but clearly has the ability to move to an outside position with the Buckeyes … rated as the nation's 30th best outside linebacker by Rivals.com … also averaged over 40 yards as a punter his senior year … high school coach – Ron Ullery.
Personal: Is the son of Keith and Judy Hawk … has two older brothers, Matt and Ryan … Ryan is a senior quarterback at Ohio University … enjoys hunting and target shooting … practices yoga, which he lists as one of the biggest risks he has taken … best football memory to date is winning the 2002 National Title … top memory from 2003 is the repeat victory at the Fiesta Bowl … the pregame OSU Marching Band "Skull Session" is his favorite home game experience … The Tunnel of Pride is top OSU tradition … if he were not playing football, the baseball Buckeyes would be his alternate OSU sport of choice … born Jan. 6, 1984.
Defense
| Season | Team | G | GS | Tkl | Solo | Asst | TFL | TFL Yds | Sacks | Sack Yds | FF | FR | Int | Int Yds | PBU | Blk | Def TD |
| --- | --- | --- | --- | --- | --- | --- | --- | --- | --- | --- | --- | --- | --- | --- | --- | --- | --- |
| 2002 | Ohio State | 14 | 1 | 26 | 13 | 13 | 3.5 | 16 | 0.5 | 5 | 0 | 0 | 2 | 44 | 0 | 0 | 1 |
| 2003 | Ohio State | 13 | 13 | 106 | 52 | 54 | 13.0 | 49 | 4.0 | 34 | 0 | 0 | 2 | 55 | 5 | 0 | 0 |
| 2004 | Ohio State | 12 | 12 | 141 | 62 | 79 | 8.0 | 14 | 1.0 | 3 | 1 | 1 | 2 | 0 | 5 | 0 | 0 |
| 2005 | Ohio State | 12 | 12 | 121 | 69 | 52 | 16.5 | 85 | 9.5 | 72 | 2 | 1 | 1 | 24 | 3 | 0 | 1 |
| Total | - | 51 | 38 | 394 | 196 | 198 | 41 | 164 | 15 | 114 | 3 | 2 | 7 | 123 | 13 | 0 | 2 |