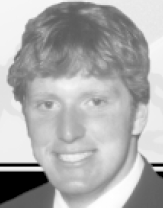 Nationality

United States

Position

DT, DE

Birthday

8/27/1983

Hometown

Upper Arlington, OH

High School

Upper Arlington

Height

6'5"

Weight

265

Current Team

Ohio State

Seasons

2001, 2002, 2003, 2004
Post-OSU Update: Simon Fraser went undrafted in the 2005 NFL Draft. He did sign with the Cleveland Browns, though, and play three years there. After a year with the Falcons, Fraser concluded his NFL career with 53 games played across four seasons, compiling 54 tackles and 4.5 sacks. After football, Fraser went to and finished medical school. He is now in a vascular surgery medical fellowship at the Medical College of Wisconsin. (updated: Oct. 2022)
Major: Criminology (2003-04)
Weight: 280 (2004), 265 (2003), 250 (2001-02)
2004 Media Guide: Anchors the defensive front at the left defensive end position for the 2004 Buckeyes … is the lone holdover from 2003 on the defensive line and the most experienced player up front … a three-year letterman, Fraser is a veteran of 39 games and 14 starts … has 60 career tackles, 36 of which are solos … has more sacks (7.5) than any other current Buckeye and is tied for the team lead with linebacker A.J. Hawk with 16.5 tackles-for-loss … experience, size, strength and speed make him one of the better all-around ends in the Big Ten … second only to senior Dustin Fox (812) in career minutes played for the returning Buckeyes in 2004 with 528 minutes of field time at OSU … the top returning offensive player in career minutes is lineman Robbie Sims with 470 … is a three-time Ohio State Scholar-Athlete selection and a two-time Academic All-Big Ten honoree.
2003 Season: Started 12 of 13 games and recorded 34 tackles in 301 minutes of playing time … broke up two passes and recorded a pair of tackles in Ohio State's win over Kansas State in Ohio State's second-consecutive appearance in the Fiesta Bowl … was a stalwart alongside the Buckeyes' dominating defensive front, which included three NFL draftees (Will Smith, Darrion Scott and Tim Anderson) … recorded a season-high with seven tackles in the season-opening win over Washington … also stopped three plays behind the line of scrimmage and had one sack vs. the Huskies.
2003 Media Guide: Simon Fraser is expected to start at an end position this year, taking over for Darrion Scott, who will move back to defensive tackle in an effort to get the four best defensive lineman on the field at the same time … has been a key reserve the last two seasons and was a semi-starter last season … has played in all 26 games the past two seasons and had two starts last year (Indiana and Wisconsin) … is quick, rangy, intelligent and sound from a technique standpoint … spends a great deal of time studying film and works hard at preparing himself for the upcoming opponent … is a gifted pass rusher … had more than paid his dues the past two years and appears ready to make an impact in 2003 … sat out the spring following off-season shoulder surgery, but will be ready to play in the fall.
2002 Season: Played behind Will Smith and was the third end … recorded 20 tackles, including 13 solo tackles … had seven tackles-for-loss for a total of 32 yards … also had five sacks, five passes broken up and two fumble caused … recorded a key 5-yard sack against Miami in the national championship game … had a sack – and knocked the ball loose – against Indiana in his first career start … second forced fumble was the result of a sack of Illinois QB Jon Beutjer late in the fourth quarter in a game that OSU won in overtime … top effort was three tackles against Kent State, Indiana and Wisconsin … nominated for Verizon Academic All-America honors.
2002 Media Guide: Simon Fraser is an outstanding young prospect who is coming off an excellent freshman campaign … put in long hours in the weight room over the winter in a successful effort to improve his strength … has excellent quickness and technique and is an intelligent player … will figure in the rotation up front and is another young player who will just get better and better with experience … hard working and extremely competitive … part of a three-man revolving door that includes Will Smith and Darrion Scott at the end positions – one of the strengths of the team this year … skilled off the edge because of his rangy build … tweaked his left knee in the spring kicking scrimmage and was held out of the final week of spring ball as a precautionary measure … expected to be 100 percent in the fall.
2001 Season: Played in all 12 games and earned his first varsity letter … saw action at both end and tackle … wound up the regular season with six tackles … had tackles-for-loss against Akron and Penn State and recorded his first collegiate sack against Illinois … coaches like his intensity and understanding of the game.
2001 Media Guide: First-Team Division I Associated Press All-Ohio selection as a junior and senior … team won the 2000 Division I state championship … totaled 130 tackles, 30 sacks, six forced fumbles and three fumble recoveries in 2000 … First-Team Columbus Dispatch-Agonis All-Star selection and lineman of the year … 115 tackles and 18 sacks as a junior … three-year starter at defensive end … No. 1 defensive lineman in the state by SuperPrep.
Personal: Son of Harnish and Marion Fraser … has two sisters, Ingrid and Kirsten … his father is a professor at Ohio State and once coached rugby at the University of Illinois … is an avid hockey fan and has become good friends with Rick Nash of the Columbus Blue Jackets (has occasionally skated around with some of the team) … enjoys playing golf, listening to all types of music and hanging out with his friends … top visited places are Germany and England … would like to see Scotland in the future … highlights of football career are high school state championship in 2000 and NCAA title in 2002 … favorite Ohio State tradition is all the hype surrounding "Michigan Week" … would lace up the skates for the OSU hockey team if not playing football … born Aug. 27, 1983.
Defense
| Season | Team | G | GS | Tkl | Solo | Asst | TFL | TFL Yds | Sacks | Sack Yds | FF | FR | Int | Int Yds | PBU | Blk |
| --- | --- | --- | --- | --- | --- | --- | --- | --- | --- | --- | --- | --- | --- | --- | --- | --- |
| 2001 | Ohio State | 12 | 0 | 6 | 4 | 2 | 3 | 10 | 1 | 6 | 0 | 0 | 0 | 0 | 0 | 0 |
| 2002 | Ohio State | 14 | 2 | 20 | 13 | 7 | 7 | 32 | 5 | 19 | 2 | 0 | 0 | 0 | 5 | 0 |
| 2003 | Ohio State | 13 | 12 | 34 | 19 | 15 | 7.0 | 31 | 1.5 | 15 | 0 | 0 | 0 | 0 | 5 | 0 |
| 2004 | Ohio State | 12 | 12 | 28 | 12 | 16 | 5.0 | 20 | 2.5 | 15 | 0 | 0 | 0 | 0 | 6 | 0 |
| Total | - | 51 | 26 | 88 | 48 | 40 | 22 | 93 | 10 | 55 | 2 | 0 | 0 | 0 | 16 | 0 |