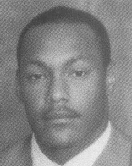 Nationality

United States

Position

DE

Birthday

7/4/1981

Hometown

Utica, NY

High School

Proctor

Height

6'3"

Weight

265

Current Team

Ohio State

Seasons

2000, 2001, 2002, 2003
Post-OSU Update: Will Smith was the 18th overall pick in the first round of the 2004 NFL Draft by the New Orleans Saints. Smith played his nine-year NFL career with the Saints, making one Pro Bowl and winning the Super Bowl after the 2009 season. He finished with 67.5 sacks and 463 tackles for his career. Tragically, Smith was killed in an argument resulting from a minor motor vehicle incident in 2016. His assailant was convicted of manslaughter in 2016, but that conviction was overturned by the U.S. Supreme Court in 2021 due to an initial non-unanimous verdict. The case will be retried. (updated: Sep. 2022)
Major: Criminology (2002-03), Undeclared (2001)
Weight: 265 (2003), 250 (2001-02), 230 (2000)
2003 Media Guide: Will Smith is a leading candidate for postseason honors in 2003 … has been named to several preseason All-America teams and is on the watch list for the Lombardi Trophy … opted to return for his senior year and work on completing his degree rather than early entry into the NFL … has outstanding speed and is a tremendous pass rusher … at his best in big games as evidenced in the national championship game where his two early tackles-for-loss (one sack) set the tone for the evening and helped establish the dominance of the Ohio State defensive front against Miami's vaunted offense … finished the Fiesta Bowl with a team-high eight total tackles … has played in all 38 games the past three years, including 23 starts the last two seasons … a second-team All-Big Ten selection by the coaches and media in 2002 … has 21.5 tackles-for-loss the past two seasons and a career total of 26.5.
2002 Season: Missed practice the week of the Wisconsin game because of a stomach virus … did not start vs. the Badgers, but did tough it out for 15 minutes and figured in on four tackles … enjoyed career-highs in solos, assists, total tackles, tackles-for-loss and sacks … his TFL total was second on the team, behind only All-American linebacker Matt Wilhelm (19.5) … opened the year with four TFLs against Texas Tech in the Pigskin Classic, a game in which he had six total tackles … also had sacks against Indiana, Wisconsin and Illinois … his interception of Penn State QB Zack Mills in the second quarter led to Ohio State's first field goal of the game … teamed with Kenny Peterson for a 9-yard sack at Illinois and then later teamed with David Thompson to tackle running back Antoineo Harris for a loss of 3 yards … later forced Harris to fumble at the OSU 18-yard line, a fumble that was recovered by Tim Anderson to thwart an Illini score … recovered a fumble against Michigan with 2:02 to play, stopping the Wolverines at the OSU 30-yard line.
2002 Media Guide: Will Smith is one of the premier players in the country at his position … will be in his second year as a starter … was a man among boys during spring practice, recording nine
quarterback sacks in the last two scrimmages and simply toying with the players across from him …has outstanding speed and is a tremendous pass rusher because of his instincts and mobility … can be a dominating player … has played in all 24 games the past two years, including 10 starts last season … played lights out in the Outback Bowl last year, finishing with nine tackles, including a tackle-for-loss … at his best in big games … don't be surprised to see him contend for All-America honors and perhaps even the Lombardi Award as soon as this year, he is that good.
2001 Season: Finished the season with 47 tackles, 34 of which were solos … also had four sacks and nine tackles-for-loss … had nine tackles, a sack and a key forced fumble in the win over Northwestern … credited with seven tackles, including two for losses, in the win at Minnesota …five tackles, two sacks in the win at Michigan.
2001 Media Guide: Will Smith is a sensational young football player and a future All-America candidate … expected to start at defensive right end … has the size and speed and is a terrific pass rusher … was the backup to senior Brent Johnson last year as a true freshman … grabbed everyone's attention in freshman camp with his stellar play and just kept turning heads as the year went on … selected at the end of the season as the Outstanding First Year Defensive Player by the OSU coaching staff … wound up his rookie year with 12 tackles, including five for losses and three sacks … the top tackler among the freshmen … continued to play well in the spring.
2000 Season: Played in all 12 games for a total of 99 minutes, easily tops among the freshmen … three tackles at Wisconsin was his top game statistically.
High School: USA Today honorable mention All-American … No. 1 defensive line prospect in the East and No. 7 in the nation by SuperPrep … No. 7 defensive line prospect in the nation by Rivals100.com … ranked as the 30th best prospect in the East by Tom Lemmings' Prep Football Report … finished his senior year with 65 tackles, 20 tackles-for-loss, 13 sacks and three forced fumbles in just seven games … also caught 18 passes as a tight end … second team all-state as a junior … totaled 111 tackles, 29 tackles-for-loss, 16 sacks and six blocked kicks as a junior.
Personal: The son of William and Lisa Smith … his mother is deceased … wants to be an FBI agent after he graduates … born Jul. 4, 1981.
Defense
| Season | Team | G | GS | Tkl | Solo | Asst | TFL | TFL Yds | Sacks | Sack Yds | FF | FR | Int | Int Yds | PBU | Blk |
| --- | --- | --- | --- | --- | --- | --- | --- | --- | --- | --- | --- | --- | --- | --- | --- | --- |
| 2001 | Ohio State | 12 | 10 | 47 | 34 | 13 | 9 | 34 | 4 | 23 | 1 | 1 | 0 | 0 | 1 | 0 |
| 2002 | Ohio State | 14 | 13 | 59 | 41 | 18 | 12.5 | 42 | 5.5 | 31 | 1 | 1 | 1 | 0 | 4 | 0 |
| 2003 | Ohio State | 0 | 0 | 49 | 30 | 19 | 20 | 92 | 10.5 | 66 | 0 | 2 | 0 | 0 | 4 | 0 |
| Total | - | 26 | 23 | 155 | 105 | 50 | 41.5 | 168 | 20 | 120 | 2 | 4 | 1 | 0 | 9 | 0 |