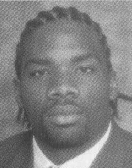 Nationality

United States

Position

DT, DE, MLB

Birthday

10/25/1981

Hometown

Charleston, WV

High School

Capital

Height

6'3"

Weight

271

Current Team

Ohio State

Seasons

2000, 2001, 2002, 2003
Post-OSU Update: Darrion Scott was selected with the 88th pick (3rd round) of the 2004 NFL Draft by the Minnesota Vikings. Scott played four years with the Vikings, two as a starter, making 9.5 sacks and 128 tackles. He missed the 2008 and 2009 NFL seasons due to legal troubles, including pleading guilty to a child endangerment charge. He returned to the NFL in 2010, playing parts of two seasons with the Redskins. After football, Scott started a transportation business in Fort Myers, Florida. (updated: Oct. 2022)
Major: African-American Studies (2003), History (2002), Pre-Medicine (2001)
Weight: 280 (2003), 271 (2002), 265 (2001), 244 (2000)
2003 Media Guide: Like teammates Tim Anderson and Will Smith, Darrion Scott is one of the top defensive lineman in college football … will be in his third year as a starter … has played defensive end the past two seasons and was accorded first-team All-Big Ten honors in 2002 … will move to defensive tackle this year, a switch that allows Simon Fraser to step in at end and puts the four best players on the field at the same time (the OSU front four has been rated by The Sporting News as the No. 3 defensive line in the country heading into the 2003 season) … will be dangerous wherever he plays … is a big-time football player because of his size, speed and sheer power … is extremely difficult to block because of his quickness and strength … led the team in sacks last year with 8.5 … will be a candidate for the Lombardi Award … has played in 37 games the past three years and has 100 career tackles.
2002 Season: First-team All-Big Ten selection by the coaches and was a second team selection by the media … started first 11 games of the year before pulling a groin muscle … missed the Illinois game and returned for the Michigan game, but did not start … tallied 43 tackles on the year, including 9.5 tackles-for-loss … also forced three fumbles and recovered two others … sacked Cincinnati QB Gino Guidugli with the Bearcats driving into Ohio State territory in the fourth quarter and forced a fumble that gave Ohio State the ball – the turnover led to a score that gave the Buckeyes the lead for good … he also forced a fumble in the fourth quarter of the Michigan game that was recovered by Ohio State and stalled a Michigan drive … had a career-high nine tackles against Indiana and recorded two sacks against Minnesota.
2002 Media Guide: Darrion Scott is in his second year as a starter … coming off a fine sophomore campaign in which he recorded career-highs in virtually every category … finished the season with 49 total tackles (sixth on the team), including seven tackles-for-loss … also credited with four passes broken up … big, strong and athletic … plays low and well against the run … also has the speed to run down the ball carrier … made tremendous improvement last year and should be a real force to contend with this fall … came to Ohio State as a linebacker, but played defensive tackle as a true freshman … started 10 games last year – nine at end and the other at tackle … did not practice in the spring after undergoing postseason shoulder surgery, but will be ready when fall camp opens.
2001 Season: More than lived up to the high expectations of the Ohio State coaching staff in his first full year of action … tackle total included 36 solos … also credited with a pair of sacks … had a number of outstanding games, including seven tackles against Minnesota, three tackles-for-loss at UCLA and six tackles in the bowl game (including 2 TFL).
2001 Media Guide: Darrion Scott will team with Kenny Peterson at defensive end … bracketed with Peterson at the No. 1 spot on the left side coming out of spring practice … both players will play extensively in the fall … big, strong, athletic football player … played defensive tackle last year as a true freshman and was particularly effective in short-yardage and goal-line situations … wound up with eight tackles on the year … has the size to stuff the run and the speed to pressure the quarterback … physical player.
2000 Season: Reported to camp as a linebacker but was quickly converted to a down position … played in all 12 games for a total of 49 minutes, including 16 in the season opener with Fresno State.
High School: Rated one of the top two players in the state of West Virginia by numerous publications … USA Today honorable mention All-American … rated the No. 18 linebacker prospect in the country by Rivals100.com … the No. 25 prospect in the East by SuperPrep … a two-time all-state selection … as a junior, finished the season with 133 tackles and nine tackles-for-loss … also started at fullback and rushed for 1,291 yards … Second Team all-state as a basketball player.
Defense
| Season | Team | G | GS | Tkl | Solo | Asst | TFL | TFL Yds | Sacks | Sack Yds | FF | FR | Int | Int Yds | PBU | Blk |
| --- | --- | --- | --- | --- | --- | --- | --- | --- | --- | --- | --- | --- | --- | --- | --- | --- |
| 2000 | Ohio State | 12 | 0 | 8 | 5 | 3 | 0 | 0 | 0 | 0 | 0 | 0 | 0 | 0 | 0 | 0 |
| 2001 | Ohio State | 12 | 10 | 49 | 36 | 13 | 7 | 25 | 2 | 19 | 1 | 0 | 0 | 0 | 4 | 0 |
| 2002 | Ohio State | 13 | 12 | 43 | 22 | 21 | 9.5 | 44 | 8.5 | 42 | 3 | 2 | 0 | 0 | 4 | 0 |
| 2003 | Ohio State | 11 | 10 | 36 | 15 | 21 | 8.5 | 33 | 4.0 | 25 | 0 | 2 | 0 | 0 | 0 | 0 |
| Total | - | 48 | 32 | 136 | 78 | 58 | 25 | 102 | 14.5 | 86 | 4 | 4 | 0 | 0 | 8 | 0 |