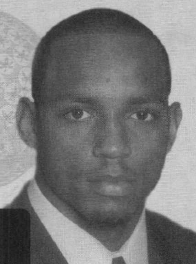 Nationality

United States

Position

SE, ST, WR

Height

6'3"

Weight

228

Birthday

12/8/1983

Hometown

Lyndhurst, OH

High School

Brush

Current Team

Ohio State

Seasons

2002, 2003, 2004, 2005, 2006
Post-OSU Update: Roy Hall was selected in the 2007 NFL Draft by the Indianapolis Colts with the 169th pick (5th round). Hall played parts of two years with Colts, making a nine-yard catch in seven games. After football, Hall became a motivational speaker and executive coach. He also cofounded (with former OSU teammate Antonio Smith) and runs the Driven Foundation, a Columbus-area non-profit. (updated: Mar. 2023)
Jersey #: 8 (2004-06), 82 (2002-03)
Major: Marketing (2006), Accounting (2004-05), Engineering (2003)
Weight: 240 (2005-06), 228 (2003-04), 210 (2002)
2006 Media Guide: Has been a key reserve the past two years … dependable football player who is expected to take on an expanded role in 2006 with the departure of Santonio Holmes … will be the third receiver … has good hands, runs good routes and knows how to use his body to shield off defenders … is the Buckeyes' most physical receiver … also a fine blocker … has played in all 37 games the past three years and has started seven times … has 39 career receptions for 433 yards and one touchdown and has averaged 11.1 yards per catch … coming off a solid spring and should have an outstanding senior year … a three-year scholar-athlete and a very intelligent football player.
2005: Played in all 12 games and started the Miami (Ohio) and Illinois games when OSU opened with multiple receivers … finished the season with 16 receptions for 134 yards … equaled his career-high with five catches against Miami … had four receptions against San Diego State … his 11-yard reception at Michigan on the Buckeyes' opening drive set up a 4-yard Troy Smith touchdown run two plays later and staked the Buckeyes to an early 6-0 lead … also had a pair of important receptions in the Fiesta Bowl.
2005 Media Guide: Another member of the Buckeyes' talented receiving corps … probably the most physical receiver on the squad … has excellent speed to go with his physical attributes and will become an outstanding receiver as he continues to acquire game savvy … has been compared favorably to former Ohio State standout David Boston … saw his most extensive playing time last year and finished the season as the Buckeyes' third-leading receiver with 17 receptions … creates a difficult physical matchup for smaller cornerbacks and is difficult for one defender to bring down … has 23 career receptions in 25 games … two-year letterman and a three-time OSU scholar-athlete.
2004 Media Guide: Heads into the fall as the starter at split end, taking over for the graduated Michael Jenkins, who left as Ohio State's career receiving yardage leader with 2,898 yards … spent the 2003 season as Jenkins' understudy, but still played in all 13 games … joins returning starter Santonio Holmes to give Ohio State what many analysts consider one of the top young receiving tandems in the Big Ten … talented special teams player … blocked a punt in the 2004 spring game and returned it 41 yards … is very physical and has tight end size but wide receiver speed … solid young player with loads of talent … a two-time OSU Scholar-Athlete.
2003 Season: Finished the season with six receptions for 69 yards (11.5 ypc) … against Iowa, blocked a Hawkeye punt inside the 5-yard line that Donte Whitner recovered in the end zone to give the Buckeyes a 17-3 lead in the third quarter … had one reception in six different games … season-long catch was 18 yards against both Washington and Michigan State … awarded Ohio State's Jack Tatum Hit of the Week Award by the coaching staff following the San Diego State game thanks to monster blocks on a Buckeye kickoff return.
2003 Media Guide: Roy Hall adds depth and talent to an already deep and talented position – wide receiver … was redshirted last year, but repeatedly turned heads with his stellar play on the scout teams … coaches are anxious to see him in action this year … has outstanding speed, runs great routes and is sure-handed … has the size to play tight end, ala Miami's Kellen Winslow, and will probably do so from time-to-time in the fall … certainly won't dislodge Michael Jenkins as the starter, but is one of those players that is going to play simply because he can make things happen when he is on the field.
2002: Redshirted.
High School: A first-team Division I Associated Press All-Ohio selection … rated by PrepStar as the top wide receiver in Ohio and one of the best in the Midwest … SuperPrep has him as
the seventh best receiver in the Midwest and the 12th best in the nation … hauled in 62 receptions for 700 yards and six touchdowns as a senior … combines excellent size and speed with great hands … caught 42 passes as a sophomore, but then missed four games as a junior and was limited to 17 catches while battling a sprained ankle … also recruited by a number of schools to play basketball … high school coach – Eric Mitchell … born Dec. 8, 1983.
Personal: Is the son of Roy Sr. and Sonya Hall … has one sister, Sonya, who is a sophomore at Ohio State (2004) … favorite pro sports team is the Cleveland Browns … favorite pro receiver is David Boston … if he had a million dollars he would buy whatever his mother asked for.
Offense
| Season | Team | G | GS | Tgt | Rec | Rec Yds | Rec Avg | Rec TD | Lng | 2 Pt Conv | Fum | Lost | KR | KR Yds | KR Avg | KR TD | PR | PR Yds | PR TD |
| --- | --- | --- | --- | --- | --- | --- | --- | --- | --- | --- | --- | --- | --- | --- | --- | --- | --- | --- | --- |
| 2003 | Ohio State | 13 | 0 | NA | 6 | 69 | 11.5 | 0 | 18 | 0 | NA | NA | 4 | 73 | 18.3 | 0 | 1 | 13 | 0 |
| 2004 | Ohio State | 12 | 5 | NA | 17 | 230 | 13.5 | 1 | 50 | 0 | NA | NA | 0 | 0 | 0 | 0 | 0 | 0 | 0 |
| 2005 | Ohio State | 12 | 2 | NA | 16 | 134 | 8.4 | 0 | 22 | 0 | NA | NA | 0 | 0 | 0 | 0 | 0 | 0 | 0 |
| 2006 | Ohio State | 11 | NA | NA | 13 | 147 | 11.3 | 2 | 27 | 0 | NA | NA | 0 | 0 | 18.7 | 0 | 0 | 0 | 0 |
| Total | - | 48 | NA | 0 | 52 | 580 | 11.2 | 3 | 50 | 0 | 0 | 0 | 4 | 73 | 18.3 | 0 | 1 | 13 | 0 |
Defense
| Season | Team | G | GS | Tkl | Solo | Asst | Blk | KR | KR Yds | KR Avg | KR TD | PR | PR Yds | PR TD |
| --- | --- | --- | --- | --- | --- | --- | --- | --- | --- | --- | --- | --- | --- | --- |
| 2003 | Ohio State | 13 | 0 | 1 | 1 | 0 | 1 | 4 | 73 | 18.3 | 0 | 1 | 13 | 0 |
| 2004 | Ohio State | 12 | 5 | 1 | 0 | 1 | 0 | 0 | 0 | 0 | 0 | 0 | 0 | 0 |
| 2005 | Ohio State | 12 | 2 | 1 | 1 | 0 | 0 | 0 | 0 | 0 | 0 | 0 | 0 | 0 |
| 2006 | Ohio State | 11 | NA | 1 | 1 | 0 | 0 | 0 | 0 | 18.7 | 0 | 0 | 0 | 0 |
| Total | - | 48 | NA | 4 | 3 | 1 | 1 | 4 | 73 | 18.3 | 0 | 1 | 13 | 0 |