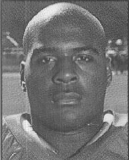 Nationality

United States

Position

DE

Birthday

10/07/1979

Hometown

Cleveland, OH

High School

St. Edward

Height

6'5"

Weight

260

Current Team

Ohio State

Seasons

1997, 1998, 1999, 2000
Post-OSU Update: Rodney Bailey was selected in the sixth-round (181st overall) of the 2001 NFL Draft by Pittsburgh. Bailey played 84 games over seven years, compiling 106 tackles and 9.5 sacks in 84 career games. (updated: Apr. 2022)
Major: Communications (1998-00), Unknown (1997)
Weight: 270 (1999-00), 260 (1997-98)
2000 Media Guide: Rodney Bailey, a towering 6-3, 270 pounds, is an imposing presence to quarterbacks and offensive lineman. After three years of consistent performances and steady improvement, Bailey is primed to become one of the Big Ten's premier defensive lineman. Blessed with size, strength and speed, Bailey has improved statistically each year at OSU. He also has shown a niche for the big play and, as a veteran of 36 games and 22 starts, will enter the 2000 season as the Buckeyes' active leader in tackles-for-loss (20) and sacks (9.5). He has tremendous athletic ability and foot speed for a man his size. "Rodney has good quickness off the ball and very good explosion. His strength is his athleticism," Jim Heacock, defensive line coach said. As a senior leader and a projected starter at defensive end, Bailey will be an integral part of what should be one of the brightest spots for Ohio State on either side of the ball this season – the defensive front four.
1999: Started six games (including the first five) and played in all 12 at defensive end … notched lone sack of the season in the opener against Miami, dropping elusive Canes quarterback Kenny Kelly for a 5-yard loss … also recovered a fumble against Miami and returned it 12 yards … made a season-high six tackles against Ohio University … the surprising emergence of James Cotton in the second half of the season cut into Bailey's playing time … averaged over 16 minutes per game.
1999 Media Guide: Rodney Bailey is one of those truly good-natured individuals who always seems to be in a great mood and is always willing to lend a hand. He has become an anchor on the Ohio State defensive line, starting since the 10th game of his true freshman season in 1997. Ends coach Shawn Simms said: "Rodney was the most consistent and productive end this spring, and he is a player who takes instruction and puts it to work now." Bailey enters his junior campaign a veteran of 25 games with 16 consecutive starting assignments. He also enters this season 15 pounds of muscle stronger than last year, topping the scales at 270 pounds in the spring. With size, quickness and athletic ability, Bailey has been a playmaker for the Buckeyes with 15 career tackles for loss including nine sacks for losses totaling 48 yards.
1998: Started all 12 games at defensive end … his 10 TFL ranked third on the team, trailing only a pair of players currently active in the National Football League – Andy Katzenmoyer and Na'il Diggs … really came on during the end of the year, recording at least one TFL in each of his last four games, including three for minus 7 yards against Michigan State and three for minus 18 yards versus Iowa … recorded a season-high five tackles against Michigan State.
1998 Media Guide: Communications major is expected to be the starter at defensive end in 1998 … was the only true freshman to start last year, getting the nod in the final four games and including the Sugar Bowl … has the size, quickness and athletic ability to be an outstanding pass rusher and should play a major role in the OSU defense this year … "he makes plays," says ends coach Shawn Simms … will also continue to contribute as a member of the special teams.
1997: Saw action early in 1997 on special teams and gradually worked his way into the two-deep at end … made his first start at Minnesota and was credited with four tackles in his debut … recorded a career-high nine tackles and recovered a fumble at Michigan … credited with 19 tackles, including four for losses … had sacks against Northwestern, Michigan and Florida State … played in all 13 games and easily logged the most playing time of any freshman.
1997 Media Guide: Big, physical defensive lineman who will add depth to the depleted defensive line.
High School: Made 111 tackles (68 solos) with 16 sacks as a senior … finished his career with 199 tackles, 26 sacks, five fumbles caused and three recovered … Associated Press first-team All-State Defense (Division I) … chosen as the Cleveland area Division I Defensive Player of the Year by the Plain Dealer and the Cleveland Touchdown Club Player of the Year … All-America selection by The National Recruiting Advisor, G&W Report, SuperPrep and Prep Football Report … played in the 1997 Ohio-Pennsylvania Big 33 Classic.
Personal: Chose Ohio State because of the great players and coaches in a great atmosphere … the person he most admires is his mother because she always taught him to be better … lists former OSU All-America Mike Vrabel as one of the players he most admires … son of Ransford and Dianne Bailey … born 10-7-79.
Defense
| Season | Team | G | GS | Tkl | Solo | Asst | TFL | TFL Yds | Sacks | Sack Yds | FF | FR | Int | PBU | Blk |
| --- | --- | --- | --- | --- | --- | --- | --- | --- | --- | --- | --- | --- | --- | --- | --- |
| 1997 | Ohio State | 13 | 4 | 19 | 14 | 5 | 4 | 12 | 3 | 11 | 0 | 1 | 0 | 2 | 0 |
| 1998 | Ohio State | 12 | 12 | 16 | 12 | 4 | 11 | 46 | 6 | 37 | 0 | 0 | 0 | 3 | 0 |
| 1999 | Ohio State | 12 | 6 | 23 | 17 | 6 | 5 | 14 | 1 | 5 | 0 | 1 | 0 | 0 | 0 |
| 2000 | Ohio State | 12 | 12 | 31 | 26 | 5 | 13 | 65 | 8 | 50 | 1 | 0 | 0 | 4 | 1 |
| Total | - | 49 | 34 | 89 | 69 | 20 | 33 | 137 | 18 | 103 | 1 | 2 | 0 | 9 | 1 |