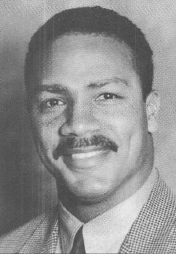 Nationality

United States

Past Teams

Ohio State
College: Bowling Green, 1986
Coaching OSU History:
1997-99: Defensive ends coach
1999 Media Guide: Ohio State's projected starting defensive ends – Rodney Bailey and Brent Johnson – will be on the sidelines early in games this season, with James Cotton and Matt LaVrar and Kenny Peterson rotating into the first quarter mix. Don't be alarmed. That's Shawn Simms' plan.
"The way we teach defensive football along the line is our guys can't possibly play a whole game playing the way we want them to play," said Simms, Ohio State's third-year defensive ends coach. "Our productivity increases by rotating players and allowing guys a short breather."
1998 Media Guide: In his first season with the Buckeyes, Shawn Simms helped develop a number of young players, including Rodney Bailey, the only true fresh- man to start for OSU in 1997,
1997 Media Guide: Shawn Simms is the newest member of the Ohio State football staff. He was named defensive ends coach this past February.
When Simms joined the OSU staff, Bill Conley moved from defensive ends coach to offensive line coach, assuming some of the duties that had previously belonged to offensive coordinator Joe Hollis.
Simms came to Ohio State from Illinois, where he spent two years as coach of the running backs. In 1995, under Simms' tutelage, Robert Holcombe became the first Illinois sophomore since J.C. Caroline in 1953 to rush for 1,000 yards. Holcombe also topped the 1,000-yard mark in 1996 to become the first Illinois running back since Jim Grabowski in 1965 and '66 to enjoy back-to-back 1,000-yard campaigns.
Prior to Illinois, where he also coached the kick return unit, Simms spent four years as running backs coach at Toledo. In 1994, his last year at Toledo, the Rockets were ninth nationally in rushing with an average of 242.5 yards per game, and his starting running backs fumbled just once on 338 carries.
Prior to going to Toledo in 1991, Simms coached the outside linebackers at Miami (O.) for two years (1989-90). His other coaching stops include a year as running backs coach at Oberlin College
(1988), and two years as coach of the linebackers and defensive backs at Heidelberg College (1986-87). He also was a graduate assistant at San Diego State in 1986.
A native of Fremont, Ohio, Simms graduated from Fremont Ross High School, where he lettered in football, basketball, baseball and track.
He attended Bowling Green and earned four letters in football, winning second-team all-Mid America Conference honors at linebacker as a senior.
Simms graduated from Bowling Green in 1986 and launched his coaching career the following fall at San Diego State.