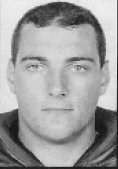 Nationality

United States

Position

ILB, NG, DT

Birthday

12/24/1975

Hometown

Pottsvile, PA

High School

Pottsville Area

Height

6'2"

Weight

285

Current Team

Ohio State

Seasons

1995, 1996, 1997, 1998, 1999
Jersey #: 93 (1996-99), 36 (1995)
Major: History (1997-99), Education (1996), Unknown (1995)
Weight: 285 (1998-99), 250 (1995-97)
1999 Media Guide: Randy Homa is not only one of the strongest players on the Ohio State Buckeyes but he also is one of the most well-red. This medieval history and literature buff counts "The Rise and Fall of the Third Reich" and "Shakespeare, the Complete Works" among the books he has read just this year. A lower back injury that flared up again this spring left Homa in a brace and sidelined him for about three months this summer so his status for the start of fall camp is questionable. This veteran of 21 Ohio State games is "strong at the point of attack and is excellent at controlling the line of scrimmage," tackles coach Jim Heacock said.
1998: Played in 10 games for a total of 54 minutes. He played eight minutes vs. Toledo and had seven minute bursts in the team's big wins over Penn State and Iowa.
1998 Media Guide: Interior defensive lineman who has a great attitude and is eager to play … one of the strongest players on the team, he benches 475 pounds … his position coach, Jim Heacock, says Randy is "strong at the point of attack. .. run defense is his strength because he is hard to move and he can control the line of scrimmage" … came to Ohio State as a linebacker, so has had to adjust to playing a down position … played well in the spring and should see more playing time this fall … one of the veterans of a young defensive line.
1997: Appeared in eight games and had four tackles, including three solos … logged a total of 30 minutes in those eight games, including a career-high 10 minutes against Illinois.
1997 Media Guide: Hopes to compete for playing time at nose guard … one of the strongest players on the defense (he bench presses 475 pounds) … Came to Ohio State as a linebacker and is still learning nose guard.
1996: Saw brief action in three games, logging a total of seven minutes against Rice, Pittsburgh and Indiana … played five minutes against Rice and had his lone tackle against Pitt … was initiated and learned the down lineman position by playing alongside three- and four-year starters Luke Fickell, Mike Vrabel and Matt Finkes.
1996 Media Guide: Redshirted last year as a true freshman … came to Ohio State as a linebacker, but was moved to a down position last spring in hopes of adding depth at nose guard … hard working, dedicated player, but this year will be a learning experience for him … can be a contributor if he can successfully make the adjustment to a down position … now that Eddie George is gone, he is the lone player from Pennsylvania on the Ohio State roster … one of the top rated players in the East coming out of high school.
1995: Redshirted in the fall at linebacker and was moved to a down position in the spring (1996).
High School: A first team all-state selection as a senior, when he had 156 total tackles, six quarterback sacks, two interceptions and five fumbles caused … a four-year starter who also earned prep All-America honors and was selected as the Reading Eagle Defensive Player of the Year last fall … also named to the New York Daily News National "Dream Team"… school reached the district championship game his freshman year, won the conference championship his sophomore season and reached the state playoff quarterfinals his junior year before going 6-5-1 in 1994 … set school records with 159 total tackles as a sophomore and 465 for his career … Outstanding senior season in wrestling, where he took an unbeaten record into regionals.
Personal: Hunting, weightlifting and reading vampire books are his hobbies … honor student in high school who plans to major in either education or business at Ohio State … an uncle, Mike Homa, played football at Arizona State in 1967.
Defense
| Season | Team | G | GS | Tkl | Solo | Asst | TFL | TFL Yds | Sacks | FF | FR | Int | PBU | Blk |
| --- | --- | --- | --- | --- | --- | --- | --- | --- | --- | --- | --- | --- | --- | --- |
| 1996 | Ohio State | 3 | 0 | 1 | 1 | 0 | 0 | 0 | 0 | 0 | 0 | 0 | 0 | 0 |
| 1997 | Ohio State | 9 | 0 | 4 | 3 | 1 | 0 | 0 | 0 | 0 | 0 | 0 | 0 | 0 |
| 1998 | Ohio State | 10 | 0 | 8 | 6 | 2 | 3 | 4 | 0 | 0 | 0 | 0 | 0 | 0 |
| Total | - | 22 | 0 | 13 | 10 | 3 | 3 | 4 | 0 | 0 | 0 | 0 | 0 | 0 |