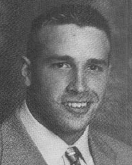 Nationality

United States

Position

ILB, OLB

Birthday

2/2/1981

Hometown

Elyria, OH

High School

Elyria Catholic

Height

6'5"

Weight

245

Current Team

Ohio State

Seasons

1999, 2000, 2001, 2002
Post-OSU Update: Matt Wilhelm was selected in the 4th round (112th overall) in the 2003 NFL Draft by the San Diego Chargers. Wilhelm played six of his eight years in the NFL with the Chargers and started during the 2007, making 97 tackles. Wilhelm also played for the 49ers and Packers (winning the Super Bowl in 2010), finishing his career with 243 tackles and six interceptions. After football, Wilhelm has held several Ohio football-related media jobs. (updated: Sep. 2022)
Major: Communication (2001-02), Undeclared (1999-00)
Weight: 245 (2000-01), 240 (1999)
2001 Media Guide: Matt Wilhelm will be in his second year as a starter … coming off a superb sophomore season in which he had 66 tackles and tied for the team lead in tackles for loss with 15 … also had three sacks … has size, speed and great instincts … excels at plugging the hole and also blessed with great lateral quickness and pursuit … a very physical player who has the power to stop ball carriers in their tracks … began last season at the WILL spot, but was moved to the middle prior to the first game and started all 12 games there … improved with each outing … was named Big Ten Defensive Player of the Week following the Illinois game (career-high 12 tackles, 2 TFL) … also named to the coaches' All-Big Ten team at the end of the year … should be a strong candidate for postseason honors again this season.
2001 Season: Named winner of the Randy Gradishar Award as the team's top linebacker … 10 tackles at UCLA earned him Ohio State Defensive Player of the Game laurels … solid seven-tackle effort at Michigan.
2000 Season: Scored his first collegiate touchdown in the season opener against Fresno State, picking off an interception and returning it 25 yards for the score … finished fourth on the team in tackles … had five games with two tackles-for-loss and had a TFL in each of the first nine games.
2000 Media Guide: Matt Wilhelm seems to impress just about everyone that lays eyes on him. There aren't many young football players with a gigantic 6-4 frame that remain as agile and quick-footed as he is. Wilhelm is a rare breed – a massive and towering linebacker that runs like a defensive back and changes direction like a tailback. "He's one of the most intriguing people we have because of his size," Brian Williams, linebackers coach, said. "He has great potential here. He's a great athlete that can run, jump and change direction quickly. You just don't get that in guys his size very often." Wilhelm's stock took off near the end of last season and he saw plenty of action at linebacker in the last four games.
1999: Played in 11 games on both special teams and as a backup linebacker … made 16 tackles (eight solos), the second-highest total among all OSU freshman … had two tackles-for-loss, including one sack … the only Ohio State rookie to record a sack last year (vs. UCLA) … in on a season-high four tackles against Michigan State … made at least one stop in seven of the 11 games he played … made his first career tackle just seconds after stepping on to the field for the first time as a collegian, dragging down UCLA's Freddie Mitchell on the game's opening kickoff.
High School: Selected first-team Division IV all-Ohio by the Associated Press as a senior … recorded 100 tackles with 26 tackles-for-loss and 11 quarterback sacks as a senior for Elyria Catholic High … called a "super sleeper" by recruiting publications … excellent athlete who was recruited by virtually all the Big Ten schools … played tight end and running back at Elyria Catholic in addition to linebacker.
Personal: The son of Ruth and Roger Wilhelm … hobbies are golf, video games and basketball … favorite childhood memory is winning the CYO championship in the 5th grade … in 10 years he would like to be "retiring from the NFL."
Defense
| Season | Team | G | GS | Tkl | Solo | Asst | TFL | TFL Yds | Sacks | Sack Yds | FF | FR | Int | Int Yds | PBU | Blk | Def TD |
| --- | --- | --- | --- | --- | --- | --- | --- | --- | --- | --- | --- | --- | --- | --- | --- | --- | --- |
| 1999 | Ohio State | 11 | 0 | 16 | 8 | 8 | 2 | 7 | 1 | 5 | 0 | 1 | 0 | 0 | 0 | 0 | 0 |
| 2000 | Ohio State | 0 | 0 | 66 | 48 | 18 | 15 | 47 | 3 | 20 | 1 | 0 | 1 | 25 | 2 | 0 | 1 |
| 2001 | Ohio State | 11 | 9 | 63 | 45 | 18 | 7 | 23 | 1 | 1 | 1 | 0 | 0 | 0 | 0 | 0 | 0 |
| 2002 | Ohio State | 14 | 13 | 121 | 79 | 42 | 19.5 | 49 | 3 | 15 | 2 | 0 | 2 | 0 | 3 | 0 | 0 |
| Total | - | 36 | 22 | 266 | 180 | 86 | 43.5 | 126 | 8 | 41 | 4 | 1 | 3 | 25 | 5 | 0 | 1 |