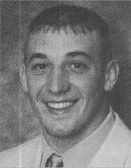 Nationality

United States

Position

MLB, OLB

Birthday

5/29/1981

Hometown

Dublin, OH

High School

Dublin Coffman

Height

6'2"

Weight

225

Current Team

Ohio State

Seasons

1999, 2000, 2001, 2002, 2003
Post-OSU Update: Fred Pagac Jr. was not selected in the 2004 NFL Draft. He played NFL Europe in 2005 with the Frankfurt Galaxy. Pagac then spent three years as a graduate assistant with the Buckeyes during the 2007-2009 seasons. After two years of coaching in the UFL and college, Pagac began a career in medical sales. (updated: Oct. 2022)
Major: Real Estate & Urban Analysis (2003), Marketing (2001-02), Undeclared (1999-00)
Weight: 225 (2000-03), 230 (1999)
2003 Media Guide: Fred Pagac Jr. heads into the fall as the leading candidate to replace All-American Matt Wilhelm as the starter at middle linebacker … has played in 27 games the past four years and has two starts to his credit, both of those coming in 2001 when Wilhelm was nursing a sore ankle … has great instincts and a knack for being in the right place at the right time … not the biggest middle linebacker in college football, but a fierce hitter and competitor with a thorough understanding of the game … has been beset by a variety of injuries while at Ohio State, including a shoulder problem last year that eventually required surgery and caused him to miss the final four games of the year including the Fiesta Bowl … subsequently sat out the first two weeks of spring ball, but did take part in the end of spring drills, including the spring game, and appears to be at full strength heading into the fall.
2002 Season: Was the backup to Wilhelm … played in nine games before undergoing surgery on his left shoulder the week of the Purdue game … recorded 11 tackles, including eight solo tackles, on the year … also had two tackles-for-loss … played a season-high 16 minutes against Kent State.
2002 Media Guide: Fred Pagac is a veteran linebacker who has been a key reserve and sometimes starter during an injury riddled career … will backup Matt Wilhelm in the middle again this year … has played in 18 games the past three years and has two starts to his credit, both of those coming last year when Wilhelm was nursing a sprained ankle … healthy for the first time last year, he played in all 12 games and had a dozen tackles and a fumble recovery … undersized for the middle, but an instinctively savvy player who makes up for that lack of size by being in the right place at the right time … a member of the Big Ten all-academic team.
2001 Season: Started the Wisconsin and San Diego State games for Wilhelm, notching four tackles in the former and five in the latter, plus a fumble recovery … logged a total of 59 minutes.
2001 Media Guide: Fred Pagac has battled injuries throughout his career, but stayed healthy during spring practice and goes into the fall full of optimism … very sound fundamentally and has a thorough understanding of the game … has worked hard to bulk up his frame since enrolling at Ohio State … named to the Big Ten's All-Academic team.
2000 Season: Began the season as the probable starter at middle linebacker, but wound up playing just one game (Miami in Week 3) because of an ankle injury … did not have any tackles … medical redshirt.
2000 Media Guide: Fred Pagac grew up with a football in his arms and it shows. The son of Ohio State assistant head coach Fred Pagac Sr. and a Columbus-area product, Pagac is an extremely smart linebacker that plays bigger than his size. He's an expert on football fundamentals and rarely misses a tackle. Pagac is recovering from a broken right tibia suffered last season five games into the year against Wisconsin. He is expected to be back to 100 percent by the beginning of the season. "There haven't been any problems with his recovery," Brian Williams, linebackers coach, said. "He's coming back nicely. He's got great football awareness because he's been around the game his whole life." Pagac will enter the year as the primary backup at middle linebacker and should continue to show the kind of progress made in the five games last year prior to the injury.
1999: Played in five games before breaking his right tibia against Wisconsin … made 11 tackles on the year, including seven solos … was the team's leading freshman tackler prior to the injury … logged a total of 40 minutes, including a season-high 15 against Ohio … made a season-high four tackles against Ohio, including his first career TFL … made three tackles in the Wisconsin game before sustaining the injury early in the fourth quarter … first career tackle came in the season opener against Miami.
High School: Selected first-team Division I all-Ohio by the Associated Press as a senior … considered a Top 10 linebacker prospect nationally by The National Recruiting Advisor … rated as the No. 3 prospect in the state of Ohio by The Ohio Football Recruiting News and No. 16 prospect in the Midwest by the Detroit Free Press … a USA Today honorable mention All-American … recorded 98 tackles with eight sacks as a senior in leading Dublin Coffman to an 8-2 record and the Ohio Capital Conference divisional title … had 110 tackles and six sacks as a junior … the son of Bernie and Fred Pagac.
Defense
| Season | Team | G | GS | Tkl | Solo | Asst | TFL | TFL Yds | Sacks | Sack Yds | FF | FR | Int | Int Yds | PBU | Blk |
| --- | --- | --- | --- | --- | --- | --- | --- | --- | --- | --- | --- | --- | --- | --- | --- | --- |
| 1999 | Ohio State | 5 | 0 | 11 | 7 | 4 | 1 | 1 | 0 | 0 | 0 | 0 | 0 | 0 | 0 | 0 |
| 2000 | Ohio State | 1 | 0 | 0 | 0 | 0 | 0 | 0 | 0 | 0 | 0 | 0 | 0 | 0 | 0 | 0 |
| 2001 | Ohio State | 11 | 2 | 12 | 7 | 5 | 0 | 0 | 0 | 0 | 0 | 1 | 0 | 0 | 0 | 0 |
| 2002 | Ohio State | 9 | 0 | 11 | 8 | 3 | 2 | 2 | 0 | 0 | 0 | 0 | 0 | 0 | 0 | 0 |
| 2003 | Ohio State | 13 | 10 | 36 | 14 | 22 | 3.5 | 15 | 1 | 8 | 0 | 0 | 0 | 0 | 0 | 0 |
| Total | - | 39 | 12 | 70 | 36 | 34 | 6.5 | 18 | 1 | 8 | 0 | 1 | 0 | 0 | 0 | 0 |