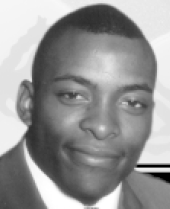 Nationality

United States

Position

TB

Height

6'0"

Weight

210

Birthday

12/14/1983

Hometown

Tampa, FL

High School

Gaither

Current Team

Ohio State

Past Teams

Ohio State

Seasons

2001, 2002, 2003, 2004
Post-OSU Update: After leaving Ohio State, Lydell Ross did not pursue a career in football as either a player or a coach. He quickly went into firefighting – read more. (updated: Oct. 2022)
Major: Communication (2003-04)
Weight: 225 (2004), 210 (2001-03)
2004 Media Guide: Former Ohio State Heisman Trophy winner Eddie George is his favorite player and he would like nothing more than to have a George-like year in his last go-around with the Buckeyes … has the size, speed and vision to be an outstanding back … has been a key reserve and sometimes starter the past two years and now appears to be the No. 1 tailback heading into the 2004 campaign.
2003 Season: Led the Buckeyes in rushing with 826 yards and was second in scoring (10 touchdowns for 60 points) and all-purpose yards (920) … put together a string of three consecutive 100-yard games against Indiana (167), Penn State (110) and Michigan State (125) … longest run of the year was 35 yards against MSU … had three touchdowns against Indiana.
2003 Media Guide: Lydell Ross is a veteran tailback who has rushed for 1,038 yards and 12 touchdowns during his career … teams with Maurice Clarett and Maurice Hall to give the Buckeyes' dream-like depth at tailback … combines speed and power with the ability to make defenders miss … had his best year last year, rushing for 619 yards and six touchdowns on 166 carries … started three games last season, including the Cincinnati contest where he rushed for a career-high 130 yards on 23 carries (the second 100-yard game of his career) … hard worker with a great attitude … missed spring ball with a groin pull, but should be 100 percent in the fall … makes the most of his opportunities.
2002 Season: Played in all 14 games with starts in the Cincinnati, Minnesota and Illinois games when Clarett was injured … carried the ball 20 times for 89 yards and a pair of touchdowns against Minnesota … came off the bench at Northwestern with Ohio State struggling to move the ball and picked up 83 yards on 18 carries … his 3-yard touchdown run at Northwestern put the Buckeyes on the board for the first time … had a pair of touchdowns in the season opener against Texas Tech … longest run of the year was 36 yards against Washington State … also had 10 receptions for 75 yards.
2002 Media Guide: Lydell Ross is easily the most experienced of the Buckeye tailbacks …coming off an impressive freshman campaign in which he emerged as the No. 2 running back and was an effective replacement for starter Jonathan Wells … finished his rookie season with 419 yards and six touchdowns on 120 carries … was the Buckeyes' second-leading rusher and third leading
scorer … gets through the hole in a hurry and has breakaway speed … great natural runner with the ability to break a game wide open …has moves you can't teach … slowed in the spring by a pulled hamstring, but will be ready in the fall … made Ohio State history last fall by becoming the youngest Buckeye player ever to rush for 100 yards in a game (he was 17 when he diced up the Indiana defense for 124 yards and two touchdowns Sept. 29) … became just the third Buckeye freshman to top the century mark, joining Robert Smith (1990) and Archie Griffin (1972) in that select circle.
2001 Season: One of the top freshman tailbacks in college football … believed to be the youngest back in the Big Ten ever to rush for 100 yards in a game (he did not turn 18 until Dec. 14) … longest run of the year was a 51-yard TD jaunt against San Diego State.
High School: First-Team Class 6A All-Florida selection … SuperPrep All-American … winner of the Gui Toph Award as Hillsboro County's most outstanding football player as a junior and senior … also named Tampa Sports Club Outstanding Amateur Athlete of the Year this past year … rushed for 2,676 yards on 355 carries (7.5 YPC) and scored 28 touchdowns … also had 18 receptions for 200 yards … all-time leading rusher in Hillsboro County history.
Personal: Son of Melvin and Francine Ross … two brothers, Derrik and Jason and one sister, Crystal … his father played football at Indiana … patterns himself after former Buckeye Eddie George … born Dec. 14, 1983.
Offense
| Season | Team | G | GS | Rush Att | Rush Yds | Rush Avg | Rush TD | Tgt | Rec | Rec Yds | Rec Avg | Rec TD | Lng | Fum | Lost |
| --- | --- | --- | --- | --- | --- | --- | --- | --- | --- | --- | --- | --- | --- | --- | --- |
| 2001 | Ohio State | 12 | 0 | 120 | 419 | 3.5 | 6 | 3 | 2 | 8 | 4.0 | 0 | 51 | 1 | 1 |
| 2002 | Ohio State | 14 | 5 | 166 | 619 | 3.7 | 6 | NA | 10 | 75 | 7.5 | 0 | 36 | NA | NA |
| 2003 | Ohio State | 13 | 6 | 193 | 826 | 4.3 | 10 | NA | 13 | 98 | 7.5 | 0 | 35 | NA | NA |
| 2004 | Ohio State | 9 | 6 | 117 | 475 | 4.1 | 4 | NA | 6 | 49 | 8.2 | 0 | 68 | NA | NA |
| Total | - | 48 | 17 | 596 | 2339 | 3.9 | 26 | NA | 31 | 230 | 7.4 | 0 | 68 | NA | NA |