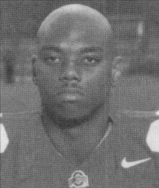 Nationality

United States

Position

TB

Birthday

7/21/1979

Hometown

River Ridge, LA

High School

John Curtis

Height

6'2"

Weight

230

Current Team

Ohio State

Seasons

1998, 1999, 2000, 2001
Post-OSU Update: Jonathan Wells was selected by the Houston Texans with the 99th pick (4th round) of the 2002 NFL Draft. Wells played four seasons in the NFL, all with the Texans, rushing for a career-high 529 yards as a rookie. He accounted for 1,490 total yards and 12 touchdowns. (updated: Aug. 2022)
Major: African-American and African Studies (2001), Undeclared (1999-00)
Weight: 230 (1999-01), 220 (1998)
2001 Media Guide: Jonathan Wells has been the top reserve the past two seasons and now hopes to step into the spotlight as the starter … has size, speed and power … can run inside the tackles and bounce outside the end … has shown flashes of brilliance in the past and is one of those runners who seem to get stronger as the game wears on …  also a fine receiver and good blocker … worked hard in the spring and has dedicated himself to having his best year … backed up senior Derek Combs last season, playing in all 12 games and starting the Fresno State, Minnesota, Iowa and South Carolina contests … wound up the 2000 campaign with 598 yards rushing and led the team with six rushing TDs … topped the 100-yard plateau against Miami of Ohio (117) and Illinois (131) … also caught nine passes for 88 yards, tops among the running backs … came off the bench at Illinois to spark two fourth-quarter drives that resulted in a dramatic last-second 24-21 win that kept OSU tied for first place in the Big Ten standings heading into the final weak of the season … had a career-high 27 carries against the Illini in what was his best overall game as a Buckeye … is a 33-game veteran and enters the 2001 season with 1,087 career yards on 228 carries (4.8 YPC) … hopes to have a breakout year in 2001 and has the talent to do so.
2000 Season: Miami was his first 100-yard game … his longest run of the year was 31 yards at Wisconsin … had a 25-yard reception against Michigan … had two touchdowns against Miami and Michigan.
2000 Media Guide: Buckeye fans are quick to compare Jonathan Wells with former great Eddie George. After all, both are big, punishing runners with blazing speed. George broke into the starting lineup as a junior at Ohio State; Wells hopes to do the same this year and write his own legacy. His style is compared to George's in several ways. Wells can bulldoze over one defender, stiff arm another, jump into an unknown gear and seemingly run away from the pack. He appears to get stronger and stronger as the game wears on. Maybe it was no coincidence that when asked who he admired most on his freshman football player questionnaire two years ago, Wells listed George. Wells has 4.4 speed and Tim Spencer, OSU running backs coach, said he has gotten bigger, stronger and faster in the offseason.
1999: Played in nine games and rushed for 292 yards on 51 carries … suffered an ankle injury in the season opener against Miami that sidelined him for three games and hampered him until late in the year … led all Ohio State rushers with an average of 5.7 yards per carry … was at full strength the last two games of the year and ran for a combined 148 yards on just eight carries … rumbled for a season-high 85 yards in the finale at Michigan, including a career-long 76-yard run … emerged as a big play threat in the second half of the year, averaging 8.3 yards per carry over the last five games (241 yards on 29 rushes) … ran for 51 yards on nine carries against Iowa and scored two touchdowns, marking the first multiple touchdown game of his career … caught five passes for 17 yards.
1999 Media Guide: Jonathan wells came to Ohio State with great high school credentials. After one season with the Buckeyes it looks like he might leave Ohio State in four years with plenty of great college credentials. A power running back with speed, who showed last fall and this spring he can bull through or escape defenders, Wells is certainly in line to carry the football more for the Buckeyes in 1999. Last year as a true freshman, he carried the ball in 10 of 12 games and ranked as the third-leading rusher on the team. He also performed on numerous special teams, including returning three kickoffs for 61 yards.
1998: Capped an outstanding rookie season by rushing seven times for 30 yards in front of a home crowd in the Louisiana Superdome to close out Ohio State's 24-14 Sugar Bowl win over Texas A&M. Played in all 12 games and ranked as the team's third-leading rusher with 197 yards off 41 carries (4.8 ypc) with two touchdowns. Found the end zone in his first game on a 7-yard rush against West Virginia, part of a four-carry, 27-yard debut. Gained 48 yards off 10 carries against Toledo and ripped off his season-long 25-yard rush in the win over Iowa. Scored on a 2-yard rush vs. Illinois.
1998 Media Guide: Led his high school to the Louisiana state championship by rushing for 1,408 yards, scoring 21 touchdowns and averaging over 10 yards per carry as a senior … John Curtis was 27-1 during his junior and senior years and won consecutive state crowns … rushed for over 4,600 yards in his career … received high school All-American honors by numerous publications as a senior and rated as one of the top 100 players in the country … two-time all-State selection … a power running back with speed who bulled through or ran away from his defenders … from same high school as Michigan's Chris Howard.
Personal: The son of Debra and Kenneth Wells … a cousin, Matthew Dorsett, played for the Green Bay Packers … loves to fish and never misses an opportunity to do so when he is at home … born July 21, 1979.
Offense
| Season | Team | G | GS | Comp | Pass Att | Pass Yds | Pass TD | Pass Int | Rush Att | Rush Yds | Rush Avg | Rush TD | Tgt | Rec | Rec Yds | Rec Avg | Rec TD | Lng | Fum | Lost | FR | KR | KR Yds | KR TD |
| --- | --- | --- | --- | --- | --- | --- | --- | --- | --- | --- | --- | --- | --- | --- | --- | --- | --- | --- | --- | --- | --- | --- | --- | --- |
| 1998 | Ohio State | 12 | 0 | 0 | 1 | 0 | 0 | 0 | 41 | 197 | 4.8 | 2 | NA | 1 | 11 | 11.0 | 0 | 25 | NA | NA | 0 | 0 | 0 | 0 |
| 1999 | Ohio State | 9 | 0 | 0 | 0 | 0 | 0 | 0 | 51 | 292 | 5.7 | 3 | 8 | 5 | 17 | 3.4 | 0 | 76 | 1 | 0 | 0 | 0 | 0 | 0 |
| 2000 | Ohio State | 12 | 4 | 0 | 0 | 0 | 0 | 0 | 136 | 598 | 4.4 | 6 | 11 | 9 | 88 | 9.8 | 0 | 31 | 2 | 0 | 0 | 0 | 0 | 0 |
| 2001 | Ohio State | 12 | 10 | 0 | 0 | 0 | 0 | 0 | 251 | 1294 | 5.2 | 16 | 26 | 11 | 117 | 10.6 | 0 | 71 | 3 | 2 | 1 | 1 | 18 | 0 |
| Total | - | 45 | 14 | 0 | 1 | 0 | 0 | 0 | 479 | 2381 | 5.0 | 27 | 45 | 26 | 233 | 9.0 | 0 | 76 | 6 | 2 | 1 | 1 | 18 | 0 |