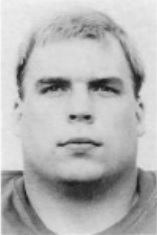 Nationality

United States

Position

OG

Birthday

3/20/1968

Hometown

Middletown, OH

High School

Middletown

Height

6'4"

Weight

292

Current Team

Ohio State

Seasons

1986, 1987, 1988, 1989, 1990
Player Bio:
Major: Recreation Education (1988-90)
Weight: 292 (1990), 285 (1988-89), 282 (1986-87)
1990 Media Guide: A fifth-year senior and one of the Buckeyes' most experienced linemen … missed all of last year following surgery on both shoulders, but enjoyed an excellent spring and won a starting spot at strong guard … coaches are hoping he will be a leader on a young offensive line … very consistent in the spring and made enormous strides in his pass blocking … has started both at guard and tackle at OSU, but injuries have kept him from ever playing a full season.
1989: Was to have battled Karl Coles for a starting spot at strong guard, but instead underwent shoulder surgery at the start of the season and did not play.
1988: His first year at guard after spending the previous season at tackle … played sparingly in four games as a backup to Greg Zackeroff … total playing time was 20 minutes.
1987: Began the 1987 season as the starting right tackle, but a dislocated elbow at LSU sidelined him for the remainder of the season.
1986: Redshirted … underwent surgery on his lower legs to reduce a painful condition brought about by his calf muscles developing more rapidly than the surrounding tissue.
HIGH SCHOOL: A consensus high school All-American … first-team all-state and Ohio Class AAA Lineman-of-the-Year as a senior … broke his high school's 28-year-old shot put record, previously held by former OSU basketball All-American Jerry Lucas … bench presses over 450 pounds … has added 20 pounds annually since his freshman year of high school.
PERSONAL: Wants to someday coach college football … hobbies include woodworking … admires Bill Fralic and Anthony Munoz … favorite actor is Sylvester Stallone.
Coaching Bio:
OSU Coaching History:
2004: Recruiting Coordinator / Tight Ends
2004 Media Guide: John Peterson is in his first year as a member of the Ohio State coaching staff. An Ohio State graduate and former starter on the offensive line for the Buckeyes, Peterson returned to his alma mater this past April in the dual role of tight ends coach and recruiting coordinator. He replace Bill Conley, who resigned the position after 18 years. Ironically, Peterson played for Conley at Middletown High School in southwestern Ohio as a prepster.
Peterson has spent the past five seasons at Miami of Ohio, where he coached the offensive line. For the last three years, he also has served as the running game coordinator.
Following the 2003 season in which the RedHawks posted a 13-1 record and closed out the year with 13 consecutive wins, Peterson accepted the position of offensive line coach at the University of Arizona under Mike Stoops. He moved to Arizona in January, but was there only briefly before accepting an offer from Ohio State head coach Jim Tressel. He joined the Buckeyes during the last half of spring practice.
A native of Middletown, Peterson was a four-year letterman for the Buckeyes between 1987 and 1990, starting at guard as a senior.
Following his graduation from Ohio State in 1991, he began his coaching career as a graduate assistant at the University of Cincinnati.
After two years with the Bearcats, he returned to OSU in a graduate assistant's role. He spent the 1993 and 1994 seasons as a GA for the Buckeyes, working with future NFL players Rickey Dudley and Orlando Pace and traveling with OSU to the Holiday Bowl in 1993 and Citrus Bowl in 1994.
Peterson's first full-time position came in 1995 as the offensive line coach at the University of Akron under former OSU assistant Lee Owens. He spent four years in Akron. In 1997, the Zips boasted the nation's 11th ranked rushing attack and the offensive line permitted just 10 sacks all year long.
In February of 1999, Peterson moved to Miami (Ohio) as offensive line coach. In March of 2001, he was given the added responsibility of running game coordinator. During their league championship season in 2003, the RedHawks averaged 502 yards and 43 points per game.
Peterson and his wife, Michelle, a native of Middletown and a graduate of Ohio University, have two sons, Austin (8) and Cole (5). Michelle's uncle Jerry Harkrader, played football for the Buckeyes in the mid-1950s.
Offense
| Season | Team | G | GS |
| --- | --- | --- | --- |
| 1987 | Ohio State | 3 | 3 |
| 1988 | Ohio State | 4 | 0 |
| 1990 | Ohio State | 10 | 10 |
| Total | - | 17 | 13 |