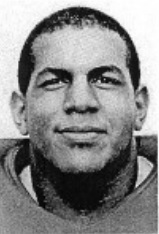 Nationality

United States

Position

OG, DT

Height

6'5"

Weight

295

Birthday

2/23/1967

Hometown

Gahanna, OH

High School

Lincoln

Past Teams

Ohio State

Seasons

1985, 1986, 1987, 1988, 1989
Jersey #: 66 (1986-1989), 91 (1985)
Major: Recreation Education (1988-89), Business Administration (1985)
Weight: 295 (1989), 290 (1988), 260 (1987), 256 (1986), 252 (1985)
1989 Media Guide: Karl Coles emerged from spring practice with a slight edge over John Peterson in the battle to replace Greg Zackeroff at strong guard … an excellent athlete … probably OSU's strongest guard … good run blocker … has played both guard and tackle at OSU and can play either the quick or strong sides at both of those positions … has the potential to be very good … has added more than 40 pounds since his freshman year.
1988: Moved from guard to tackle in the spring and entered the fall as the Buckeyes' third tackle … played in the opener against Syracuse, but subsequently suffered a knee injury and did not play again the rest of the year … moved to guard in the spring.
1988 Media Guide: Moves from guard to tackle this year to take better advantage of his size … will play behind Tim Moxley on the strong side … has the athletic ability to play the quick side if necessary … has added 20 pounds since last year … has great physical tools.
1987: Started eight games at left guard, the last seven after Jeff Davidson broke his leg at Illinois … played well as a starter, but with Davidson and Zackeroff both returning in 1988, he was shifted to tackle in the spring.
1987 Media Guide: A second team guard who played behind Zackeroff in 1986 … has considerable athletic ability and needs only experience to become a standout.
1986: Played in nine games for a total of 56.5 minutes as a back-up guard … playing weight was 256.
1986 Media Guide: Entered Ohio State in the fall of 1985 but did not see any game action … began as a defensive tackle but moved to offensive guard in the spring of 1986 … a broken hand limited his play … strong physically and has good quickness.
1985: Redshirted.
1985 Media Guide: A two-way player who prefers defense … strong physically with good quickness.
High School: Won honorable mention all-Ohio honors at Lincoln High in Gahanna, primarily as a defensive tackle … attended Eastmoor High prior to moving to Gahanna his junior year.
Personal: Hobbies are music and collecting coins … admires Ed "Too Tall" Jones and Michael Jordan.
Offense
| Season | Team | G | GS | FR |
| --- | --- | --- | --- | --- |
| 1986 | Ohio State | 9 | 0 | 0 |
| 1987 | Ohio State | 10 | 8 | 1 |
| 1988 | Ohio State | 1 | 0 | 0 |
| 1989 | Ohio State | 12 | 12 | 0 |
| Total | - | 32 | 20 | 1 |
Defense
| Season | Team | G | GS | Tkl | Solo | Asst | FR |
| --- | --- | --- | --- | --- | --- | --- | --- |
| 1986 | Ohio State | 9 | 0 | 0 | 0 | 0 | 0 |
| 1987 | Ohio State | 10 | 8 | 1 | 1 | 0 | 1 |
| 1988 | Ohio State | 1 | 0 | 0 | 0 | 0 | 0 |
| 1989 | Ohio State | 12 | 12 | 0 | 0 | 0 | 0 |
| Total | - | 32 | 20 | 1 | 1 | 0 | 1 |