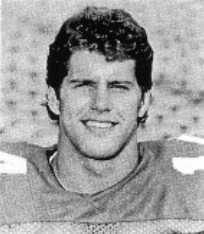 Nationality

United States

Position

OLB

Height

6'6"

Weight

250

Birthday

4/17/1965

Hometown

River Forest, IL

High School

Oak Park

Past Teams

Ohio State

Seasons

1984, 1985, 1986, 1987
Post-OSU Update: Eric Kumerow was a first-round pick (16th overall) of the 1988 NFL Draft by the Miami Dolphins. He played three years in the NFL, all with the Dolphins, recording 5.0 sacks and an interception in 42 games. His brother-in-law is John Bosa, the father of Ohio State greats Joey and Nick Bosa. (updated: Nov. 2022)
Pronunciation:COME-ERR-OH
Major: Recreation Education (1984)
Weight: 250 (1987), 228 (1984)
1987 Media Guide: Has started 27 games for the Buckeyes.
1986: A 1986 first team all-Big Ten selection by both AP and UPI … Big Ten Radio Broadcasters Association voted Eric the "Top Defensive Lineman in the Big Ten" in 1986 … made 66 tackles on the season, including nine for a loss … his best game came against Iowa, when he had eight solo tackles, including one quarterback sack, and batted down one pass, earning him "Defensive Lineman of the Week" honors.
1985: A regular in 1985 who became a standout defender by the end of the season … led the team with ten lost-yardage tackles, including a team-high of six quarterback sacks … intercepted one pass, batted down three, recovered one fumble and caused another.
1985 Media Guide: Was set to be a starter in 1984 when an injury kept him out of the first two games … drew four starting assignments, including the last three games of the season … heavier, stronger and more confident this year … figures to become a strong pass rusher because of his size and athletic ability … runs the 40 in 4.64 … presses 330 pounds and lifts 585.
1984: Would've been a starter, but a painful heel bruise restricted his play.
1984 Media Guide: Has a good chance to start this fall … bench presses 320 pounds … runs the 40 in 4.70 seconds.
1983: Came to Ohio State as an All-America quarterback, but asked to move to defense as OSU prepared for the 1984 Fiesta Bowl Game.
High School: An All-American quarterback-defensive back from Oak Park High in Illinois … passed for over 1,600 yards and ran for more than 500 as a senior … won all-conference honors two years in basketball and led the league in scoring his senior year.
Personal: Admires Larry Bird and Dick Butkus.
Defense
| Season | Team | G | GS | Tkl | Solo | Asst | TFL | TFL Yds | Sacks | Sack Yds | FF | FR | Int | Int Yds | PBU | Blk | Def TD |
| --- | --- | --- | --- | --- | --- | --- | --- | --- | --- | --- | --- | --- | --- | --- | --- | --- | --- |
| 1984 | Ohio State | 10 | 4 | 36 | 20 | 16 | 5 | 28 | 3 | 22 | 1 | 0 | 0 | 0 | 1 | 0 | 0 |
| 1985 | Ohio State | 11 | 10 | 54 | 32 | 22 | 10 | 46 | 6 | 38 | 1 | 1 | 1 | 0 | 3 | 0 | 0 |
| 1986 | Ohio State | 13 | 13 | 66 | 42 | 24 | 9 | 62 | 6 | 54 | 1 | 1 | 1 | 3 | 6 | 0 | 0 |
| 1987 | Ohio State | 11 | 11 | 73 | 38 | 35 | 15 | 75 | 8 | 49 | 4 | 2 | 0 | 0 | 1 | 0 | 0 |
| Total | - | 45 | 38 | 229 | 132 | 97 | 39 | 211 | 23 | 163 | 7 | 4 | 2 | 3 | 11 | 0 | 0 |