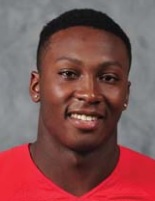 Nationality

United States

Position

DE

Height

6'3"

Weight

247

Birthday

1/8/1994

Hometown

Harrisburg, PA

High School

Bishop McDevitt

Past Teams

Ohio State

Seasons

2012, 2013
Post-OSU Update: Noah Spence was suspended for the 2014 Orange Bowl after testing positive for ecstasy. Prior to the 2014 season, Spence failed another drug test and was suspended indefinitely. Later that season, the Big Ten ruled him permanently ineligible.
Spence transferred to Eastern Kentucky and played the 2015 season there. He entered the 2016 NFL Draft and was the 39th overall selection by Tampa Bay. His best year was his rookie year, recording 5.5 sacks. He played parts of four other seasons in the NFL, recording career totals of 43 tackles and 7.5 sacks. (updated: Nov. 2023)
Major: Communications (2014), Sociology (2013)
Weight: 252 (2014), 247 (2013), 240 (2012)
2014 Media Guide: Noah Spence is a fine football player … this true junior has played in 24 games through his first two seasons and he has started 13 times … he is coming off a first-team all-Big Ten
Conference season and he ranks second among current Buckeyes with 15.5 career tackles-for-loss and with 9.0 quarterback sacks … Spence also ranks fourth among current Ohio State players with 64 career tackles … he is a two-time OSU Scholar-Athlete and an Academic All-Big Ten Conference honoree.
2013 Media Guide: Noah Spence came to Ohio State with a plethora of accolades and accomplishments and he is quickly becoming a fine, fine football player on the collegiate scene … he
played in 11 games last season as a true freshman, missing only the Nebraska game because of a minor injury, and then came back and had a series of noteworthy and newsworthy 2013 spring practices
… and he needed to have an excellent spring, because the Buckeye coaches must replace all four starters along the line … Noah's play will make that task a little less formidable … he managed to play
in 256 plays last season despite all that experience ahead of him, and he gained valuable game reps with 237 plays on defense … he totaled 12 tackles, including a quarterback sack for minus-20 yards in his initial game as a Buckeye, vs. Miami … he also had a pass break-up.
High School: Noah Spence was a Parade Magazine All-American, a five-star prospect, the No. 2 defensive end prospect in the country and a Top 5 prospect nationally by ESPNU and MaxPreps … he was also the No. 1 player in the state of Pennsylvania and the state's two-time big school defensive player of the year … he was selected the 2011 Pennsylvania Gatorade Player of the Year, an award that recognizes high standards of academic achievement and exemplary character in addition to athletics … also named the Maxwell Football Club's national high school player of the year in 2011 … amassed 204 tackles, including 50 tackles-for-loss and 35.5 sacks, during his junior and senior seasons … he helped Bishop McDevitt, under coach Jeff Weachter, advance to consecutive state Class AAA title games …
he topped 50 quarterback sacks in his career and then had an Under Armour All-American game record three sacks Jan. 5 in St. Petersburg, Fla., for "Team Highlight" … comes from same high school that produced NFL great Ricky Watters.
Personal:  Noah is the youngest of four sons born to Helen and Greg Spence, and the couple also has five adopted sons … the siblings include Ray, Rod, Greg, Malcolm, Alonzo, Alex, Noah, Tariq, and Marqus … Noah's father played football at North Carolina State and an uncle, Phil, was a standout basketball player for the Wolfpack and was part of the school's 1974 national championship team.
Defense
| Season | Team | G | GS | Tkl | Solo | Asst | TFL | TFL Yds | Sacks | Sack Yds | FF | FR | Int | Int Yds | PBU | Blk | Def TD |
| --- | --- | --- | --- | --- | --- | --- | --- | --- | --- | --- | --- | --- | --- | --- | --- | --- | --- |
| 2012 | Ohio State | 11 | 0 | 12 | 7 | 5 | 1.0 | 20 | 1.0 | 20 | 0 | 0 | 0 | 0 | 1 | 0 | 0 |
| 2013 | Ohio State | 13 | 12 | 52 | 24 | 28 | 14.5 | 83 | 8.0 | 67 | 1 | 1 | 0 | 0 | 2 | 0 | 0 |
| Total | - | 24 | 12 | 64 | 31 | 33 | 15.5 | 103 | 9 | 87 | 1 | 1 | 0 | 0 | 3 | 0 | 0 |