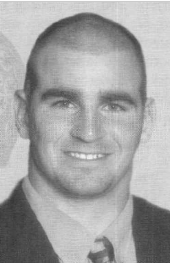 Nationality

United States

Position

DE

Height

6'5"

Weight

290

Birthday

6/26/1983

Hometown

Van Wert, OH

High School

Van Wert

Current Team

Ohio State

Seasons

2002, 2003, 2004, 2005, 2006
Major: Communications (2003-06)
Weight: 290 (2005-06), 275 (2004), 265 (2003), 255 (2002)
2006 Media Guide: The Buckeyes' third defensive tackle behind Quinn Pitcock and David Patterson … coming off his best year of football … has been a key reserve and regular member of the defensive line rotation the past two years … has played in 30 games the past three years and always turns in a solid performance … is a good pass rusher because of his combination of size, strength, speed and reach … has 25 tackles the past two years.
2005: Played a total of 74 minutes, including 11 minutes in the season opener against Miami (Ohio) … also had seven or more minutes in four other games, including nine minutes against Michigan … two tackles against Indiana, Illinois and Northwestern were his top efforts … had a tackle-for-loss against Michigan State and half a TFL against Northwestern … had at least one tackle in eight of the 12 games he played in.
2005 Media Guide: A regular member of the defensive line rotation last year … has earned two letters … heads into the 2005 campaign listed as the backup to Quinn Pitcock … has improved each of his three years on the squad and gives the Buckeyes a dependable presence inside … is an effective pass rusher because of his size and reach … has played in 18 games during his career and will continue to see increased playing time in 2005 … coming off a solid year … an OSU scholar-athlete and Academic All-Big Ten honoree.
2004 Season: Played in all 12 games and recorded 13 tackles and 2.5 tackles for loss … logged double-digit minutes in six of the first seven games with a career-high 15 at Northwestern … had at least one tackle in nine games … top effort was three stops at Michigan State … his first career tackle was a tackle-for-loss in the season opener against Cincinnati … also had tackles-for-loss at Northwestern and against Wisconsin.
2004 Media Guide: Is among the rotation at right defensive tackle entering the fall and, barring injury, should see significant playing time along the revamped defensive line in 2004 … with his combination of size and speed, he has the ability to make significant contributions this season, primarily as a pass rusher … a three-time OSU Scholar-Athlete and an Academic All-Big Ten honoree (2003).
2003 Season: Played a total of 17 minutes in six games as a freshman in 2003 … did not record a tackle in a reserve role … played a career-high eight minutes in the season opener vs. Washington.
2003 Media Guide: Joel Penton is one of several promising young defensive lineman who are being counted on to work their way into the rotation this year and bolster an already strong area of the OSU defense … has good size and quickness and the coaches believe he has the potential to be an outstanding pass rusher … was redshirted last season, but impressed the coaches with his determination and fire … will compete with fellow redshirt frosh Jay Richardson for playing time as a backup to Simon Fraser.
2002 Season: Redshirted.
High School: A first-team all-Ohio selection and the co-Division III Defensive Player of the Year as a senior, sharing that honor with another Ohio State recruit, defensive end Mike Kudla … also named as the recipient of the 2001 Art Teynor Award, presented annually by the Ohio High School Coaches Association to its selection as player of the year … finished his senior year with 119 tackles, including 11 tackles-for-loss and eight sacks … had 11 sacks and 138 tackles as a junior and won Associated Press all-state recognition … has excellent athletic skills and is still growing … a member of the National Honor Society .. high school coach – Jeff Hood.
Personal: Is the son of Joel and Peggy Penton … involved in the Athletes-In-Action and Campus Crusade and is a frequent speaker on behalf of those groups … admires Reggie White because of his combination of athletic ability and strong faith … has three older sisters (the oldest graduated from Bowling Green, the middle one graduated from the Naval Academy and was just recently discharged from service, the youngest currently attends Miami of Ohio) … born June 26, 1983.
Defense
| Season | Team | G | GS | Tkl | Solo | Asst | TFL | TFL Yds | Sacks | Sack Yds | FF | FR | Int | Int Yds | PBU | Blk | Def TD |
| --- | --- | --- | --- | --- | --- | --- | --- | --- | --- | --- | --- | --- | --- | --- | --- | --- | --- |
| 2003 | Ohio State | 6 | 0 | 0 | 0 | 0 | 0 | 0 | 0 | 0 | 0 | 0 | 0 | 0 | 0 | 0 | 0 |
| 2004 | Ohio State | 12 | 0 | 13 | 5 | 8 | 2.5 | 4 | 0 | 0 | 0 | 1 | 0 | 0 | 0 | 0 | 0 |
| 2005 | Ohio State | 12 | 0 | 12 | 2 | 10 | 1.5 | 2 | 0 | 0 | 0 | 0 | 0 | 0 | 0 | 0 | 0 |
| 2006 | Ohio State | 13 | NA | 20 | 7 | 13 | 3.0 | 20 | 2.0 | 14 | 0 | 0 | 0 | 0 | 0 | 0 | 0 |
| Total | - | 43 | NA | 45 | 14 | 31 | 7 | 26 | 2 | 14 | 0 | 1 | 0 | 0 | 0 | 0 | 0 |