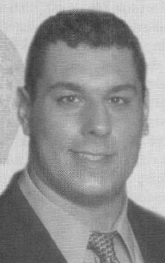 Nationality

United States

Position

DT

Birthday

9/14/1983

Hometown

Piqua, OH

High School

Piqua

Height

6'4"

Weight

300

Current Team

Ohio State

Seasons

2002, 2003, 2004, 2005, 2006
Post-OSU Update: Quinn Pitcock was selected with the 98th overall pick (third round) of the 2007 NFL Draft by the Indianapolis Colts. He played nine games, recording 18 tackles and 1.5 sacks, his rookie season. Pitcock never reported for his second year, deciding instead to leave football due to depression and a video game addiction. After football, Pitcock has worked a variety of jobs, most recently as an Advertising Sales Director. (updated: Mar. 2023)
Major: Consumer Affairs (2005-06), Business (2004), Engineering (2003)
Weight: 295 (2004-06), 300 (2003), 285 (2002)
2006 Media Guide: All-America candidate and the anchor up front on the Buckeyes' defensive line … strong as a bull, quick as a cat and tough as they come … will be the leader of the OSU defense both on and off the field … blue collar player who scraps and claws on every play … is almost always double-teamed … will be in his third year as a starter and has played in 37 games the past three years … has 23 career starts to his credit … was held out of spring ball while recovering from postseason shoulder surgery but is expected to be 100 percent in the fall.
2005: Started all 12 games and logged 201 minutes of playing time … had a career-high five tackles in the win over Illinois … had at least one tackle in every game but Indiana … tackles-for-loss against Miami, Penn State and Illinois (a sack) … blocked a punt against Northwestern that A.J. Hawk scooped up and scored on … also had a fumble recovery at Minnesota when the game was still on the line.
2005 Media Guide: A terrific football player who started for the first time last year and had a sensational season … is big, strong, tough and makes plays at crunch time … comes-to-play every game and is a blue collar guy who thrives on competition … led the defensive line in tackles last year … one of the strongest players on the team and has a 36-inch vertical leap to go along with his 295 pounds … is a relative newcomer on the college scene but has the talent to project himself into the postseason awards picture.
2004: Finished seventh on the team in tackles with 49, including 7.5 tackles-for-loss … also had a pair of sacks … recorded his first career interception at Purdue when he picked off Brandon Kirsch in the fourth quarter … ranked second in minutes played among all defensive lineman … collected a career-high seven tackles, all assists, in the season opener against Cincinnati … had four solos and six total tackles against both Northwestern and Penn State … two of his four tackles at N.C. State were behind the line of scrimmage … was voted the OSU defensive player of the week against Purdue and earned the attack force player of the week three times (Cincinnati, Northwestern and Penn State).
2004 Media Guide: Expected to be the starter at defensive tackle, replacing ironman Tim Anderson on the right side … was a key reserve last year, appearing in all 13 games and making one start … logged a total of 106 minutes in 2003, appearing at both tackle and end … is a physical player, very much in the stead of Anderson … wound up the 2003 campaign with a very respectable 17 tackles … coming off a very productive spring … expected to carry on the tradition of quality defensive line play after the departure of three NFL draftees a year ago … relentless player who is driven to succeed.
2003 Season: Recorded lone start vs. Northwestern at defensive end … season-high for minutes played was 16 in the home win over Iowa … also played double-digit minutes against San Diego State (11), Northwestern (12), Wisconsin (11) and Indiana (13) … led all non-starters with five tackles-for-loss (16 yards), and three sacks (10 yards) … top game was a six-tackle effort against Iowa, including 2.5 TFLs and a sack … added depth to the defensive line, allowing the coaches to rotate players in and out without losing any quality.
2003 Media Guide: Quinn Pitcock is expected to be the backup to veteran Tim Anderson at defensive tackle … highly thought of young player whose style of play is similar to Anderson's all-out approach … will lend quality depth to an already deep position … was redshirted last year, but demonstrated early on that he was ready to play should the coaches choose to use him … has added 15 pounds since coming to Ohio State and has greatly increased his strength (bench press 395, squat 615) … is the heir apparent to Anderson in 2004 assuming he stays healthy and continues to improve … is a talented reserve with a bright future.
2002 Season: Redshirted.
High School: A first-team Division II Associated Press All-Ohio selection as a senior … a second-team All-America pick by USA Today … the top defensive tackle in the state of Ohio and one of the country's best … rated as the top defensive lineman in the Midwest by Super Prep Magazine … Rivals.com lists him as the nation's fifth best defensive tackle and the 11th best defensive lineman overall … led Piqua to a 12-3 record and a berth in the state playoffs last season … finished the year with 69 tackles, including 15 sacks … simply overpowered opposing offensive linemen … from the same high school as former Buckeye defensive end Matt Finkes, who helped lead the Buckeyes to the 1996 Big Ten co-championship and a berth and victory in the 1997 Rose Bowl … high school coach – Bill Nees.
Personal: Is the son of Michael and Janey Pitcock … hobbies include riding dirt bikes and motorcycles … enjoys all sports … his grandfather, Phil Edwards, played football at Miami (Ohio) … math and science are two of his favorite subjects, which is why he hopes to pursue a degree in engineering … born Sept. 14, 1983.
Defense
| Season | Team | G | GS | Tkl | Solo | Asst | TFL | TFL Yds | Sacks | Sack Yds | FF | FR | Int | Int Yds | PBU | Blk | PR | PR Yds | PR TD |
| --- | --- | --- | --- | --- | --- | --- | --- | --- | --- | --- | --- | --- | --- | --- | --- | --- | --- | --- | --- |
| 2003 | Ohio State | 13 | 1 | 17 | 11 | 6 | 5 | 16 | 3 | 10 | 0 | 0 | 0 | 0 | 0 | 0 | 0 | 0 | 0 |
| 2004 | Ohio State | 12 | 11 | 49 | 20 | 29 | 7.5 | 25 | 2.0 | 13 | 0 | 0 | 1 | 14 | 1 | 0 | 0 | 0 | 0 |
| 2005 | Ohio State | 12 | 12 | 28 | 14 | 14 | 3.0 | 5 | 1.0 | 1 | 0 | 1 | 0 | 0 | 0 | 1 | 1 | 25 | 0 |
| 2006 | Ohio State | 12 | NA | 39 | 20 | 19 | 12.0 | 49 | 8.0 | 42 | 0 | 0 | 0 | 0 | 0 | 0 | 0 | 0 | 0 |
| Total | - | 49 | 24 | 133 | 65 | 68 | 27.5 | 95 | 14 | 66 | 0 | 1 | 1 | 14 | 1 | 1 | 1 | 25 | 0 |