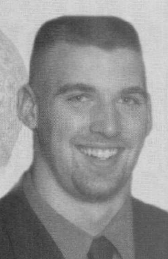 Nationality

United States

Position

DE

Birthday

3/8/1984

Hometown

Medina, OH

High School

Highland

Height

6'3"

Weight

265

Current Team

Ohio State

Seasons

2002, 2003, 2004, 2005
Post-OSU Update: After being named the defensive MVP of the 2005 Buckeyes, Mike Kudla was not selected in the 2006 NFL Draft. He was invited to work out with several NFL teams, but did not catch on with any of them. After a brief stint in the AFL, Kudla pursued a career in insurance. After that, he worked for the Fisher College of Business at Ohio State. He started Core Plex, a medical facility construction company. He assisted the NFL on creating CTE handling protocols as well. Tragically, Kudla is believed to have committed suicide in 2018 at the age of 34. (updated: Mar. 2023)
Major: Business Management (2004-05), Undeclared (2002-03)
Weight: 265 (2003-05), 235 (2002)
2005 Media Guide: Has played in 38 of 39 games the past three years … started the final six games of last year and heads into the fall as the projected starter at the rush end (Leo) … has a great work ethic and is a versatile player who is equally at home either dropping into pass coverage or rushing the quarterback … has battled injuries much of his career, but was healthy the second half of last year and played his best football … when healthy, has shown a penchant for making big plays … has a great feel for the game and can play either end spot … three-year letter winner and an OSU Scholar-Athlete … was on the verge of a breakout year last year and has only tapped the surface of his potential.
2004: Began the year penciled in as a starter, but was slowed by a pinched nerve … came off the bench the first half of the season, before taking over as a starter against Indiana in Week Seven … was a regular from that point on … finished the year with a career-high 28 tackles … credited with 6.5 tackles-for-loss and four sacks … had 18 tackles in the last four regular-season games, including a career-high six stops against both Penn State and Purdue … also forced a fumble at Purdue that led to an Ohio State touchdown … sacks came against Wisconsin, Indiana, Purdue and Oklahoma State … injured and did not play against North Carolina State.
2004 Media Guide: Solid young defender who played behind All-America Will Smith last year … has played in all 27 games (159 total minutes) the past two years … sees himself ahead of the class at the right defensive end spot entering fall camp.
2003 Season: Finished the 2003 regular season with nine tackles, including a sack against Northwestern … also had a fumble recovery in the end zone against Purdue that was Ohio State's lone touchdown of the day in a 16-13 overtime win over the Boilers … three tackles against Northwestern was his top statistical game … earned OSU Scholar-Athlete recognition.
2003 Media Guide: Mike Kudla worked his way into the defensive line rotation last year as a true freshman behind Darrion Scott at end … played in all 14 games and finished his rookie campaign with 12 tackles … heads into the fall as the probably backup to senior Will Smith at the drop end position … came down with a viral infection shortly after the Fiesta Bowl and alarmingly lost 40 pounds in a short period of time … was able to make a full recovery, but still missed some spring practice after injuring his shoulder during winter conditioning … should be set to go in the fall … tough, hard-nosed player with a great work ethic and an instinctual understanding of the game … should see a lot of playing time … despite his weight loss in January, he is actually up 20 pounds from this time a year ago.
2002 Season: Played a total of 56 minutes and earned his first letter … played a season-high 15 minutes against San Jose State after playing 13 minutes at Northwestern … had a tackle-for-loss in the Kent State game, throwing down Charles Newton for a 2-yard loss … had a season-high four tackles against Kent State … recovered a fumble against San Jose State in the second quarter and returned it 17 yards to set up an OSU touchdown.
High School: Played linebacker, and played it well in high school, but is being projected as a defensive end for the Buckeyes … was selected as the Division III Associated Press co-Defensive Player of the Year as a senior … also a first-team All-Ohio pick by the AP … coming off an amazing senior year in which he recorded 210 tackles, including 27 tackles-for-loss and six sacks … also had an interception … finished his career with 495 total tackles, including 170 as a junior and 115 as a sophomore… rated by Rivals.com as the nation's 18th best defensive end prospect … high school coach – John Hopkins.
Personal: Parents are Paul and Mary Fran Kudla … has two brothers, Brian and Eric and two sisters, Katie and Emily … Tempe, AZ, twice, has been the most interesting place he has visited to date … Jamaica is a place he would like to experience … hobbies including farming, lifting weights and woodworking … Ohio State's 2002 National Championship is his favorite football memory … scoring a touchdown in 2003 is his top memory from a year ago … The Ohio State Marching Band is his favorite tradition at OSU … born March 8, 1984.
Defense
| Season | Team | G | GS | Tkl | Solo | Asst | TFL | TFL Yds | Sacks | Sack Yds | FF | FR | Int | Int Yds | PBU | Blk | Def TD | KR | KR Yds |
| --- | --- | --- | --- | --- | --- | --- | --- | --- | --- | --- | --- | --- | --- | --- | --- | --- | --- | --- | --- |
| 2002 | Ohio State | 14 | 0 | 12 | 5 | 7 | 1 | 2 | 0 | 0 | 0 | 1 | 0 | 0 | 0 | 0 | 0 | 0 | 0 |
| 2003 | Ohio State | 13 | 0 | 9 | 3 | 6 | 1.0 | 14 | 1.0 | 14 | 0 | 0 | 0 | 0 | 1 | 0 | 1 | 0 | 0 |
| 2004 | Ohio State | 11 | 6 | 28 | 18 | 10 | 6.5 | 31 | 4.0 | 22 | 1 | 0 | 0 | 0 | 2 | 0 | 0 | 0 | 0 |
| 2005 | Ohio State | 12 | 12 | 41 | 25 | 16 | 11.5 | 76 | 9.5 | 71 | 1 | 0 | 0 | 0 | 0 | 0 | 0 | 0 | 0 |
| Total | - | 50 | 18 | 90 | 51 | 39 | 20 | 123 | 14.5 | 107 | 2 | 1 | 0 | 0 | 3 | 0 | 1 | 0 | 0 |