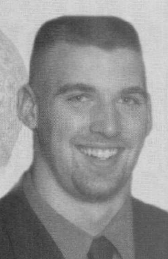 #

57

Name

Mike Kudla

Nationality

United States

Position

DE

Birthday

3/8/1984

Hometown

Medina, OH

High School

Highland

Height

6'3"

Weight

235

Current Team

Ohio State

Seasons

2002, 2003
Major: Undeclared (2002-03)
Weight: 265 (2003), 235 (2002)
2003 Media Guide: Mike Kudla worked his way into the defensive line rotation last year as a true freshman behind Darrion Scott at end … played in all 14 games and finished his rookie campaign with 12 tackles … heads into the fall as the probably backup to senior Will Smith at the drop end position … came down with a viral infection shortly after the Fiesta Bowl and alarmingly lost 40 pounds in a short period of time … was able to make a full recovery, but still missed some spring practice after injuring his shoulder during winter conditioning … should be set to go in the fall … tough, hard-nosed player with a great work ethic and an instinctual understanding of the game … should see a lot of playing time … despite his weight loss in January, he is actually up 20 pounds from this time a year ago.
2002 Season: Played a total of 56 minutes and earned his first letter … played a season-high 15 minutes against San Jose State after playing 13 minutes at Northwestern … had a tackle-for-loss in the Kent State game, throwing down Charles Newton for a 2-yard loss … had a season-high four tackles against Kent State … recovered a fumble against San Jose State in the second quarter and returned it 17 yards to set up an OSU touchdown.
High School: Played linebacker, and played it well in high school, but is being projected as a defensive end for the Buckeyes … was selected as the Division III Associated Press co-Defensive Player of the Year as a senior … also a first-team All-Ohio pick by the AP … coming off an amazing senior year in which he recorded 210 tackles, including 27 tackles-for-loss and six sacks … also had an interception … finished his career with 495 total tackles, including 170 as a junior and 115 as a sophomore… rated by Rivals.com as the nation's 18th best defensive end prospect … parents are Paul and Mary Fran Kudla … high school coach – John Hopkins … born March 8, 1984.
Defense
| Season | Team | G | GS | Tkl | Solo | Asst | TFL | TFL Yds | Sacks | Sack Yds | FF | FR | Int | Int Yds | PBU | Blk | Def TD | KR | KR Yds |
| --- | --- | --- | --- | --- | --- | --- | --- | --- | --- | --- | --- | --- | --- | --- | --- | --- | --- | --- | --- |
| 2002 | Ohio State | 14 | 0 | 12 | 5 | 7 | 1 | 2 | 0 | 0 | 0 | 1 | 0 | 0 | 0 | 0 | 0 | 0 | 0 |
| 2003 | Ohio State | 0 | 0 | 9 | 3 | 6 | 1 | 14 | 1 | 14 | 0 | 0 | 0 | 0 | 1 | 0 | 1 | 0 | 0 |
| Total | - | 14 | 0 | 21 | 8 | 13 | 2 | 16 | 1 | 14 | 0 | 1 | 0 | 0 | 1 | 0 | 1 | 0 | 0 |