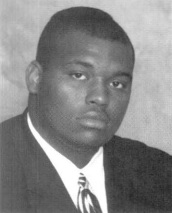 Nationality

United States

Position

DT, DE

Height

6'3"

Weight

285

Birthday

2/11/1985

Hometown

Warrensville Heights, OH

High School

Warrensville Heights

Past Teams

Ohio State

Seasons

2003, 2004, 2005, 2006
Major: Integrated Social Studies (2006), African American and African Studies (2005), History (2004), Undeclared (2003)
Weight: 285 (2003-06)
2006 Media Guide: One of two returning starters on the defense (the other is senior tackle Quinn Pitcock) … moves from end to tackle this year, but really played inside the majority of the time last year, starting the game at defensive end, then moving to tackle after the first series … he and Pitcock give the Buckeyes two physically and mentally tough insider defenders … has played in 36 of the Buckeyes' 37 games the past three years and started 12 of those contests.
2005: Finished the year with 24 tackles, including 7.5 tackles for loss and four sacks … technically only started eight of the 12 games because of different formations employed by the coaching staff, but was the start all season long as soon as there was a four-man front … had the Buckeyes' lone sack at Michigan, dropping Chad Henne for a six-yard loss … totaled four tackles in that game and combined for 11 tackles, including five tackles for loss, in consecutive games against Penn State and Michigan State … six tackles in the latter game represent his career-high … fifth on the team in tackles-for-loss with 7.5 and fourth in sacks (4).
2005 Media Guide: Is a two-year letterwinner … has been a key reserve and an integral part of the D-line rotation the past two seasons … has filled in capably as a started when asked to do so … versatile player who is equally at home at end or tackle … started four times last year when Marcus Green was injured … has been hampered by injuries throughout his career and the Ohio State coaching staff would love to see what he could do if 100 percent for an entire season … a really good football player who is poised for a breakout year.
2004: Made his first collegiate start at North Carolina State … also started against Wisconsin, Iowa and Indiana in Big Ten action … finished the year with 19 tackles, including 10 solos, 4.5 tackles-for-loss and a pair of sacks … had a career-high three tackles against Cincinnati, Indiana, Penn State and Michigan State … recorded sacks against Wisconsin and Indiana … logged double-digit minutes in the final 10 games.
2004 Media Guide: Another of several young defensive lineman who will get their shot at significant playing time in 2004 … made a place for himself as a true freshman at one of the Buckeyes' deepest positions and enjoyed an outstanding rookie campaign … moved up to the No. 2 spot at defensive end behind Simon Fraser prior to the 2003 Fiesta Bowl … remained in great shape after showing up for his rookie camp ready to compete physically … enters fall camp in the No. 2 spot at left tackle.
2003: Played in the season opener against Washington and made an immediate statement by recording his first collegiate sack … played in 11 games and was credited with seven tackles, including a pair of sacks … also had a fumble recovery in the win over San Diego State … saw a career-high of six minutes of field time in the win over Northwestern.
High School: Won first-team All-Ohio honors in Division II and was the Associated Press District Defensive Player of the Year … a three-year starter on both sides of the ball, but is expected to line up with the defense once he enrolls at Ohio State … big, strong and fast … had 98 tackles, including 25 tackles-for-loss and 17 sacks as a senior … also blocked three kicks … 120 tackles and 16 sacks as a junior … ranked as the nation's seventh-best defensive tackle prospect by Rivals.com … rated as the sixth-best overall prospect in the Midwest by SuperPrep … high school coach was Dan Thorpe.
Personal: Is the son of Leesa Patterson … has one sister, Devin … Miami, FL, is the most interesting place he has visited to date but would like to travel to Africa someday … grew up playing baseball, which he lists as his top childhood memory … the Fiesta Bowl win in 2003 was top memory of a year ago … "The Hive" where OSU players lock arms during pregame is his favorite OSU tradition … would be on the OSU baseball diamond if not on the gridiron for the Buckeyes.
Defense
| Season | Team | G | GS | Tkl | Solo | Asst | TFL | TFL Yds | Sacks | Sack Yds | FF | FR | Int | Int Yds | PBU | Blk | Def TD |
| --- | --- | --- | --- | --- | --- | --- | --- | --- | --- | --- | --- | --- | --- | --- | --- | --- | --- |
| 2003 | Ohio State | 12 | 0 | 7 | 5 | 2 | 2 | 18 | 2 | 18 | 0 | 0 | 0 | 0 | 0 | 0 | 0 |
| 2004 | Ohio State | 11 | 3 | 19 | 10 | 9 | 4.5 | 14 | 2.0 | 10 | 0 | 0 | 0 | 0 | 0 | 0 | 0 |
| 2005 | Ohio State | 12 | 8 | 24 | 14 | 10 | 7.5 | 18 | 4.0 | 10 | 0 | 0 | 0 | 0 | 0 | 0 | 0 |
| 2006 | Ohio State | 12 | NA | 22 | 9 | 13 | 3.0 | 5 | 0 | 0 | 0 | 0 | 0 | 0 | 1 | 0 | 0 |
| Total | - | 47 | 11 | 72 | 38 | 34 | 17 | 55 | 8 | 38 | 0 | 0 | 0 | 0 | 1 | 0 | 0 |