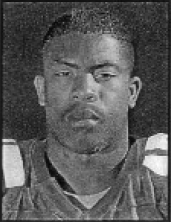 Nationality

United States

Position

FL, WR

Height

6'1"

Weight

200

Birthday

12/4/1975

Hometown

Springfield, OH

High School

South

Current Team

Ohio State

Seasons

1994, 1995, 1996, 1997, 1998
Major: Sociology (1997-98), Undecided (1995-96), Unknown (1994)
Weight: 200 (1998), 190 (1995-97), 200 (1994)
1998 Media Guide: One of the most pleasant surprises of the 1997 season returns for his second season as the starting flanker … is now one of the premier receivers not only in the Big Ten, but nationally as well … began last season as somewhat of an unknown (15 career receptions) but by the end of the year had developed into a standout … receivers coach Chuck Stobart says Dee "came into being a force at receiver for us … he has great hands and makes great diving catches …he has proven to be a big-play receiver and we expect even greater things this year"…his emergence last year gave the Buckeyes one of the top receiving tandems in college football (with David Boston) …came to Ohio State ballyhooed as one of the top high school receivers
in the Midwest.
1997: Made one spectacular catch after another and finished the season with 58 receptions for a team-best 981 yards and five touchdowns … his reception total ties him with Cris Carter (1985) for fourth place in the OSU records book and his yardage figure ranks as the third best single-season effort in school history … caught at least one pass in all 13 games and had 10 games with four or more … top game was an incredible eight-receptions for 149 yards at Penn State … also had six receptions for 79 yards against Florida State in the Sugar Bowl … averaged 75.5 yards per game receiving and 16.9 yards per catch to lead the team in both categories …longest reception of the year was 45 yards (vs. Wyoming and Penn State), one of eight receptions of 30 or more yards … clutch 30-yard touchdown grab at Penn State tied the score at 10-10 and got OSU back into the game.
1997 Media Guide: Moves from split end to flanker and is expected to take over for last year's leading receiver Dimitrious Stanley … has good size and runs precise routes … has improved tremendously from a technique standpoint.
1996: His best year as a Buckeye, snagging 10 receptions for 147 yards, including a career-long 43 yarder against Pittsburgh … also had a key 32-yard reception against Wisconsin and two big catches in the Rose Bowl … played with increased confidence as the season progressed and was the No. 3 receiver by the end of the year.
1996 Media Guide: The likely backup at split end, but can also play flanker … spent time at both positions last spring and in all likelihood will be the Buckeyes' third receiver this year … strong, physical player who uses his size and strength to his advantage … runs precise routes and finds the open spot in the defense … had knee surgery as a true freshman in the fall of 1994 and missed the entire season … started off slowly last year, but seemed to get better as he gained confidence in the injured knee … finished last year with five receptions for 47 yards … all but one of his grabs came in the first three games of the season, including two against Boston College in the season opener … longest reception of the year was a 13 yarder at Pittsburgh … had four receptions for 34 yards and the winning touchdown in the spring game, the latter coming on the last play of the game … considered one of the top receivers in the Midwest coming out of high school and a prized catch.
1995: worked hard to get back in shape after sitting out the 1994 season following knee surgery … did play in all 13 games, but not at the level he wanted.
1995 Media Guide: Redshirted last year as a freshman … underwent surgery on his right knee in August to repair a pre-existing injury … missed the remainder of the season, but was full-go in the spring … heads into the fall as the backup for Buster Tillman at split end … a possession-type receiver who runs good routes and finds the open spot in the defense … has good hands and is a physical receiver … should be a valuable addition to the OSU receiving corps … rated as one of the top receivers in the Midwest coming out of high school … potentially a big-play player.
1994: Underwent surgery on his right knee in August and sat out the season.
High School: The Ohio Division I (large school) co-offensive player of the year and a first team all-state selection … earned All-America honors from Tom Lemming's Prep Football Report and Blue Chip Illustrated, and was a second team All-America selection by USA Today … also was named the Gatorade Circle of Champions Ohio Player of the Year and was selected to the Detroit Free Press' Best of the Midwest top 20 … caught 56 passes from his wide receiver position for 1,139 vards (20.3 average) and 16 touchdowns as a senior … caught 131 passes for 2,615 yards and scored 36 touchdowns in his four years … earned his league's offensive and defensive player of the year awards… played safety on defense and had 118 tackles and five interceptions as a senior … top game was seven receptions tor 293 yards and three touchdowns in a 62-54 loss to Centerville … high school coach was Tom Adams … also a three-year letter winner in basketball.
Personal: Enjoys fishing as a way of relaxing … an uncle, Andy McConnell, ran track at Central State in the early 1970s.
Offense
| Season | Team | G | GS | Rush Att | Rush Yds | Rush Avg | Rush TD | Tgt | Rec | Rec Yds | Rec Avg | Rec TD | Lng | 2 Pt Conv | Fum |
| --- | --- | --- | --- | --- | --- | --- | --- | --- | --- | --- | --- | --- | --- | --- | --- |
| 1994 | Ohio State | 0 | 0 | 0 | 0 | 0 | 0 | 0 | 0 | 0 | 0 | 0 | 0 | 0 | 0 |
| 1995 | Ohio State | 13 | 0 | 0 | 0 | 0 | 0 | 13 | 5 | 47 | 9.4 | 0 | 13 | 0 | 0 |
| 1996 | Ohio State | 12 | 0 | 0 | 0 | 0 | 0 | 16 | 10 | 147 | 14.7 | 0 | 43 | 0 | 0 |
| 1997 | Ohio State | 13 | 13 | 1 | 19 | 19 | 0 | NA | 58 | 981 | 16.9 | 5 | 45 | NA | NA |
| 1998 | Ohio State | 12 | 11 | 3 | 17 | 5.7 | 0 | NA | 59 | 915 | 15.5 | 3 | 42 | NA | NA |
| Total | - | 50 | 24 | 4 | 36 | 9 | 0 | 29 | 132 | 2090 | 15.8 | 8 | 143 | 0 | 0 |