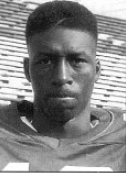 Nationality

United States

Position

SE, WR

Height

6'1"

Weight

185

Birthday

9/16/1974

Hometown

Steubenville, OH

High School

Steubenville

Current Team

Ohio State

Seasons

1992, 1993, 1994, 1995, 1996
Major: Sociology (1995-96), Unknown (1992-94)
Weight: 192 (1996), 188 (1995), 185 (1994), 175 (1993), 180 (1992)
1996: Started the first four games of the season and played in 11 of the 12 (all but Iowa) … finished the year with 10 catches for 97 yards … top game was four catches for 44 yards against Wisconsin.
1996 Media Guide: Talented, all-around receiver who will be in his second year as a starter … will start at split end, but could also see action at flanker … OSU's leading returning receiver, grabbing 30 passes for 538 yards and one touchdown (vs. Michigan) last year … finished fourth in receiving and was one of four OSU receivers to catch at least 30 passes in 1995… is a possession-type receiver who makes big catches … runs good sideline routes and can also go over the middle and take a hit … had a key third-and-10 grab last year at Penn State that kept the winning touchdown drive alive … had at Ieast one catch in every game but Illinois … six receptions for 91 yards at Wisconsin, six for 96 against Purdue and three for 93 against Indiana were his top efforts of the year … longest receptions were 58 yards against Indiana, 46 yards against Purdue and 41 yards against Minnesota … sat out spring after having his left knee scoped, but will be ready in the fall … has improved each year.
1995 Media Guide: Backed up Joey Galloway last year and was the third wide receiver … will be the starter at split end this year … played in all 13 games in 1994 and started the first three (Fresno State, at Washington and Pitt) … had a career day in Seattle hauling in nine receptions for 106 yards and a TD … wound up the year with a career-high 33 catches (third on the team) for 455 yards and a pair of touchdowns … has good hands, runs precise routes and has demonstrated the ability to catch in a crowd … especially effective on quick slants and other crossing routes … caught at least one pass in every game but Alabama last year … has been somewhat overshadowed the past two years, but should be one of the top receivers in the Big Ten this year.
1994 Media Guide: Talented receiver who continues to improve … backs up Joey Galloway at split end, but is a fine player in his own right … does not have blazing speed, but runs precise routes, has good hands and is not afraid to make the tough catch over the middle … had a fine freshman season, and should only continue to get better.
1993: Played in all 12 games as a backup and ranked fourth on the team with 15 receptions for 187 yards (12.5 average) … scored his only touchdown late in the second quarter against Indiana on a five-yard reception to break a 10-10 tie … caught three passes against both Rice and Purdue … leading receiver in the OSU spring game with five receptions for 84 yards (16.8 average).
1993 Media Guide: Redshirted last season, but is expected to see playing time behind Joey Galloway at split end this fall … has good size for a wideout, and is not afraid to make the tough catch over the middle … had a solid spring … had three receptions for 47 yards in the annual spring game.
1992: Redshirted.
1992 Media Guide: A second team Division II all-Ohio selection as a senior … caught 40 passes for 713 yards and 10 touchdowns in 1991 … had eight interceptions as a defensive back … team finished 12-1, was ranked second in the state and advanced to the Division II state semi-finals before losing to eventual state runner-up Uniontown Lake … selected honorable mention All-America by Street & Smith's … served as team captain as a senior … returned 17 punts for 350 yards and a TD … Steubenville was 34-5 his three years on varsity, won three league titles and each year advanced to the state playoff semi-finals … two-year total showed 71 receptions for 1,303 yards and 16 TDs … high school coach was Reno Saccoccia … hopes to manage a business or become a sports agent someday … admires Tony Dorsett and Michael Jordan … first name is Michael … born 9-16-74.
Offense
| Season | Team | G | GS | Tgt | Rec | Rec Yds | Rec Avg | Rec TD | Lng | Fum | Lost |
| --- | --- | --- | --- | --- | --- | --- | --- | --- | --- | --- | --- |
| 1993 | Ohio State | 11 | 0 | 24 | 15 | 187 | 12.5 | 1 | 19 | 1 | 1 |
| 1994 | Ohio State | 13 | 3 | NA | 33 | 455 | 13.8 | 2 | 34 | NA | NA |
| 1995 | Ohio State | 13 | 13 | 54 | 30 | 538 | 17.9 | 1 | 58 | 0 | 0 |
| 1996 | Ohio State | 11 | 5 | 19 | 10 | 97 | 9.7 | 0 | 17 | 1 | 1 |
| Total | - | 48 | 21 | 97 | 88 | 1277 | 14.5 | 4 | 128 | 2 | 2 |