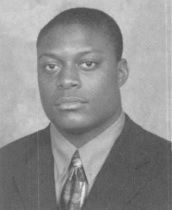 Nationality

United States

Position

DE

Height

6'4"

Weight

275

Birthday

3/19/1986

Hometown

Dublin, OH

High School

Dublin Coffman

Past Teams

Ohio State

Seasons

2004, 2005, 2006, 2007
Major: Communications (2006-07)
Weight: 275 (2006-07), 255 (2005), 245 (2004)
2007 Media Guide: Fourth-year player with good size and 4.7 speed … a solid contributor in 2006 … added 20 pounds since his sophomore season and has increased his strength … brings a great attitude every day.
2006: Saw action in all 13 games … collected eight tackles, including four solo tackles and one tackle for loss.
2006 Media Guide: Third-year player with size and ability … has played only sparingly the last two years, but now appears ready to step in and contribute … had added 20 pounds since last season and has increased his strength … helped his own cause with a productive spring practice that made the coaches sit up and take notice … almost certain to figure in the front-four rotation as a backup to senior Jay Richardson at end.
2005: Saw action in six games … totaled 14 minutes, with 8 minutes against Miami (Ohio) in the opener, his longest appearance … also played against Iowa, Indiana, Minnesota, Illinois and Northwestern … had two tackles against Indiana and one vs. Northwestern.
2005 Media Guide: Solid young reserve at defensive end … has good size and outstanding speed (4.7 in the 40) … made a name for himself in high school because of his ability to run down smaller and supposedly faster players … came to Ohio State as a tackle, but seems to be better suited to end on the collegiate level … coaches like his intensity … enters the fall listed behind veterans Jay Richardson and David Patterson at end … should benefit from playing behind those two standouts.
2004: Redshirted.
High School: One of the leading defensive line prospects in Central Ohio last season … rated as the nation's 31st best defensive tackle by Rivals.com … could also play defensive end at the collegiate level … Rivals.com also rated him as the 24th best overall prospect in Ohio … as a senior, totaled 95 tackles, including 27 for loss and 14 sacks, in leading Coffman to the regional finals … earned second team All-Ohio honors … as a junior, totaled 44 tackles and four sacks in six and a half games … great speed for a defensive tackle (4.75 40-yard dash time).
Personal: Is the son of Robert and Patrice Barrow … his dad and uncle, Russell Barrow, both played college football at Ohio University … has a younger brother, Austin, who is a college freshman (2007) … was a freshman at Coffman when current Buckeyes Adam Olds and Steve Winner were seniors … likes to read before games … favorite actress is Eva Mendes (2007) … favorite NFL player is Eddie George (2007).
Defense
| Season | Team | G | GS | Tkl | Solo | Asst | TFL | TFL Yds | Sacks | Sack Yds | FF | FR | Int | Int Yds | PBU | Blk | Def TD |
| --- | --- | --- | --- | --- | --- | --- | --- | --- | --- | --- | --- | --- | --- | --- | --- | --- | --- |
| 2005 | Ohio State | 6 | 0 | 3 | 2 | 1 | 0 | 0 | 0 | 0 | 1 | 0 | 0 | 0 | 0 | 0 | 0 |
| 2006 | Ohio State | 12 | NA | 8 | 4 | 4 | 1.0 | 2 | 0 | 0 | 0 | 0 | 0 | 0 | 0 | 0 | 0 |
| 2007 | Ohio State | 13 | NA | 5 | 1 | 4 | 0 | 0 | 0 | 0 | 0 | 0 | 0 | 0 | 0 | 0 | 0 |
| Total | - | 31 | 0 | 16 | 7 | 9 | 1 | 2 | 0 | 0 | 1 | 0 | 0 | 0 | 0 | 0 | 0 |