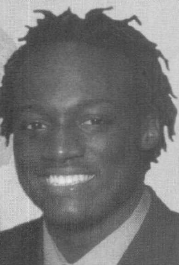 Nationality

United States

Position

DB, FS, ST

Birthday

2/5/1984

Hometown

Fort Lauderdale, FL

High School

St. Thomas Aquinas

Height

6'3"

Weight

215

Current Team

Ohio State

Seasons

2002, 2003, 2004, 2005
Post-OSU Update: Nate Salley was selected in the fourth round (121st overall) of the 2006 NFL Draft. His NFL career was derailed due to knee injuries. Salley played 24 regular season games with the Panthers across two seasons, making 11 tackles. After football, Salley worked as a recruiter for ten years. His most recent endeavor is a professional coach and motivational speaker. (updated: Mar. 2023)
Major: Business (2003-05)
Weight: 220 (2005), 215 (2004), 205 (2003), 180 (2002)
2005 Media Guide: Hard-hitting free safety who will be in this third year as a starter … won second-team all-conference honors last year and is expected to be in the running for postseason recognition again this season … has been a steady, dependable performer throughout his career and rarely makes a mistake or is out of position … coaches love his attitude, work ethic and demeanor … injured his shoulder in the first half of the Penn State game last year and missed the next two weeks … had started 19 consecutive games before being injured … was able to return for the season finale against Michigan and gave the defense an immense lift with his presence … is a terrific athlete and a fine student … is the wise old sage in the Buckeyes' defensive backfield, but plays with great emotion … was nominated for the Academic All-America team last year … lettered in basketball for the Buckeyes as a freshman, playing in 10 games after Ohio State returned from the national championship game … three-year letterman.
2004 Media Guide: Will be in his second year as a starter this fall … emerged as one of the most feared hitters in the Big Ten last season in his first year as a starter … loved to hit at full speed … totaled a career-high 11 tackles in the Michigan game last season, including a crushing hit on tailback Chris Perry that made ESPN SportsCenter's highlights that night … is a tremendous athlete with outstanding closing speed … also lettered in basketball for Ohio State during the 2002-03 season, playing in 10 games for the Buckeyes after the 2003 Fiesta Bowl … is a two-time OSU Scholar Athlete.
2003 Season: Played in all 13 games and started the last 11, totaling 333 minutes of playing time … made his first start in game three vs. North Carolina State and was a regular the rest of the way … collected 44 solo tackles and 33 assists for a total of 77 tackles, which tied for fourth on the team (with Dustin Fox) … was one of the most pleasant surprises on the squad … had seen action at cornerback the year before but switched to free safety to take over for the departed Donnie Nickey … credited with half of a tackle for loss against both Northwestern and Penn State … broke up five passes, which tied for fourth on the team … credited with nine stops against both Penn State and Northwestern … had the Jack Tatum Hit of the Week as voted on by the OSU coaches against Iowa, Penn State, Purdue and Michigan.
2003 Media Guide: Nate Salley heads into the fall as the heir apparent to four-year starter Donnie Nickey at free safety … a talented athlete with the potential to be a standout at this level … played in all 14 games last year as a true freshman, logging a total of 34 minutes and recording six total tackles … most of his playing time was as a member of the special teams, but he was the No. 2 cornerback behind Dustin Fox on the Fiesta Bowl depth chart … moved back to safety in the spring and wasted little time establishing himself as the leading candidate to succeed Nickey .. coaches like his work ethic and understanding of the game … has excellent range, is a sure tackler and has big play potential … also lettered in basketball for the Buckeyes, joining the basketball team after the bowl game and playing in a total of 10 games (8 points on the year).
2002 Season: Earned his first varsity letter … had six tackles (three solo and three assists) … saved a touchdown with a PBU in the end zone against Kent State … made a key special teams tackle against Cincinnati.
2002 Media Guide: A talented and highly-regarded athlete, who is ranked as the nation's eighth best safety prospect by Rivals.com … helped lead Aquinas to a glittering 14-1 record and a berth in the Class 5A state championship game last year as a senior … finished the 2001 season with 76 tackles, including four tackles-for-loss … blocked an incredible eight kicks as a senior … alternated between cornerback and safety during his three years as a starter in high school … also a standout basketball player, who averaged nearly 18 points a game, and would like to play basketball at Ohio State after the football season is over … high school coach – George Smith.
Personal: Parents are Nate and Pat Salley … enjoys writing poetry … favorite sportscaster is ESPN's Stuart Scott … his favorite football memory to date is playing in his first high school state championship in the University of Florida's football stadium, "The Swap" … two of his favorite things about home football games in Ohio Stadium are the O-H-I-O cheer and singing Carmen Ohio … born Feb. 5, 1984.
Defense
| Season | Team | G | GS | Tkl | Solo | Asst | TFL | TFL Yds | Sacks | Sack Yds | FF | FR | Int | Int Yds | PBU | Blk | Def TD |
| --- | --- | --- | --- | --- | --- | --- | --- | --- | --- | --- | --- | --- | --- | --- | --- | --- | --- |
| 2002 | Ohio State | 14 | 0 | 6 | 3 | 3 | 0 | 0 | 0 | 0 | 0 | 0 | 0 | 0 | 0 | 0 | 0 |
| 2003 | Ohio State | 13 | 11 | 77 | 44 | 33 | 1 | 2 | 0 | 0 | 0 | 0 | 0 | 0 | 5 | 0 | 0 |
| 2004 | Ohio State | 10 | 10 | 55 | 26 | 29 | 0 | 0 | 0 | 0 | 0 | 0 | 2 | 0 | 4 | 0 | 0 |
| 2005 | Ohio State | 12 | 12 | 43 | 27 | 16 | 1.5 | 7 | 0 | 0 | 1 | 0 | 1 | 0 | 6 | 1 | 0 |
| Total | - | 49 | 33 | 181 | 100 | 81 | 2.5 | 9 | 0 | 0 | 1 | 0 | 3 | 0 | 15 | 1 | 0 |