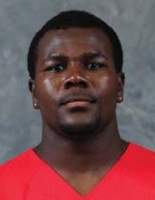 Nationality

United States

Position

QB

Height

6'5"

Weight

250

Hometown

Cleveland, OH

High School

Glenville

Past Teams

Ohio State

Seasons

2012, 2013, 2014, 2015
Major: African-American Studies (2014-15), Undeclared (2013)
Weight: 250 (2014-15), 241 (2013), 226 (2012)
2015 Media Guide: Cardale Jones took all the reps as the team's No. 1 quarterback during the 2015 spring drills as he was the only one of the Big 3 – Braxton Miller and J.T. Barrett are the other two – who was healthy enough to do so … freshman Stephen Collier was his backup … Jones' spring plan, according to coach Urban Meyer, was to "get a million reps" and to continue to improve because "with reps, he became a very functional player for us" … Meyer also referred to Jones as being "still raw" and "almost an older rookie" so the spring was his to learn and grow from … it will take quite an effort, though, for anyone to top what Jones did in his first three starts as a collegiate quarterback, leading the Buckeyes to a Big Ten championship game win over No. 13 Wisconsin, a Sugar Bowl win over No. 1-ranked Alabama in the College Football Playoff semifinals, and a CFB Playoff national championship game win over No. 2 Oregon … Jones is the first Ohio State quarterback to win three post-season games, and, to accomplish that feat in his first three starts on the stage he was on, well words – amazing, outstanding, crazy, ridiculous unreal, holy cow and wow! – simply don't reflect the magnitude of the effort … he was nominated for an ESPY in the "breakout" player category for his efforts … Jones is a true hero for his efforts, and for more reasons than quarterbacking Ohio State to its eighth national championship: three days after the Oregon win he told a live national television audience in a high school packed with impressionable teenagers that he was returning to Ohio State for the 2015 season because "…one of the most important things for me is to graduate".
2014: Jones, as the No. 2 quarterback, had seen action in six games and 92 plays – with 67 of the plays in 66- and 41-point blowouts – through the first 11 games of the season and was 8-of-14 passing for 114 yards … and then J.T. Barrett injured his ankle on the first play of the fourth quarter against Michigan with Ohio State holding a 28-21 lead … the legend of Cardale Jones took a right turn right then … Jones
guided the Buckeyes on a 10-play, 80-yard touchdown drive on his first full series, including completing 2-of-3 passes and running 18 yards for a first down on a second-and-15 play from the Ohio State 29 … four plays later Ohio State led 35-21 on its way to a 42-28 rivalry game win … one week later in his first collegiate start, he completed 12 of 17 passes for 257 yards and three touchdowns to spark Ohio State to a 59-0 Big Ten championship game win over Wisconsin and its nationally ranked, No. 2 total defense … Jones hit Devin Smith for three long scores – covering 39, 44 and 42 yards – and was named
MVP of the game … four weeks later he was equally impressive against Alabama and its No. 11 ranked defense: throwing for 243 yards and another long touchdown pass to Devin Smith (47 yards), plus rushing for 43 yards in the 42-35 win … he directed the Buckeyes to 537 yards of offense vs. the Crimson Tide … and then against Oregon for the national championship, Jones completed 69.6 percent of his passes (16 of 23) for 242 yards and one touchdown and the Buckeyes were nearly unstoppable
offensively with 84 plays, 538 yards and a perfect 5-for-5 effort – all touchdowns – inside the red zone against the Beavers … all combined, Jones threw for 742 yards and five touchdowns and rushed for 90 yards and one score in Ohio State's three-game post-season.
2014 Media Guide: Cardale Jones may not have had many meaningful plays during crunch time of a game yet, but he has 15 meaningful practices behind him as the No. 1 quarterback as he took the vast majority of snaps at the position this spring with Braxton Miller out with a shoulder injury … Jones is in his third year with the football program and is a sophomore eligibility-wise … he possesses tremendous arm strength and is physical, too, at 6-5 and 250 pounds … he is majoring in African-American studies and was named an OSU Scholar-Athlete in the 2012 winter and spring quarters.
2013: Jones had his first collegiate action this year, playing a total of 39 plays from scrimmage in games vs. Florida A&M, Penn State and Purdue … only attempted one pass in those three games that Ohio State won by a collective score of 195-14, but did rush 17 times for 128 yards (a 7.5 per carry average) and scored one touchdown, a 10-yard run vs. Florida A&M.
2013 Media Guide: Cardale Jones is a second-year freshman who continues to learn Ohio State's pro-style offense … he isn't content, though, to just sit back and take a back seat to backup quarterback Kenny Guiton … coaches allowed him the opportunity to make plays in the system and learn the offense by taking the "black" protected jersey off him during much of the spring and let him engage in full contact drills … and Jones didn't mind it at all as he is a physically imposing quarterback who can run and throw the football … he red-shirted the 2012 season after enrolling in school in January, 2012.
2012 Media Guide: Cardale Jones initially signed his national letter of intent with Ohio State in February
2011, but with the plan of delaying his enrollment and attending Fork Union Military Academy in the fall, which he did this past season and where he roomed with 2012 Ohio State recruit Michael Thomas.
High School: he was rated by Rivals.com as the No. 12 prep school player in the country in 2011 …
he led perennial northeast Ohio power Cleveland Glenville to a 24-3 record as a starting quarterback
… passed for 1,689 yards and 22 touchdowns as a senior in 2011 for coach Ted Ginn and was named third-team Division I all-state by the Associated Press … threw for 2,168 yards and 18 touchdowns as a junior in 2009, and he also had 14 career rushing touchdowns … was the MVP of the 2010 Offense-Defense Bowl, and he also played in the Big 33 Game … a basketball letterman at Glenville.
Personal: Cardale is the son of Florence Jones … he enrolled at Ohio State in January 2012.
Offense
| Season | Team | G | GS | Comp | Pass Att | Cmp % | Pass Yds | Pass TD | Pass Int | Skd | Skd Yds | Rush Att | Rush Yds | Rush Avg | Rush TD | Lng | 2 Pt Conv | Fum | Lost |
| --- | --- | --- | --- | --- | --- | --- | --- | --- | --- | --- | --- | --- | --- | --- | --- | --- | --- | --- | --- |
| 2013 | Ohio State | 3 | 0 | 1 | 2 | 50.0 | 3 | 0 | 0 | NA | NA | 17 | 128 | 7.5 | 1 | 20 | 0 | NA | NA |
| 2014 | Ohio State | 10 | 3 | 56 | 92 | 60.9 | 860 | 7 | 2 | NA | NA | 72 | 296 | 4.1 | 1 | 27 | 1 | 5 | 3 |
| Total | - | 13 | 3 | 57 | 94 | 0 | 863 | 7 | 2 | 0 | 0 | 89 | 424 | 0 | 2 | 27 | 1 | 5 | 3 |