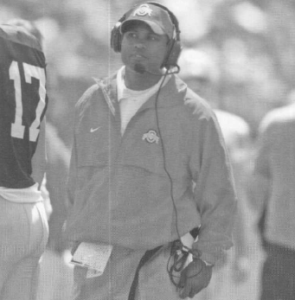 Nationality

United States

Current Team

Ohio State
College: Muskingum, 1986
OSU Coaching History:
2005-08: Assistant head coach & Wide Receivers coach
2004: Wide Receivers coach
2006 Media Guide: Hazell has had an immediate impact at Ohio State, playing a major role both with the receiving corps and the return units. In 2005, the Buckeyes receiving quartet of Santonio Holmes, Ted Ginn Jr., Anthony Gonzalez and Roy Hall was regarded as one of the most formidable in college football, combining for 148 receptions and 18 touchdowns. Holmes was a first-round pick of the Pittsburgh Steelers last spring and was the first receiver taken in the 2006 NFL Draft. The Buckeyes kick return unit averaged 23.4 yards per return and finished 18th nationally. In 2004, the Buckeyes led the nation in punt returns with an average of 19.8 yards per runback.
2004 Media Guide: Darrell Hazell is in his first year as a member of the OSU coaching staff and his 19th season as a coach on the collegiate level.
Hazell, a native of Cinnaminson, N.J. and a graduate of Muskingum College, coaches the Buckeyes' wide receivers. He was named to his present position in February, ending a three-year stay at Rutgers, where in addition to coaching the receivers he also served as assistant head coach.
One of the most respected young coaches in the game, Hazell has previously coached at Oberlin, The University of Pennsylvania, Western Michigan, The United States Military Academy and West Virginia. All of his experience has been on the offensive side of the ball, the majority of that with the position he played, and excelled at, in college, wide receiver.
After a standout high school career in New Jersey, Hazell enrolled at Muskingum in the fall of 1982. He moved into the starting lineup as a sophomore and was a regular his last three years, winning all-conference honors all three of those seasons. As a senior, he also won All-America honors and was selected by his teammates as team captain.
Hazell graduated from Muskingum in 1986 and began his coaching career the following fall as running backs coach at Oberlin.
In 1988, Hazell moved to Eastern Illinois as running backs and receivers coach. He remained there just one year before returning to Oberlin as offensive coordinator.
In 1992, Hazell began a three-year stay at Penn as the Quakers' running backs coach. Penn won the Ivy League title in both 1993 and 1994.
Prior to the 1995 season, Hazell accepted an offer to coach the wide receivers at Western Michigan. He remained at the MAC school for two years, leaving in 1997 to coach the tight ends and wide receivers at the United State Military Academy at West Point. He was at Army for two seasons before moving to West Virginia in 1999 to coach the Mountaineers' running backs.
Following the 2000 season, he left WVU for Rutgers. He coached the Scarlet Knights' wide receivers in 2001 and 2002 before being named assistant head coach prior to the 2003 season.
Darrell and Annemarie have a three year-old son, Kyle.