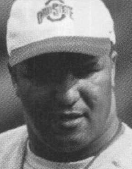 Nationality

United States

Current Team

Ohio State
College: Kentucky, 1996
Coaching OSU History:
2000: Linebackers coach
2000 Media Guide: One of the bright young coaches in college football, Brian Williams joined the Ohio State football staff as the linebackers coach this past winter. Entering his 13th year of coaching in the college ranks and first at OSU, Williams brings a fiery brand of coaching to the Ohio State linebackers.
"I am extremely excited to be a part of a university so rich in tradition," Williams said. "Ohio State is universally respected as one of the best programs in the country. I am really looking forward to the opportunity to work with coach Cooper, (assistant head coach) Fred Pagac, Jon Tenuta, Jim Heacock, and the rest of the offensive coaches."
A native of Middlesboro, KY., Williams completed his third consecutive season at Pittsburgh in 1999 but his fourth overall. In 1992, he was the outside linebackers coach. Williams, 35, was instrumental in the improvement in the Panthers' pass rush, which produced 73 quarterback sacks in the past three seasons. Pittsburgh finished with a 5-6 record in 1999, which marked the fifth best turnaround (three games) in Division IA college football. Williams also served as the special teams coordinator. In 1999, the Pittsburgh special teams finished first in the Big East in both net punting and punt returns.
Prior to Pittsburgh, Williams was the linebackers coach at Cincinnati in 1996. He also tutored the linebackers at Fresno State from 1993-95. Following the 1995 season, Fresno State received a berth in the Aloha Bowl. From 1989-91, he served at the University of Pacific as the outside linebackers and special teams coach. His coaching career began in 1988 as a graduate assistant at Tennessee.
In 1996, Williams earned a bachelor's degree in accounting from the University of Kentucky, where he also was a four-year standout on the defensive side of the ball. He finished his career ninth in Wildcat history with 350 tackles. In 1985, as a senior, he was a second-team all-SEC selection and was an academic all-SEC honoree in 1984. Williams was voted the team's most valuable senior in 1985, and the outstanding lineman his junior and senior years.