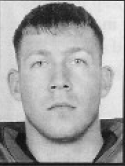 Nationality

United States

Position

DE

Height

6'7"

Weight

265

Birthday

10/28/1976

Hometown

Tiffin, OH

High School

Columbian

Current Team

Ohio State

Seasons

1995, 1996, 1997, 1998, 1999
Pronunciation: I-zen-hard
Major: Sociology (1999), Hotel & Restaurant Management (1997), Undecided (1995-96)
Weight: 265 (1997-99), 220 (1996), 240 (1995)
1999 Media Guide: Tony Eisenhard, a terrific athlete, is in the midst of a position change that started this spring. After four seasons as a defensive end, he was moved to tight end this spring and it is where he will attempt to help the Buckeyes in 1999. And he certainly could because he makes an imposing receiver at 6-7 and with a 36-inch vertical leap. "Tony played tight end in high school and he is very athletic," tight ends coach Bill Conley said.
1998: Managed to see action in eight games at one defensive end position with his longest stint 10 minutes vs. Toledo. Totaled one tackle.
1997 Media Guide: Saw brief action in five games last year, but is expected to compete with Jeff Wilson for a starting spot on the strong side this year … outstanding athlete with good speed …
has worked hard in the weight room since coming to Ohio State and has significantly increased his strength and weight … 36-inch vertical leap makes him especially dangerous as a pass rusher and potential pass blocker … credits playing behind Mike Vrabel and Matt Finkes the past two years with giving him a much better understanding of what it takes to be a success on the collegiate level … also played basketball last year, joining the team on February 8 and playing in seven of OSU's last eight games after centers Jermaine Tate (cardiomyopathy) and Shawn Tucker (knee) were sidelined.
1996: Played 20 minutes last year and had two tackles, including his first career tackle for loss against Rice.
1996 Media Guide: Redshirted last year as a true freshman … has added weight and strength since enrolling at Ohio State and is a promising young football player … enjoyed a solid spring and will be a valuable reserve behind Mike Vrabel … No. 2 on the depth chart entering fall practice … has excellent size and quickness, but still needs to get stronger.
1995: Redshirted.
1995 Media Guide: Played just two years of varsity football, but still won first-team All-Ohio honors and was named to the Street & Smith and Blue Chip Illustrated All-America teams as a senior … also named Ohio Northwest Defensive Lineman of the Year as a senior defensive end … 136 tackles and 27 sacks as a senior … 48 sacks in his two years as a starter … played tight end on offense and was a standout receiver … also played four years of varsity basketball, winning all-state honors as a junior and senior … averaged 21 points and eight rebounds per game as a senior, and was being pursued by a number of colleges for basketball … lettered twice in track as a high jumper and 400-meter sprinter … is the grandson of the late Bill "Moose" Krause, former pro football player and director of athletics at Notre Dame … from the same high school as former Buckeye offensive lineman Alan Kline … plans to major in business and wants to someday own his own business … enjoys video games, all sports and music.
Defense
| Season | Team | G | GS | Tkl | Solo | Asst | TFL | TFL Yds | Sacks | Sack Yds | FF | FR | Int |
| --- | --- | --- | --- | --- | --- | --- | --- | --- | --- | --- | --- | --- | --- |
| 1996 | Ohio State | 4 | 0 | 2 | 2 | 0 | 1 | 1 | 0 | 0 | 0 | 1 | 0 |
| 1997 | Ohio State | 12 | 4 | 18 | 12 | 6 | 3 | 12 | 1 | 5 | 0 | 0 | 0 |
| 1998 | Ohio State | 8 | 0 | 1 | 1 | 0 | 0 | 0 | 0 | 0 | 0 | 0 | 0 |
| 1999 | Ohio State | 10 | 0 | 0 | 0 | 0 | 0 | 0 | 0 | 0 | 0 | 0 | 0 |
| Total | - | 34 | 4 | 21 | 15 | 6 | 4 | 13 | 1 | 5 | 0 | 1 | 0 |