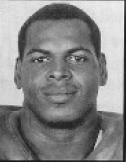 Nationality

United States

Position

DE

Birthday

1/14/1975

Hometown

Deerfield Beach, FL

High School

Deerfield Beach

Height

6'3"

Weight

255

Current Team

Ohio State

Seasons

1994, 1995, 1996, 1997, 1998
Major: Sociology (1997-98), Business Management (1995-96), Unknown (1994)
Weight: 255 (1997-98), 250 (1995-96), 245 (1994)
1998 Media Guide: A 34-game Ohio State veteran who is coming off a fine showing in spring practice … possessed with excellent quickness and is a terrific pass rusher … must continue to work on stopping the run … ends coach Shawn Simms is a believer of Wilson, saying that he "just needs to carry the run-stopping abilities that we see in practice into the game … he shows quickness and technique to get the job done" … enters his senior season with 31 tackles including five tackles for loss … four of those TFLs are sacks.
1997: Played in 11 games with an 11-minute effort vs. Bowling Green tops … recorded nine tackles, including a tackle for loss against Indiana … four tackles against Wyoming represents his top
effort.
1997 Media Guide: Is a leading candidate to replace Mike Vrabel at the Leo position (strong side defensive end) … backed up Vrabel last year and was the third defensive end … was used mostly in pass rushing situations … does not have Vrabel's strength as yet, but is exceptionally quick and difficult to block.
1996: Played a total of 65 minutes in 11 games … finished the 1996 campaign with nine tackles and two passes broken up … three tackles against Pittsburgh was his top effort.
1996 Media Guide: Backs up Matt Finkes, but can play either side and is the Buckeyes' third end … gets an excellent jump at the line of scrimmage and is a fine pass rusher … has improved dramatically since enrolling at Ohio State and has the potential to win all-conference honors before he is through.
1995: Appeared in 11 games for a total of 64 minutes in 1995 … played particularly well from midseason on … finished the 1995 campaign with 13 tackles, including four tackles for loss, all of which were sacks … four tackles against Iowa was his top effort … also credited with a pass broken up and a fumble caused.
1995 Media Guide: Redshirted last year as a true freshman … plays the strong side end and will vie with Brian Stoughton for playing time behind All-America candidate Mike Vrabel … played well in the spring and should be a solid player once he acquires the necessary experience … appears to have a bright future with the Buckeyes.
1994 Redshirted.
High School: A three-year starter on both offense and defense … earned Class AAAA first team all-state honors as a senior and was a two-time all-county selection … helped his squad post a 10-4 record and reach the state semifinals his senior year, marking the furthest Deerfield Beach had ever advanced … team was 10-2 his junior year and won district and regional titles … earned his team's offensive MVP award as a senior, when he also served as team captain … had 58 total tackles as a senior tackle, including three quarterback sacks, and recovered three fumbles … also was a three-year starter at offensive tackle … a wrestler in high school … high school coach was Kevin Sullivan.
Personal: Hobbies include playing video games and listening to rap music … lists NFL standout Bruce Smith as one of the players he most admires … enjoys fishing in his spare time … plans to major in business management.
Defense
| Season | Team | G | GS | Tkl | Solo | Asst | TFL | TFL Yds | Sacks | Sack Yds | FF | Int | PBU |
| --- | --- | --- | --- | --- | --- | --- | --- | --- | --- | --- | --- | --- | --- |
| 1994 | Ohio State | 0 | 0 | 0 | 0 | 0 | 0 | 0 | 0 | 0 | 0 | 0 | 0 |
| 1995 | Ohio State | 11 | 0 | 13 | 7 | 6 | 4 | 20 | 3.5 | 19 | 0 | 0 | 1 |
| 1996 | Ohio State | 11 | 0 | 9 | 5 | 4 | 0 | 0 | 0 | 0 | 0 | 0 | 2 |
| 1997 | Ohio State | 11 | 0 | 9 | 2 | 7 | 1 | 1 | 0 | 0 | 0 | 0 | 0 |
| 1998 | Ohio State | 6 | 0 | 4 | 4 | 0 | 0 | 0 | 0 | 0 | 0 | 0 | 0 |
| Total | - | 39 | 0 | 35 | 18 | 17 | 5 | 21 | 3.5 | 19 | 0 | 0 | 3 |