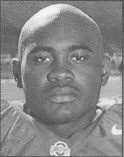 Nationality

United States

Position

DB, ST, TE, OLB

Birthday

11/08/1978

Hometown

Cleveland, OH

High School

Benedictine

Height

6'4"

Weight

250

Current Team

Ohio State

Seasons

1997, 1998, 1999, 2000, 2001
Post-OSU Update: Tim Cheatwood went undrafted in the 2002 NFL Draft, but he enjoyed a lengthy football career. Cheatwood linebacker for six years in the CFL (2002-07) and then another four years of arena football in the AFL (2010-13). He now owns and runs Guerilla KATs Fitness in Florida. (updated: Aug. 2022)
Major: African-American and African Studies (2001), Social Work (1998-00), Unknown (1997)
Weight: 250 (2000-01), 235 (1999), 215 (1997-98)
2001 Media Guide: Tim Cheatwood moves back to defense this year after a year at tight end … has the size and speed to be an intimidating pass rusher … came to Ohio State as a defensive back, then spent two years at linebacker before moving to tight end for the 2000 season … moved back to defense last spring, this time as a defensive end, to help offset the losses of seniors Rodney Bailey and Brent Johnson … played well in the spring and seems to have found a home … will see extensive action in the fall.
2000 Season: Played in 10 games for a total of 60 minutes … most of his time was spent with the special teams, but he did see action at tight end … three catches for 17 yards and one touchdown (at Arizona) on the year … had the ability to stretch the defense vertically with his speed.
2000 Media Guide: Tim Cheatwood gives Ohio State a secret weapon at the tight end position – unmatched speed. Whereas OSU's other four tight ends all tip the scale at over 250 pounds, Cheatwood, a former linebacker and safety, has a leaner build and the speed that goes along with it. Cheatwood was also noted by the coaching staff as a player that was impressive in spring drills. "Tim's big strength is his speed," Bill Conley, tight ends coach, said. "He runs good pass routes and has very good hands. He'll be our fastest tight end and he's learning to block, even though he's a little undersized right now."
1999: Played in 11 games and started one … made seven tackles, including five solos … first career start came against Miami in the season opener, a game in which he made two tackles, both of which were behind the line of scrimmage … played a total of 71 minutes, including a season-high 18 against Miami … also played double-figure minutes against Ohio University … a key special teams performer.
1999 Media Guide: Tim Cheatwood, after switching from strong safety to linebacker in the spring of 1997, now finds himself in a battle for the starting "will" linebacker position. He backed up Jerry Rudzinski last season and he is coming off a fine effort during spring drills. Linebacker's coach Freg Pagac said "Tim is a strong cover man who has picked up the schemes very well." Cheatwood has made a name for himself on special teams, where the majority of his 18 tackles last year were made.
1998: Played in all 12 games, logged 84 minutes and was a valuable asset on many of the Buckeyes special teams. Finished the season with 18 tackles, including a career-best six against Toledo and five against Iowa. Recorded his first career interception in the Toledo win, one of five interceptions on the day for the Buckeyes.
1998 Media Guide: Tim switched from strong safety to a linebacker position this spring … he has the size and the ability to be a good linebacker once he works through the learning stage, according to Fred Pagac …coaches would like to see him around the 225 to 230-pound range.
1997: Red-shirted the season as a true freshman
1997 Media Guide: Talented defensive back who also exceled as a receiver … totaled 78 tackles and had six interceptions as a safety and averaged 22.5 yards per catch as a receiver … Associated Press second-team All-State Defense (Division Ill) … selected to the Cleveland area first-team defense by the Plain Dealer … played in the 1997 Ohio-Pennsylvania Big 33 Classic … son of Tamara Cheatwood … born 11-8-78.
Offense
| Season | Team | G | GS | Tgt | Rec | Rec Yds | Rec TD | Lng | Fum | Lost | FR | Def TD |
| --- | --- | --- | --- | --- | --- | --- | --- | --- | --- | --- | --- | --- |
| 1998 | Ohio State | 11 | 0 | 0 | 0 | 0 | 0 | 0 | 0 | 0 | 1 | 0 |
| 1999 | Ohio State | 10 | 1 | 0 | 0 | 0 | 0 | 0 | 0 | 0 | 0 | 0 |
| 2000 | Ohio State | 10 | 1 | 5 | 3 | 17 | 1 | 9 | 0 | 0 | 0 | 0 |
| 2001 | Ohio State | 12 | 2 | 0 | 0 | 0 | 0 | 0 | 0 | 0 | 1 | 0 |
| Total | - | 43 | 4 | 5 | 3 | 17 | 1 | 9 | 0 | 0 | 2 | 0 |
Defense
| Season | Team | G | GS | Tkl | Solo | Asst | TFL | TFL Yds | Sacks | Sack Yds | FF | FR | Int | Int Yds | PBU | Blk | Def TD |
| --- | --- | --- | --- | --- | --- | --- | --- | --- | --- | --- | --- | --- | --- | --- | --- | --- | --- |
| 1998 | Ohio State | 11 | 0 | 18 | 8 | 10 | 1 | 3 | 0 | 0 | 0 | 1 | 1 | 0 | 0 | 0 | 0 |
| 1999 | Ohio State | 10 | 1 | 7 | 5 | 2 | 2 | 5 | 0 | 0 | 0 | 0 | 0 | 0 | 0 | 0 | 0 |
| 2000 | Ohio State | 10 | 1 | 3 | 3 | 0 | 0 | 0 | 0 | 0 | 0 | 0 | 0 | 0 | 0 | 2 | 0 |
| 2001 | Ohio State | 12 | 2 | 34 | 25 | 9 | 6 | 14 | 2 | 8 | 2 | 1 | 0 | 0 | 1 | 0 | 0 |
| Total | - | 43 | 4 | 62 | 41 | 21 | 9 | 22 | 2 | 8 | 2 | 2 | 1 | 0 | 1 | 2 | 0 |