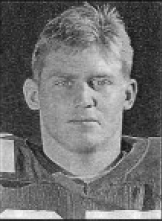 Nationality

United States

Position

ILB, OLB

Height

6'1"

Weight

220

Birthday

7/16/1975

Hometown

Centerville, OH

High School

Kettering Alter

Current Team

Ohio State

Seasons

1994, 1995, 1996, 1997, 1998
Major: Finance (1997), Business (1995-96), Unknown (1994)
Weight: 220 (1995-97), 212 (1994)
1997 Media Guide: A projected starter on the outside … has been a key reserve the past two years … was the starter in the 1995 season opener against Boston College, but suffered a stress fracture the following week in practice and missed the next six games … recovered in time to play in the last five games, but never recaptured his starting position … one of the Buckeyes most experienced linebackers with 20 career games to his credit … intelligent, hardworking player.
1996: Played in all 12 games and had 13 tackles … career-high four tackles against Pittsburgh and Illinois were his top efforts … picked off his first career interception against Minnesota.
1996 Media Guide: One of the contenders to start at the boundary position … started the season opener against Boston College last year and played well in his first ever start, logging a solid 21 minutes of playing time and gaining valuable experience … but then suffered a stress fracture in his right foot the following Monday and missed the next six games … returned to action against Iowa on Oct. 28 and played six minutes against the Hawkeyes … was not able to reclaim his starting position, but did play in OSU's last five games (Iowa to Michigan) … wound up the season with nine tackles, all solos … three tackles against Iowa and Illinois were his top games … intelligent football player who learns quickly … also a member of the special teams.
1995 Media Guide: Heads into the fall as the starter at the Buck (strong side) position, replacing Greg Bellisari who has moved inside … tough, smart, coachable football player, who has given signs of being a playmaker … needs to add weight and his lack of experience is a concern, but the OSU coaching staff likes his work ethic and attitude … got almost all the work at Buck last spring and really benefited from that attention … made dramatic improvement between the beginning and the end of spring ball.
High School: The Ohio Division II defensive player of the year and a two-time first team all-state selection (offense in 1992, defense in 1993) … earned honorable mention All-America honors from USA Today … recorded 144 tackles as a senior defensive buck with six sacks and 14 tackles for loss … as a quarterback, threw for over 1,300 yards and nine TDs and rushed for 143 yards and four scores … had 303 tackles, passed for 2,594 yards and 20 TDs and rushed for 480 yards and 12 TDs during his career … served as a two-year team captain … suffered a cracked fibula in Alter's last game, but is expected to be 100 percent by fall practice … played basketball, and helped his team reach the state semi-finals in 1993.
Personal: His father played football at Dayton and two uncles played at Michigan State and Notre Dame, respectively … an honor student who made the honor roll every quarter … high school coach was Chris Roark … worked at a golf course last summer … from the same high school that produced recent Buckeye gridders Jeff Graham, Joe Metzger and Jim Borchers.
Defense
| Season | Team | G | GS | Tkl | Solo | Asst | TFL | TFL Yds | Sacks | Sack Yds | FF | FR | Int | Int Yds | PBU | Def TD |
| --- | --- | --- | --- | --- | --- | --- | --- | --- | --- | --- | --- | --- | --- | --- | --- | --- |
| 1994 | Ohio State | 0 | 0 | 0 | 0 | 0 | 0 | 0 | 0 | 0 | 0 | 0 | 0 | 0 | 0 | 0 |
| 1995 | Ohio State | 7 | 1 | 9 | 9 | 0 | 0 | 0 | 0 | 0 | 0 | 0 | 0 | 0 | 0 | 0 |
| 1996 | Ohio State | 12 | 0 | 13 | 5 | 8 | 0 | 0 | 0 | 0 | 0 | 0 | 1 | 0 | 0 | 0 |
| 1997 | Ohio State | 13 | NA | 65 | 39 | 26 | 9 | 47 | 4 | 37 | 2 | 2 | 0 | 0 | 2 | 0 |
| 1998 | Ohio State | 12 | 12 | 50 | 30 | 20 | 10 | 46 | 4 | 27 | 0 | 2 | 1 | 0 | 2 | 1 |
| Total | - | 44 | 13 | 137 | 83 | 54 | 19 | 93 | 8 | 64 | 2 | 4 | 2 | 0 | 4 | 1 |