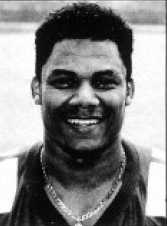 Nationality

United States

Position

FL

Height

5'11"

Weight

180

Birthday

7/23/1974

Hometown

Columbus, OH

High School

Brookhaven

Current Team

Ohio State

Seasons

1993, 1994, 1995
Major: History (1995), Undecided (1993-94)
Weight: 185 (1995), 180 (1993-94)
1995: Won consensus All-America honors in his first year as a starter and was named winner of the Biletnikoff Award as the premiere receiver in college football … set numerous school records during the year, including single-game standards for receiving yardage (253 against Pittsburgh) and touchdown catches (four vs. Pittsburgh) as well as single-season marks for yardage (1,411) and touchdowns (17) … wound up the year with 64 receptions, the second highest total in Ohio State history (five shy of Cris Carter's 69 in 1986) … led the nation in yards per catch with a fancy 23.1 figure during the regular season … also fourth nationally in average yards per game at 119.6 and eighth in scoring with an average of 9.7 points per game … caught TD passes in nine of the 12 games he played in (he missed the Illinois game because of a shoulder injury suffered the week before at Minnesota) and had a school-record seven games in which he topped the 100-yard mark in receiving yardage … nine catches against Pitt and Penn State were his top efforts … pulled in eight catches of at least 45 yards, including a career-long 82 yarder against Notre Dame … his 17 TD catches rank him third on OSU's career list and his 79 career receptions is good for 11th place … just the second wide receiver in Ohio State history to win first-team All-America acclaim (Carter was the other). winning berths on the Associated Press, Walter Camp, UPI, Football Writers, Football News and Sporting News teams… a brilliant talent who combined, tremendous hands and concentration with great acrobatic ability and burning speed.
1995 Media Guide: Will take over for Chris Sanders at flanker … has been a top reserve the past two years … gifted athlete with the speed to go deep and the ability to make the spectacular play … will be one of the keys to the OSU passing game this year now that Sanders and split end Joey Galloway have exhausted their eligibility … played in 10 games last year … was poked in the eye in the first quarter of the Illinois game and missed the next two games (Michigan State and Purdue) … finished the '94 season with seven receptions for 110 yards … two catches at Washington and two vs. Houston were his top efforts of the season … longest reception of the year was a 24 yarder against Pittsburgh… also a dangerous kick returner.
1994 Media Guide: Speedy flanker who will battle for a starting position this fall … has all the ingredients to become a standout — good speed, hands and leaping ability — and only lacks experience … can also make the tough catch over the middle … has been in the program two years now, so may be ready to blossom … also a return specialist.
1993: Appeared in 10 games as the backup to Chris Sanders at flanker and caught eight passes for 156 yards(19.5 average) … missed the last two regular season games when he had arthroscopic surgery to repair a partially torn meniscal in his left knee … came back to play briefly in the Holiday Bowl, but did not have a reception … top game was three receptions for 80 yards (including a 45-yard catch) at Pittsburgh … had 10 kickoff returns for 241 yards.
1993 Media Guide: Speedy flanker who will see action this fall … joined the team as a walk-on last season and was redshirted … played with the scout team … impressed the coaching staff with his ability and was awarded a scholarship in the spring … has very good speed and hands and can make the tough catch over the middle … also has the strength to be a fine blocker … caught a pair of passes for 16 yards in the spring game.
1992: Redshirted as a walk-on.
High School: Played high school ball with current Buckeyes Marlon Kerner and Jayson and Anthony Gwinn at Brookhaven … high school coach was Gregg Miller … team was 11-2 his last year and advanced to the state playoffs his junior and senior campaigns … earned second team all-district honors as a kick return specialist … caught 14 passes for 416 yards and four TDs as a senior captain … also a three-year letter winner in basketball .. . undecided on a major.
Offense
| Season | Team | G | GS | Rush Att | Rush Yds | Rush TD | Tgt | Rec | Rec Yds | Rec TD | Lng | 2 Pt Conv | Fum | Lost | FR | Def TD | KR | KR Yds | KR TD | PR | FC | PR Yds | PR TD |
| --- | --- | --- | --- | --- | --- | --- | --- | --- | --- | --- | --- | --- | --- | --- | --- | --- | --- | --- | --- | --- | --- | --- | --- |
| 1993 | Ohio State | 9 | 0 | 1 | -7 | 0 | 17 | 8 | 156 | 0 | 45 | 0 | 1 | 1 | 0 | 1 | 11 | 238 | 0 | 0 | 0 | 0 | 0 |
| 1994 | Ohio State | 10 | NA | 1 | 5 | 0 | NA | 7 | 110 | 0 | 24 | 0 | 0 | 0 | 0 | 0 | 0 | 0 | 0 | 0 | 0 | 0 | 0 |
| 1995 | Ohio State | 12 | 12 | 4 | 33 | 0 | 107 | 64 | 1411 | 17 | 82 | 1 | 2 | 0 | 0 | 0 | 8 | 158 | 0 | 5 | 0 | 28 | 0 |
| Total | - | 31 | 12 | 6 | 31 | 0 | 124 | 79 | 1677 | 17 | 82 | 1 | 3 | 1 | 0 | 1 | 19 | 396 | 0 | 5 | 0 | 28 | 0 |