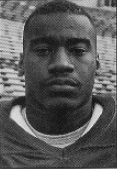 Nationality

United States

Position

FS

Height

6'0"

Weight

190

Birthday

3/30/1975

Hometown

Columbus, OH

High School

Brookhaven

Current Team

Ohio State

Seasons

1993, 1994, 1995, 1996
Major: Black Studies (1994-96), Unknown (1993)
Weight: 200 (1995-96), 190 (1994), 180 (1993)
1996: Played in 12 games as a reserve defensive back … finished the year with 17 tackles, two passes broken up and a fumble caused … logged a total of 56 minutes … started all 13 games
in 1995 and had 47 tackles and three interceptions … appeared in 44 games over the course of his four-year career, including all 12 his freshman year.
1996 Media Guide: Started all 13 games at free safety last year, but will battle Rob Kelly (who moves over from starting strong safety) for playing time this year … played well in his first year as a
regular and wound up the season with 47 tackles and three interceptions (the latter total tying him for second on the team)… had a particularly good game against Notre Dame, collecting a career-high eight tackles, including five solo stops … also had six tackles against Tennessee in the bowl game … interceptions came against Pittsburgh, Wisconsin (16-yard runback) and Minnesota … had a fumble caused at Minnesota … has good speed and anticipation … another in a long line of outstanding athletes who played their high school football at Brookhaven … has an outgoing, engaging personality.
1995 Media Guide: Moves from strong to free safety this year and is expected to be the starter … has good speed and breaks well on the ball … played in seven games last year for a total of 25 minutes … had six tackles, a forced fumble and two interceptions … his interceptions were against Houston and Purdue … also had a season-high three tackles against Houston … played in all 12 games as a true freshman in 1993 and had 14 tackles, including a career-high four at Purdue.
Other: Hobbies include traveling. fishing and listening to rap music… suffered through a personal tragedy in December of his freshman year (1993) when his older brother, Jayson, a defensive end for the Buckeyes, was killed in an automobile accident.
1994 Media Guide: The heir apparent to three-year starter Chico Nelson at strong safety … played in all 12 games last year as a true freshman and was in on 14 tackles … has excellent speed and goes to the ball very well .. narrowly missed a couple of interceptions last year, but judging by his high school total of 21, that will come with experience … should be a fixture at safety the next
three years for the Buckeyes.
1993: Very impressive early with his athletic talent and quickly worked himself into the rotation … top game was four tackles at Purdue … had three stops and a fumble recovery at Pittsburgh.
1993 Media Guide: A two-way standout al Brookhaven who played quarterback and free safety… earned first team Division II all-state honors on defense as a senior and won the Shamrock Club Knute Rockne Award was the top student-athlete in Central Ohio… helped his school reach the state playoffs and win the city league title three straight years and compile a record of 32-6… threw for 955 yards and 13 TDs as a senior and had six interceptions on defense… was selected to play in three all-star games last summer (Ohio North-South, Big 33 vs. Pennsylvania and Central District)… his 21 career interceptions set a school record, and he also holds several of the school's career offensive marks… played guard on the school's basketball team .. . brother of Buckeye redshirt freshman defensive end Jayson Gwinn… prep teammate Lentwan South plays football at Northwestern… high school coach was Gregg Miller… an honor student who plans to major in civil engineering … admires NFL defensive backs Ronnie Lott and Eric Turner.
Defense
| Season | Team | G | GS | Tkl | Solo | Asst | TFL | FF | FR | Int | Int Yds | PBU |
| --- | --- | --- | --- | --- | --- | --- | --- | --- | --- | --- | --- | --- |
| 1993 | Ohio State | 12 | 0 | 15 | 11 | 4 | 0 | 0 | 1 | 0 | 0 | 0 |
| 1994 | Ohio State | 7 | NA | 6 | 4 | 2 | 0 | 1 | 0 | 2 | 27 | 0 |
| 1995 | Ohio State | 13 | 13 | 47 | 26 | 21 | 1 | 1 | 0 | 3 | 16 | 1 |
| 1996 | Ohio State | 12 | 0 | 17 | 9 | 8 | 0 | 0 | 0 | 1 | 19 | 2 |
| Total | - | 44 | 13 | 85 | 50 | 35 | 1 | 2 | 1 | 6 | 62 | 3 |