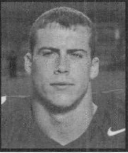 Nationality

United States

Position

DB, ST, QB

Height

6'3"

Weight

220

Birthday

4/21/1980

Hometown

Boca Raton, FL

High School

Boca Raton Community

Current Team

Ohio State

Seasons

1998, 1999, 2000, 2001
Post-OSU Update: Steve Bellisari was selected by the Saint Louis Rams with the 205th pick (6th round) of the 2002 NFL Draft. The Rams intended to move him to safety, but Bellisari never played in the NFL. He played several years of Arena and Indoor football from 2005-08. After football, Bellisari launched a career in sales in marketing, mostly in the pharmaceutical industry. (updated: Aug. 2022)
Major: Mathematics (2001), Engineering (1999-00)
Weight: 220 (1999-01), 210 (1998)
2001 Media Guide: Co-captain … left-handed thrower with tremendous athletic ability … physical player who won't shy away from contact … is unquestionably one of the keys to the 2001 campaign … had his best year statistically last year and hopes to show continued improvement this year … worked hard in the spring on becoming more consistent in his decision-making … has started 22 consecutive games – the last 10 of 1999 and all 12 in 2000 – and has led the Buckeyes in total offense each of the past two years … currently ranks eighth in Ohio State history with 4,470 yards in total offense … averaged 208.2 yards per game last year in total offense to become just the fourth Buckeye to average more than 200 yards in a season … has thrown for 3,959 yards during his career, a total that places him seventh on the school's career-yardage list … has 511 career rushing yards and is an effective runner because of his quickness and elusiveness.
2000: Elected by his teammates at the start of the season as one of four co-captains (at the time the first junior to be so honored since Pepper Johnson in 1984) … threw for a career-high 2,319 yards, the fifth highest one-season total in OSU history … six 200-yard passing games, including a career-high 315 yards at Iowa … also threw for three touchdowns against the Hawkeyes, another career best … the team's third leading rusher with 179 … engineered two long drives in the closing minutes of the Illinois game, both of which led to Dan Stultz field goals and a 24-21 Ohio State win that kept the Buckeyes tied for first place in the Big Ten heading into the final week of the regular season … threw for 251 yards, hit 10 different receivers and completed a career-best 23 passes in the win over the Illini … finished sixth in the Big Ten in total offense with an average of 212.7 yards per game.
2000 Media Guide: Dangerous. Explosive. Multi-dimensional. These are all words used to describe Steve Bellisari. Each is accurate. Blessed with loads of athletic ability, the left-handed Bellisari gives Ohio State two weapons in one finely-tuned package. A broken play can often mean a big gain with Bellisari's athleticism. As a passer, he has a quick release and a big arm with the ability to throw the deep ball. When Ohio State came up with a big play last year, Bellisari typically had something to do with it. Tim Salem, OSU quarterbacks coach, said Bellisari turned in his three finest performances – showing impressive defensive reads and the decision-making of a veteran – in Ohio State's final three games. "He's had the chance to play for a good solid year and through the growing process from 1999 to 2000, we expect a big jump in what he can do for this football team," Salem said. "He's very competitive and very athletic. He's a very hard worker that is determined to do it right." Bellisari, who has a hold on the starting quarterback job entering the 2000 season, is one of the emerging stars behind center in the Big Ten Conference and will be counted on to be a leader in the huddle of Ohio State's offensive unit.
1999: Entered fall camp in a heated battle for the starting quarterback position and won the job after an impressive 11-for-16 passing, two touchdown performance in a backup role against UCLA the second game of the year … passed for a season-high 243 yards in his first start of the season against Ohio University … topped the 200-yard passing plateau three times: 243 vs. Ohio, 210 vs. Wisconsin, 240 vs. Iowa … his 332 rushing yards are the most by an Ohio State quarterback since Art Schlichter amassed 430 in 1979 … rushed for a season-high 96 yards, including a thrilling season-long 68-yard scamper, against Purdue … rushed for 50 or more yards four times: 50 vs. Ohio, 50 vs. Cincinnati, 52 vs. Wisconsin and 96 vs. Purdue.
1999 Media Guide: Athletic left-handed quarterback who is vying with Austin Moherman to become the Buckeyes' first sophomore to start at quarterback since Bobby Hoying in 1993. Came through spring drills dead even with Moherman and will go into fall battling for the quarterback position. Displayed a spirit for competition last year as a true freshman with his willingness to play and sacrifice himself on special teams. Showed speed and athletic ability and was voted as the team's co-special teams player of the year. Has one year in the Ohio State football program to his credit, but is no stranger to the program with many relatives in the area and four years watching older brother Greg, a team captain and a two-time academic All-American at Ohio State between 1993-1996, compete for the Buckeyes.
1998: Played all 12 games on special teams and had several series as a backup strong safety. Did something no true freshman has done in recent memory – play on offense (quarterback), defense (strong safety), and special teams all in one game (Toledo). Recorded at least one tackle in all 12 games.
1998 Media Guide: A two-time all-state safety while at Boca Raton Community, but will get an opportunity to play quarterback as a Buckeye … passed for 891 yards and seven touchdowns as a senior … also rushed for 543 yards and seven touchdowns … defensively, he had 55 tackles, grabbed three interceptions and blocked six kicks … one of the nation's top 100 high school seniors and a Prep All-America by numerous publications … is the brother of two-time OSU Academic All-American and team captain Greg Bellisari … son of Mary Beth and Art Bellisari … born April 21, 1980.
Offense
| Season | Team | G | GS | Comp | Pass Att | Cmp % | Pass Yds | Pass TD | Pass Int | Skd | Skd Yds | Rush Att | Rush Yds | Rush Avg | Rush TD | Tgt | Rec | Rec Yds | Rec TD | Fum | Lost | FR | KR | KR Yds |
| --- | --- | --- | --- | --- | --- | --- | --- | --- | --- | --- | --- | --- | --- | --- | --- | --- | --- | --- | --- | --- | --- | --- | --- | --- |
| 1998 | Ohio State | 12 | 0 | 3 | 5 | 60.0 | 24 | 0 | 0 | 0 | 0 | 0 | 0 | 0 | 0 | 0 | 0 | 0 | 0 | NA | NA | 0 | 1 | 22 |
| 1999 | Ohio State | 12 | 10 | 101 | 224 | 45.1 | 1616 | 12 | 9 | 31 | 209 | 116 | 332 | 2.9 | 2 | 1 | 1 | 28 | 0 | 9 | 4 | 1 | 0 | 0 |
| 2000 | Ohio State | 12 | 12 | 163 | 310 | 52.6 | 2319 | 13 | 13 | 28 | 172 | 107 | 179 | 1.7 | 1 | 1 | 0 | 0 | 0 | 6 | 3 | 0 | 0 | 0 |
| 2001 | Ohio State | 10 | 9 | 119 | 220 | 54.1 | 1919 | 10 | 7 | 22 | 135 | 83 | 107 | 1.3 | 3 | 1 | 0 | 0 | 0 | 9 | 5 | 0 | 0 | 0 |
| Total | - | 46 | 31 | 386 | 759 | 50.9 | 5878 | 35 | 29 | 81 | 516 | 306 | 618 | 2.0 | 6 | 3 | 1 | 28 | 0 | 24 | 12 | 1 | 1 | 22 |
Defense
| Season | Team | G | GS | Tkl | Solo | Asst | TFL | Sacks | FF | FR | Int | Int Yds | PBU | Blk | KR | KR Yds |
| --- | --- | --- | --- | --- | --- | --- | --- | --- | --- | --- | --- | --- | --- | --- | --- | --- |
| 1998 | Ohio State | 12 | 0 | 22 | 15 | 7 | 0 | 0 | 0 | 0 | 1 | 19 | 0 | 1 | 1 | 22 |
| 1999 | Ohio State | 12 | 10 | 2 | 2 | 0 | 0 | 0 | 0 | 1 | 0 | 0 | 0 | 0 | 0 | 0 |
| 2000 | Ohio State | 12 | 12 | 0 | 0 | 0 | 0 | 0 | 0 | 0 | 0 | 0 | 0 | 0 | 0 | 0 |
| 2001 | Ohio State | 10 | 9 | 0 | 0 | 0 | 0 | 0 | 0 | 0 | 0 | 0 | 0 | 0 | 0 | 0 |
| Total | - | 46 | 31 | 24 | 17 | 7 | 0 | 0 | 0 | 1 | 1 | 19 | 0 | 1 | 1 | 22 |