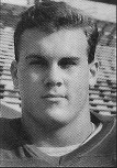 Nationality

United States

Position

ST, MLB

Height

6'1"

Weight

230

Birthday

6/21/1975

Hometown

Boca Raton, FL

High School

Boca Raton Community

Current Team

Ohio State

Seasons

1993, 1994, 1995, 1996
Post-OSU Update: Upon graduating following the 1996 season, Greg Bellisari went undrafted in the 1997 NFL Draft. He was picked up by Tampa and played in 16 games over the 1997 and 1998 seasons. Bellisari pursued a medical career and is now an orthopedic surgeon in Upper Arlington, Ohio. (Updated: 2021)
Pronunciation: bell-uh-SAIR-ee
Major: Pre-med (1995-96), Undecided (1994), Unknown (1993)
Weight: 230 (1995-96), 229 (1994), 220 (1993)
1996: Team co-captain … named to a first-team berth on the Academic All-Amenca team for the second straight year … winner of the Bo Rein Most Inspirational Award (voted on by his teammates) … received National Football Foundation and NCAA Post Graduate scholarships … finished second on the team in total tackles with 88 (one behind leader Damon Moore) and also was second in solo stops with 58 (three in back of Moore) … top game was 14 tackles at Notre Dame … also had 11 stops against Wisconsin and nine against Michigan … one of 11 semi-finalists for the Butkus Award … played in the Hula Bowl.
1996 Media Guide: A first-team Academic All-America and one of 10 finalists for the Butkus Award last year … Will: be in his third year as a starter … started on the outside as a sophomore and in the middle last year … could spend time at both spots this season and is capable of playing any of the three linebacker positions … not real big as linebackers go, but a very intelligent player who has a knack for being in the right place at the right time … led the Buckeyes in tackles last year with 98, including a team-high 54 solos … also had three interceptions and five tackles for losses … postseason honors also included second-team all-Big Ten honors in a year when the conference boasted a bevy of outstanding linebackers … top game in terms of tackles was a career-high 12 against Notre Dame … also had 10 tackles against Washington and has shown a penchant for playing well in big games … will he a candidate for postseason honors this year and a nominee for a National Football foundation Post Graduate Scholarship … outstanding leader … the consummate student athlete.
1995 Media Guide: The Buckeyes' lone returning starting linebacker … played the boundary side last year, but was moved inside in the spring and 1s the projected starter in the middle this fall … started all 13 games last year (his first year as a starter) and finished with 63 tackles, including 41 solos. four tackles for loss, a sack, three passes broken up and a team-high three interceptions … intelligent football player who has demonstrated a knack for being where the ball is … top game last year was 11 tackles against Michigan … his 35-yard interception return for a touchdown at Michigan State was the first such runback by a Buckeye linebacker since the 1987 Cotton Bowl … other two picks came against Purdue and Wisconsin … somewhat overshadowed last year by the other two linebackers, but should be one of the leaders on this year's team.
1994 Media Guide: Impressive young football player with a bright future … will contend for the starting outside spot vacated by three-year starter Mark Williams … made an immediate impression last year as a freshman and played in 11 of the 12 games (did not play against Penn State) … began the year on the inside, but became Williams' backup midway through the season … finished the year No. 2 on the depth chart … also played on the special teams … has added 10 pounds since last year … has fine speed and has demonstrated a penchant for running to the football … smart football player … really established himself during spring drills.
1993: Wound up the year with 12 tackles … five stops versus Northwestern was his top game … had four tackles at Purdue, all solos … eight minutes at Pittsburgh was his longest stint of the year.
1993 Media Guide: Had 138 tackles as a senior at inside linebacker, with two interceptions and four sacks … earned first team Class AAAA (second largest class) all-state honors, was the player of the year in South Florida and earned All-America mention from Blue Chip Illustrated … a starter since the fifth game of his freshman season … also saw some action at tight end and caught 18 passes for 125 yards and three TDs … team captain as a senior … also excelled in baseball … parents, a sister and an aunt and uncle are all Ohio State graduates, but Greg has always lived in Florida … another uncle, Ray, coaches high school football at Upper Arlington High School near Columbus and is president of the Ohio High School Football Coaches Association … high school coach was Jay Minton … enjoys fishing and hunting in his free time … an honor student who won a National Football Foundation and College Hall of Fame Scholar-Athlete Award and was nominated as a Congressional Scholar … is thinking about a career in medicine or engineering.
Defense
| Season | Team | G | GS | Tkl | Solo | Asst | TFL | TFL Yds | Sacks | Sack Yds | FF | Int | Int Yds | PBU | Def TD |
| --- | --- | --- | --- | --- | --- | --- | --- | --- | --- | --- | --- | --- | --- | --- | --- |
| 1993 | Ohio State | 11 | 0 | 12 | 10 | 2 | 0 | 0 | 0 | 0 | 0 | 0 | 0 | 0 | 0 |
| 1994 | Ohio State | 13 | 13 | 63 | 41 | 22 | 4 | 26 | 1 | 19 | 0 | 3 | 46 | 3 | 1 |
| 1995 | Ohio State | 13 | 13 | 98 | 54 | 44 | 5 | 21 | 1 | 10 | 0 | 3 | 35 | 0 | 0 |
| 1996 | Ohio State | 12 | 12 | 88 | 58 | 30 | 9 | 36 | 4 | 26 | 0 | 0 | 0 | 0 | 0 |
| Total | - | 49 | 38 | 261 | 163 | 98 | 18 | 83 | 6 | 55 | 0 | 6 | 81 | 3 | 1 |