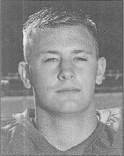 Nationality

United States

Position

K, P

Birthday

6/16/1978

Hometown

Orrville, OH

High School

Orrville

Height

6'0"

Weight

205

Current Team

Ohio State

Seasons

1996, 1997, 1998, 1999, 2000
Post-OSU Update: Dan Stultz graduated from Ohio State in 2001. At the time, Stultz held many OSU kicking records and played in 50 consecutive games. In 2010, he was elected to the Wayne County Sports Hall of Fame. As of 2010, Stultz was a manufacturer's rep for a plumbing company. (updated: Apr. 2022)
Major: Business (1998-00), Undecided (1996-97)
Weight: 205 (1998-00), 195 (1997), 185 (1996)
2000 Media Guide: The 2000 season could be a record-breaking one for senior kicker Dan Stultz. After an impressive junior season that saw him pull double-duty as a place kicker and punter, Stultz will enter the year with 251 career points – the eighth most in school history. His assault on the record book – which also includes an Ohio Stadium record 55-yard field goal in 1997 – has come despite what seems at times like an uphill climb. It started as a true freshman in 1996 when Stultz was diagnosed with Graves disease and lost 20 pounds between the end of high school and the beginning of OSU fall camp. In February of 1999, he underwent surgery to correct a bulging disc in his lower back that nagged him throughout the entire 1998 season. Stultz is 100 percent healthy entering his final season and is ready to make his mark as one of the Big Ten's top kickers. He enters the season with 40 career field goals made and should break the school record of 49 which currently belongs to Tim Williams (1990-93).
1999: Connected on 12-of-16 field goal attempts and 31-of-34 extra points … ranked second on the team with 67 points scored … was three-of-three between 20-29 yards, four-of-six between 30-39 yards and five-of-seven between 40-49 yards … punted for the first time in his career and held his own, averaging 38.6 yards per kick and landing 14 punts inside the 20-yard line … made a season-long 47-yard field goal against Penn State … led Ohio State to a come-from-behind win over Minnesota with two fourth quarter field goals, including the 40-yard game winner with 1:15 remaining.
1999 Media Guide: One of the big questions surrounding the football program this summer was: can Dan Stultz kick? "I can kick," replied Ohio State's junior place kicker, who is coming off surgery in February to correct a bulging lumbar disc in his lower back. The surgery was prompted by continued pain in the area that started during the 1998 season, which coincidentally was an up-and-down season for Stultz. This came after a terrific freshman campaign in which Stultz displayed a strong and lively leg while booting 15 of 25 field goals including an OSU Ohio Stadium record 55-yarder. After the surgery in February, Stultz did not kick again until the first week of June. He is expected back during the 1999 season. Stultz is 28-of-50 for his career in field goals and 100-of-102 in extra points. His 184 career points ranks 15th all-time at Ohio State and it ranks fifth among OSU kickers. His 92 points scored in both 1997 and 1998 represents the second-highest point totals by an OSU kicker, trailing only Vlade Janakievski's 97 points in 1979.
1998: Connected on 13-of-25 field goal attempts and on 53-of-54 extra points for 92 total points, a team high and good for fourth in the Big Ten in kick scoring. Longest kick of the season was a 46-yard field goal against Illinois. Was 10-of-14 between 20 and 39 yards. Only extra point miss came from 35 yards out (because of a penalty) and it snapped a string of 61-consecutive made extra points, the fourth-longest streak in OSU history.
1998 Media Guide: A strong kicker who handled all of the Buckeyes' field goal kicking duties this past year as well as the majority of the kickoffs … also is the back-up punter, but has not had any attempts … has a chance to be one of the Buckeyes all-time best kickers.
1997: Led Ohio State in scoring with 92 points and was fifth in the Big Ten … scored second-most points ever by an OSU kicker in a season, trailing only the 97 that Vlade Janakievski scored in 1979 … hit on 15 of his 25 field goal attempts and 47 of 48 extra points … booted a 55-yard field goal against Indiana, the second longest field goal in Ohio State history and the longest ever in Ohio Stadium by a Buckeye … made 10-of-12 inside of 40 yards, 5-of-13 beyond … made all three field-goal attempts against Bowling Green and was three-of-four at Michigan State … never
missed more than two in a row and hit on four of his last six attempts.
1997 Media Guide: Strong-legged kicker who is expected to handle all of the Buckeyes' field goal kicking duties this year … will also be the back-up punter … wound up being redshirted last year
after being diagnosed with Graves' disease (a thyroid condition) shortly after the start of fall camp … did try a field goal in the Notre Dame game, but clearly had not regained his strength and sat out the rest of the year … lost 20 pounds between the end of his senior year in high school and the beginning of practice last year … that weight loss led to an extensive battery of tests and the final diagnosis … was his old self in the spring and gives every indication of being a valuable addition to the OSU offensive arsenal.
High School: Made five out of 10 field goals as a senior with a long of 48 at Orrville High School … All five of his misses were from over 50 yards … Made 57 of 59 extra points … averaged 43.9 yards per punt … For his career, he was 22 of 39 in field goals and 134 out of 140 for extra points … holds the school record with a long field goal of 53 yards … Also nailed a 52 yarder … All-America selection by The National Recruiting Advisor … Associated Press two-time first team All-Ohio (Division IV) and an honorable mention All-Ohio selection … three time all-county, all-district and all-league … rated the top kicker in the Midwest by Bluechip Illustrated … rated the 73rd best player in the Midwest by SuperPrep … rated the 107th best player in the Midwest by Prep Football Report … rated the 14th best player in Ohio by The Ohio Football Recruiting News … Four year letter winner and starter in football and earned four letters in track … two-time first team
all-district in track … Helped lead Orrville to the state semis as a senior and the state finals as a junior … went 10-0 in the regular season as a senior … played in the annual Ohio-Pennsylvania Big 33 all-star game … was on the honor roll for 15 quarters … High school coach was Bill McMillian.
Personal: Chose Ohio State because "it has been a childhood dream" … was born in Columbus … plans to major in marketing … Has two sisters … full name is Daniel Harrison Stultz.
Offense
| Season | Team | G | GS | Comp | Pass Att | TB | XP | XPA | FG | FGA |
| --- | --- | --- | --- | --- | --- | --- | --- | --- | --- | --- |
| 1996 | Ohio State | 1 | 0 | 0 | 0 | 0 | 0 | 0 | 0 | 1 |
| 1997 | Ohio State | 13 | 13 | 0 | 0 | 0 | 47 | 48 | 15 | 25 |
| 1998 | Ohio State | 12 | 12 | 0 | 0 | 0 | 53 | 54 | 13 | 25 |
| 1999 | Ohio State | 12 | 12 | 0 | 0 | 3 | 31 | 34 | 12 | 16 |
| 2000 | Ohio State | 12 | 12 | 0 | 1 | 3 | 34 | 37 | 19 | 24 |
| Total | - | 50 | 49 | 0 | 1 | 6 | 165 | 173 | 59 | 91 |
Defense
| Season | Team | G | GS | Tkl | Solo | Asst | Pt | Pt Yds | TB | I20 | Pt Blkd |
| --- | --- | --- | --- | --- | --- | --- | --- | --- | --- | --- | --- |
| 1996 | Ohio State | 1 | 0 | 0 | 0 | 0 | 0 | 0 | 0 | 0 | 0 |
| 1997 | Ohio State | 13 | 13 | 2 | 2 | 0 | 0 | 0 | 0 | 0 | 0 |
| 1998 | Ohio State | 12 | 12 | 0 | 0 | 0 | 0 | 0 | 0 | 0 | 0 |
| 1999 | Ohio State | 12 | 12 | 0 | 0 | 0 | 61 | 2353 | 3 | 14 | 0 |
| 2000 | Ohio State | 12 | 12 | 1 | 1 | 0 | 22 | 832 | 3 | 7 | 0 |
| Total | - | 50 | 49 | 3 | 3 | 0 | 83 | 3185 | 6 | 21 | 0 |