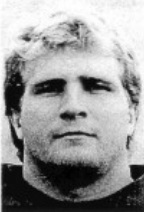 Nationality

United States

Position

ILB

Birthday

10/27/1965

Hometown

Timberlake, OH

High School

Lake Catholic

Height

6'0"

Weight

237

Past Teams

Ohio State

Seasons

1985, 1986, 1987, 1988
Major: Education (1988), Business Administration (1985-87)
Weight: 237 (1988), 219 (1986), 215 (1985), 253 (1984)
1988 Media Guide: A leading contender to start at one of the inside spots if he is physically able … missed all of spring practice as a result of knee surgery performed last November following the Minnesota game … coaches are hopeful he will be ready to play this fall, but won't know for sure until he is able to test the knee in preseason drills … plays with a lot of emotion … became a favorite of OSU fans early in his career with his aggressive play on the special teams … his twin brother, Mike, starts at nose guard for the Buckeyes.
1987: Started three of the first seven games last year and was on his way to his best season before being hurt … abbreviated 1987 totals were 33 tackles and one intercepted fumble.
1987 Media Guide: Will vie with Fred Ridder for a starting linebacker berth opposite Spielman … began last season as an outside linebacker but moved to the inside early on.
1986: Played in 13 games as a sophomore and drew two starting assignments … 40 tackles as a sophomore.
1985: Started the Citrus Bowl at outside linebacker, when Kumerow had an ankle injury … won a letter, playing 11 games for a total of 30.5 minutes.
High School: A second-team all-Ohio linebacker … helped lead Lake Catholic to back-to-back berths in the state playoffs his last two years … In three years as a starting linebacker at Lake Catholic, his teams posted records of 9-1-2, 9-2 and 8-1 … took third at the state wrestling meet as a junior … captained his high school football and wrestling teams.
Personal: Hobby is skiing … one of six children … his older brother, Mark, played football at Ohio State in 1979 and '80 and his twin brother, Mike, was part of the 1985 Buckeyes' recruiting class … admires Dick Butkus.
Defense
| Season | Team | G | GS | Tkl | Solo | Asst | TFL | TFL Yds | Sacks | Sack Yds | FF | FR | Int | Int Yds | PBU | Blk | Def TD | KR | KR Yds |
| --- | --- | --- | --- | --- | --- | --- | --- | --- | --- | --- | --- | --- | --- | --- | --- | --- | --- | --- | --- |
| 1985 | Ohio State | 11 | 1 | 13 | 11 | 2 | 1 | 9 | 1 | 9 | 0 | 0 | 0 | 0 | 1 | 0 | 0 | 0 | 0 |
| 1986 | Ohio State | 13 | 2 | 40 | 15 | 25 | 3 | 21 | 2 | 18 | 0 | 1 | 0 | 0 | 1 | 0 | 0 | 0 | 0 |
| 1987 | Ohio State | 7 | 3 | 33 | 15 | 18 | 1 | 1 | 1 | 1 | 0 | 2 | 1 | 5 | 0 | 0 | 0 | 2 | 7 |
| 1988 | Ohio State | 11 | 9 | 88 | 38 | 50 | 4.0 | 19 | 0 | 0 | 1 | 0 | 0 | 0 | 0 | 0 | 0 | 0 | 0 |
| Total | - | 42 | 15 | 174 | 79 | 95 | 9 | 50 | 4 | 28 | 1 | 3 | 1 | 5 | 2 | 0 | 0 | 2 | 7 |