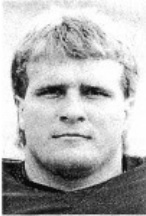 Nationality

United States

Position

ILB, NG, ST

Height

6'0"

Weight

241

Birthday

10/27/1965

Hometown

Timberlake, OH

High School

Lake Catholic

Current Team

Ohio State

Seasons

1985, 1986, 1987, 1988
Major: Arts & Sciences (1988)
Weight: 241 (1988), 238 (1987), 223 (1986), 218 (1985)
1988 Media Guide: Mike Sullivan is Ohio State's leading returning tackler … will vie for all-Big Ten honors this fall … a tough, competitive and very emotional player … often outsized, he relies on quickness and strength to get to the ball carrier … moved to nose guard as a sophomore.
1987: Started all 11 games last year and had 78 tackles, second on the team to All-American Chris Spielman … had nine tackles for losses and five sacks … 14 tackles against Michigan State …
1987 Media Guide: A twin brother of Buckeye linebacker John Sullivan … a valuable member of the special teams because of his all-out play.
1986: Played in all 13 games (one start) last year, chiefly at nose guard … made 45 tackles in 1986, including two for lost yardage … blocked the only punt for the Buckeyes last year (vs. Illinois).
1986 Media Guide: Will play as a down lineman over the middle because of his quickness and strength.
1985: Played in 12 games as a freshman, seeing action with the special teams and as a reserve linebacker.
High School: Two-time all-Ohio pick at middle guard … All-American as a senior … named Cleveland Touchdown Club "High School Player of the Year" in 1984 … won the Ohio heavyweight wrestling championship as a senior.
Personal: Has four brothers and a sister … older brother, Mark, played for the Buckeyes in 1979 and '80 … lists his brothers as the athletes he most admires … hobby is water skiing … admires Jack Lambert … does construction work for his father, a contractor, in the summer.
Defense
| Season | Team | G | GS | Tkl | Solo | Asst | TFL | TFL Yds | Sacks | Sack Yds | FF | FR | Int | Int Yds | PBU | Blk | Def TD | KR | KR Yds | KR Avg |
| --- | --- | --- | --- | --- | --- | --- | --- | --- | --- | --- | --- | --- | --- | --- | --- | --- | --- | --- | --- | --- |
| 1985 | Ohio State | 12 | 0 | 18 | 11 | 7 | 1 | 2 | 0 | 0 | 1 | 0 | 0 | 0 | 0 | 0 | 0 | 1 | 8 | 8.0 |
| 1986 | Ohio State | 13 | 1 | 45 | 22 | 23 | 2 | 12 | 1 | 7 | 0 | 0 | 0 | 0 | 0 | 1 | 0 | 3 | 22 | 7.3 |
| 1987 | Ohio State | 11 | 11 | 78 | 29 | 49 | 9 | 44 | 5 | 35 | 0 | 0 | 0 | 0 | 1 | 0 | 0 | 0 | 0 | 0 |
| 1988 | Ohio State | 11 | 11 | 67 | 30 | 37 | 6.0 | 22 | 0.5 | 4 | 0 | 2 | 1 | 13 | 1 | 0 | 1 | 0 | 0 | 0 |
| Total | - | 47 | 23 | 208 | 92 | 116 | 18 | 80 | 6.5 | 46 | 1 | 2 | 1 | 13 | 2 | 1 | 1 | 4 | 30 | 7.5 |