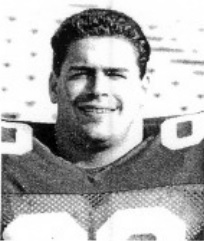 Nationality

United States

Position

ILB, NG, DT

Height

6'2"

Weight

230

Birthday

9/29/1965

Hometown

Eaton, OH

High School

Eaton

Past Teams

Ohio State

Seasons

1984, 1985, 1986, 1987
Major: Recreation Education (1984-87)
Weight: 230 (1987), 238 (1985-86), 234 (1984)
1987 Media Guide: How won three football letters and started 21 of 35 games he has played for the Buckeyes … has returned to interior linebacker, where he played as a freshman in 1984, after being used at nose guard and defensive tackle … has lost over ten pounds to improve his agility at linebacker … a likely starter opposite Chris Spielman.
1986: Made 42 tackles last year, including seven lost yardage stops while playing defensive tackle.
1986 Media Guide: Played in 22 games over the past two seasons and has drawn eight starting assignments … made 27 tackles last year and recovered two opponent fumbles.
1985 Media Guide: A hard working athlete who has shown marked improvement … bench presses 370 pounds and lifts 570 in the squat.
1984: Played 52.5 minutes in ten games and had two starts … made 23 tackles last season.
1984 Media Guide: Improved 40 pounds in the bench press during his freshman year.
1983: Did not play in 1983.
High School: A versatile athlete, he won 11 high school letters at Eaton … captained the football team as a senior and was twice captain of the wrestling team … rushed for 632 yards his senior year, averaged 46.6 yards per punt and kicked 12 of 15 extra points.
Personal: Hobbies are fishing and camping … admires Jack Lambert, Roger Staubach and Dan Gable.
Defense
| Season | Team | G | GS | Tkl | Solo | Asst | TFL | TFL Yds | Sacks | Sack Yds | FF | FR | Int | Int Yds | PBU | Blk | Def TD |
| --- | --- | --- | --- | --- | --- | --- | --- | --- | --- | --- | --- | --- | --- | --- | --- | --- | --- |
| 1984 | Ohio State | 10 | 2 | 23 | 12 | 11 | 1 | 1 | 0 | 0 | 1 | 0 | 0 | 0 | 0 | 0 | 0 |
| 1985 | Ohio State | 12 | 6 | 27 | 10 | 17 | 2 | 4 | 0 | 0 | 0 | 2 | 0 | 0 | 0 | 0 | 0 |
| 1986 | Ohio State | 13 | 13 | 42 | 24 | 18 | 7 | 25 | 2 | 12 | 2 | 1 | 1 | 13 | 2 | 0 | 0 |
| 1987 | Ohio State | 10 | 5 | 30 | 15 | 15 | 0 | 0 | 0 | 0 | 2 | 2 | 0 | 0 | 0 | 0 | 0 |
| Total | - | 45 | 26 | 122 | 61 | 61 | 10 | 30 | 2 | 12 | 5 | 5 | 1 | 13 | 2 | 0 | 0 |