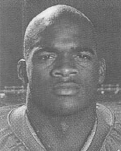 Nationality

United States

Position

DB, FB, ST, TB, OLB

Height

6'2"

Weight

235

Birthday

8/27/1977

Hometown

Boca Raton, FL

High School

Pope John Paul II

Current Team

Ohio State

Seasons

1996, 1997, 1998, 1999, 2000
Post-OSU Update: Jerry Westbrooks was undrafted in the 2001 NFL Draft, but attended training camp for the Jacksonville Jaguars. Later in 2001, he was picked up by the Miami Dolphins, but never played a game. In 2002, Westbrooks played in NFL Europe. (updated: Apr. 2002)
Major: Economics (1999-00), Undeclared (1998), Communication (1997), Unknown (1996)
Weight: 231 (2000), 225 (1998-99), 235 (1997), 210 (1996)
2000 Media Guide: Jerry Westbrooks is gifted with incredible natural ability. The fifth-year senior stands a hair above 6-2, is 231 pounds of solid muscle, and has 4.3 speed. Westbrooks has yet to receive the number of carries he would like. That may change this year. Although Derek Combs is listed as the No. 1 tailback on the preseason depth chart, Tim Spencer, running backs coach, predicts heated battles for playing time. "We've got three guys that will wage some interesting battles for playing time at tailback. I see Jerry as a young man that is ready for a coming-out party." The OSU coaching staff has moved Westbrooks, and his multiple talents, from position-to-position over the last four years in an attempt to find an open spot – from tailback to fullback to strong safety followed by a return to tailback. At any position, his potent combination of speed and strength is an asset.
1999: Played in 11 games and rushed for 70 yards on 17 carries … ran seven times for 31 yards and his first career touchdown against UCLA … broke free for a 15-yard gain against the Bruins, the longest run of his career … the 7-yard touchdown versus UCLA came on his second carry of the game and only the third carry of his career … rumbled for a season-high 33 yards on just six carries in the win over Iowa … carried the ball in a total of five games … played a season-high eight minutes against Penn State … caught his first pass vs. Ohio.
1999 Media Guide: How deep is OSU's tailback position? Deep enough to keep an athlete like Jerry Westbrooks, a talented tailback with size, speed and strength, off the two-deep charts so far. That hasn't kept Westbrooks, a friendly and good-natured young man, from being a team player throughout his OSU career. He has flip-flopped from tailback in an effort to find his best collegiate position. It appears to be tailback and that is the position where he will try during the 1999 season to add on to his 11 career appearances, with most of those on special teams.
1998: Played in eight games as a special team's performer and as a reserve tailback. Had one carry for a gain of three yards against Toledo.
1998 Media Guide: Is now in his third position – tailback – at Ohio State … moved back to his old high school position during spring ball after making the switch to defensive back last season from fullback … took to the adjustment very well, although he still has more of the offense to become familiar with … running backs coach Tim Spencer says Jerry "showed flashes of good signs early … he has good speed and he has a style similar to Joe Montgomery."
1997: Began the year as a fullback, but was shifted to safety midway through fall camp …saw limited playing time in three games, but did have a tackle for loss in the Bowling Green game … also had a forced fumble in that game … also played on the special teams.
1997 Media Guide: Redshirted last year as a freshman … came to Ohio State as a tailback, but was shifted to fullback midway through the '96 season … will contend with Charlie Sanders for the backup spot behind starter Matt Keller this fall … is a physically impressive young player, who has a chance to play if he can take on the mind-set of an Ohio State fullback … has good speed and is capable of a quick strike if he breaks through the line of scrimmage … has a physique very similar to that of former OSU Heisman Trophy winner Eddie George and, coincidentally, wears George's old number … has added 15 pounds since last fall.
High School: Rushed for over 1,432 yards and 21 touchdowns as a senior at Pope John Paul High School … had 66 tackles and seven sacks as a senior … For his career, rushed for 2,968 yards and 32 TDs … had 202 tackles, 31 sacks and one interception in his career … also caught 69 passes in his career … All-America selection by Bluechip Illustrated and SuperPrep … two-time all-state selection … rated the third best skill player in the country by SuperPrep and the sixth best player in Florida … Rated the 11th best athlete in the country by Bluechip Illustrated and the fourth best athlete in the Southeast region … Rated the 63rd best player in the Southeast region by Prep Football Report … four-year starter and letterwinner in football and a four-year letterwinner in basketball and track … three-time football captain … Two-time All-America track performer and all-state three times … Two-time all-state in basketball … high school coach is Terry Gough.
Personal: Chose Ohio State because "of the sense of family"… plans to major in communications … has two brothers and two sisters … plans to major in communications … full name is Jerry Lee Westbrooks.
Offense
| Season | Team | G | GS | Rush Att | Rush Yds | Rush TD | Tgt | Rec | Rec Yds | Rec TD | Lng | Fum | Lost |
| --- | --- | --- | --- | --- | --- | --- | --- | --- | --- | --- | --- | --- | --- |
| 1997 | Ohio State | 2 | 0 | 0 | 0 | 0 | 0 | 0 | 0 | 0 | 0 | 0 | 0 |
| 1998 | Ohio State | 8 | 0 | 1 | 3 | 0 | NA | 1 | 7 | 0 | 7 | NA | NA |
| 1999 | Ohio State | 11 | 0 | 17 | 70 | 1 | 1 | 1 | 2 | 0 | 15 | 1 | 1 |
| 2000 | Ohio State | 12 | 0 | 43 | 97 | 3 | 4 | 4 | 39 | 0 | 12 | 0 | 0 |
| Total | - | 33 | 0 | 61 | 170 | 4 | 5 | 6 | 48 | 0 | 34 | 1 | 1 |
Defense
| Season | Team | G | GS | Tkl | Solo | Asst | TFL | TFL Yds | Sacks | FF |
| --- | --- | --- | --- | --- | --- | --- | --- | --- | --- | --- |
| 1997 | Ohio State | 2 | 0 | 1 | 1 | 0 | 1 | 3 | 0 | 1 |
| 1998 | Ohio State | 8 | 0 | 0 | 0 | 0 | 0 | 0 | 0 | 0 |
| 1999 | Ohio State | 11 | 0 | 1 | 1 | 0 | 0 | 0 | 0 | 1 |
| 2000 | Ohio State | 12 | 0 | 0 | 0 | 0 | 0 | 0 | 0 | 0 |
| Total | - | 33 | 0 | 2 | 2 | 0 | 1 | 3 | 0 | 2 |