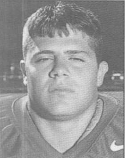 Nationality

United States

Position

FB

Birthday

12/2/1976

Hometown

Mason, OH

High School

Moeller

Height

6'0"

Weight

238

Current Team

Ohio State

Seasons

1995, 1996, 1997, 1998, 1999
Major: Communications (1997-99), Undecided (1995-96)
Weight: 238 (1998-99), 230 (1997), 210 (1996), 200 (1995)
1999 Media Guide: It would be hard to find anyone on the current Ohio State football team who has done more for the team than the cheesecake-loving Matt Keller. This 37-game, 22-start veteran has caught passes, rushed for touchdowns, blocked like a lineman and just made big play after big play throughout his career. And he has done it all – off the field as well, in the classroom and during interviews – with a touch of class that only the finest student-athletes exhibit. A highly-touted and award-winning high school tailback, Keller came into the Ohio State program and willingly accepted a position change to fullback. Although somewhat undersized for the I-formation fullback, he has stood out at the position his entire career – "he works his tail off" running back's coach Tim Spencer said – and he'll be remembered as one of the most versatile fullbacks in OSU history and one of its best pass-catching fullbacks. Keller enters his senior season with not only 521 career rushing yards, but also 52 receptions for 574 yards and three touchdowns. He has a 69-yard touchdown reception to his credit (vs. Purdue in 1996) and a long touchdown rush of 22 yards (vs. Pitt in 1996).
1998 Media Guide: Valuable offensive performer who will be in his second year as the Buckeyes' starting fullback … possesses a great work ethic and tremendous attitude … "he works his tail off," says running back's coach Tim Spencer, and adds "he is not your typical I-back fullback, but he is crafty enough to get the job done" … does whatever it takes to help the team … savvy, all-
around player who can run, catch and block … has 378 career rushing yards, 374 career receiving yards and 36 receptions … has the power to go inside and the speed to break away once he gets into the secondary … has excellent hands and is a dangerous outlet receiver … one of the unsung heroes of the offense … came to Ohio State as a 200-pound tailback, but has since gained over 30 pounds.
1997: Finished the 1997 campaign as the Buckeyes' third leading rusher with 257 yards … was also third in receptions with 19 … paced the Buckeyes in rushing in back-to-back games, netting 50
yards against Michigan State and 37 against Minnesota, marking the first time since 1991 that a fullback had led the Buckeyes in rushing yards … had four receptions against both Penn State and Northwestern.
1997 Media Guide: Heads into the fall as the leading candidate to replace Matt Calhoun … backed up Calhoun last year and played well in his first year of competition … lacks the brute size and strength that has been characteristic of Ohio State fullbacks over the years, but is an effective, intelligent blocker and a tough, hard-nosed ball carrier with excellent speed … hard worker with a great attitude.
1996: Used primarily on passing downs last year and wound up with 17 catches for 235 yards and two touchdowns … one of those receptions was a 63-yard TD grab at Purdue that broke open a close game … his other TD catch came in the early stages of the Penn State game … biggest catch of the year was a 22-yard, over-the-shoulder reception in the first quarter of the Rose Bowl that set up Ohio State's first touchdown … did carry the ball 25 times for 121 yards, an average of 4.8 yards per carry … lone rushing TD came against Pittsburgh on a career-long 22-yard run.
1996 Media Guide: Talented young back who has caught the coaching staff's eye because of his all-around ability … was tried at both tailback and fullback in the spring, but then settled on the latter … has good speed and vision and a great pair of hands … capable of taking a short pass and turning it into a long gainer by running away from the defense … not real big as fullbacks go, but won't hesitate to throw a block … good football player with a terrific attitude … got a lot of reps in the spring which should really help his progess … figures to play a lot of football for the Buckeyes before his career is over.
High School: Rushed for 1,116 yards and 15 touchdowns as a senior, when he also caught 33 passes for 495 yards and added 485 yards on returns … earned special mention Division I all-state honors … accounted for 3,748 all-purpose yards and scored 34 touchdowns during his career, including 19 TDs as a junior … saw action at tailback and fullback, and also returned punts and kickoffs … team finished 13-1 his junior year, losing in the state championship game … from the same high school as Buckeye signee Rob Murphy … also played lacrosse at Moeller.
Personal: Hobbies include hunting and fishing.
Offense
| Season | Team | G | GS | Rush Att | Rush Yds | Rush TD | Tgt | Rec | Rec Yds | Rec TD | Lng | Fum | Lost | FR | KR | KR Yds |
| --- | --- | --- | --- | --- | --- | --- | --- | --- | --- | --- | --- | --- | --- | --- | --- | --- |
| 1996 | Ohio State | 12 | 1 | 25 | 121 | 1 | 24 | 17 | 235 | 2 | 63 | 1 | 0 | 0 | 0 | 0 |
| 1997 | Ohio State | 13 | NA | 59 | 257 | 0 | NA | 19 | 139 | 0 | 22 | NA | NA | NA | 2 | 27 |
| 1998 | Ohio State | 12 | 10 | 36 | 143 | 1 | NA | 16 | 200 | 1 | 49 | NA | NA | 0 | 2 | 16 |
| 1999 | Ohio State | 7 | 6 | 16 | 61 | 0 | 12 | 8 | 130 | 1 | 38 | 0 | 0 | 0 | 1 | 9 |
| Total | - | 44 | 17 | 136 | 582 | 2 | 36 | 60 | 704 | 4 | 172 | 1 | 0 | 0 | 5 | 52 |