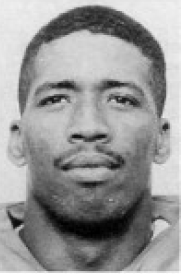 Nationality

United States

Position

FL

Birthday

2/14/1969

Hometown

Dayton, OH

High School

Kettering Alter

Height

6'2"

Weight

195

Current Team

Ohio State

Seasons

1988, 1989, 1990
Post-OSU Update: Jeff Graham was a second round pick (46th overall) in the 1991 NFL Draft by the Pittsburgh Steelers. Graham enjoyed a lengthy NFL career, playing 160 games over 11 years. He caught 542 passes for 8,172 yards and 30 touchdowns. (updated: Nov. 2022)
Major: Recreation Education (1990), Communications (1988-89)
Weight: 195 (1989-90), 185 (1988)
1990 Media Guide: One of the top receivers in college football … strong All-America candidate … coming off an excellent year in which he led Ohio State in receptions (32) and led the Big Ten in average yards per catch (19.0) … great hands and leaping ability … OSU's big play receiver … also the Buckeyes' No. 1 punt returner … carried the ball three times last year and averaged 14 yards a carry … re-aggravated a groin pull in the Hall of Fame Bowl and was held out of spring practice as a precautionary measure … has 59 career catches for 1,046 yards, an average of 17.7 yards per reception … 12th in career receiving at OSU … good blocker … 68-yard pass reception against Auburn in the Hall of Fame Bowl is an OSU bowl record.
1989: started all 12 games … began the year at split end, but was moved to flanker midway through the season in an effort to get him the ball more … caught the winning TD in a comeback victory at Minnesota … averaged 11.8 yards per punt return and had a 66-yard runback for a TD at Illinois … 100-yard games against Boston College, Minnesota and Auburn … top game was six catches at Minnesota.
1988: Played in 10 games and started the last eight … second on the squad in receptions with 27, good for 438 yards and two touchdowns … averaged 16.2 yards per catch, tops on the squad … did not catch a pass in the opener, but had at least one reception in each of OSU's last 10 games … top game was against Wisconsin — six receptions for 121 yards and a TD.
1988 Media Guide: Sat out last year … should be of immediate help once he regains his competitive edge … will be tried initially at flanker but might also see some playing time at split end … an outstanding athlete who has the potential to work his way up the depth chart … good speed and a slashing-type runner.
1987: Not eligible to compete.
HIGH SCHOOL: An all-state selection in both football and basketball, lettering three years in both sports … played wide receiver as a sophomore and junior, but was a quarterback as a senior … during his three years at Alter, his teams were 28-6… captain of the basketball team as a senior.
PERSONAL: Hobby is bowling and playing basketball … wants to go into sports broadcasting after his playing career is over.
Offense
| Season | Team | G | GS | Comp | Pass Att | Pass Yds | Pass TD | Rush Att | Rush Yds | Rush Avg | Rush TD | Tgt | Rec | Rec Yds | Rec Avg | Rec TD | Lng | 2 Pt Conv | Fum | Lost | FR | KR | KR Yds | KR TD | PR | FC | PR Yds | PR Avg | PR TD |
| --- | --- | --- | --- | --- | --- | --- | --- | --- | --- | --- | --- | --- | --- | --- | --- | --- | --- | --- | --- | --- | --- | --- | --- | --- | --- | --- | --- | --- | --- |
| 1988 | Ohio State | 10 | 8 | 0 | 1 | 0 | 0 | 1 | 1 | 1.0 | 0 | NA | 27 | 438 | 16.2 | 2 | 33 | 0 | 0 | 0 | 0 | 0 | 0 | 0 | 0 | 0 | 0 | 0 | 0 |
| 1989 | Ohio State | 12 | 12 | 0 | 0 | 0 | 0 | 3 | 41 | 13.7 | 0 | NA | 32 | 608 | 19.0 | 3 | 80 | 0 | 1 | 0 | 1 | 0 | 0 | 0 | 17 | NA | 201 | 11.8 | 1 |
| 1990 | Ohio State | 12 | 11 | 1 | 1 | 60 | 1 | 4 | 22 | 5.5 | 0 | 64 | 35 | 658 | 18.8 | 6 | 65 | 1 | 2 | 0 | 0 | 2 | 18 | 0 | 22 | 5 | 312 | 19.7 | 2 |
| Total | - | 34 | 31 | 1 | 2 | 60 | 1 | 8 | 64 | 9.0 | 0 | NA | 94 | 1704 | 18.9 | 11 | 80 | 1 | 3 | 0 | 1 | 2 | 18 | 0 | 39 | 5 | 513 | 13.2 | 3 |