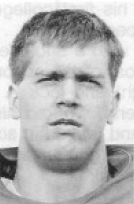 #

97

Name

Joe Metzger

Nationality

United States

Position

TE

Birthday

6/24/1969

Hometown

Centerville, OH

High School

Kettering Alter

Height

6'2"

Weight

237

Current Team

Ohio State

Seasons

1990, 1991, 1992
Major: Marketing (1992), Business (1990-91)
Weight: 243 (1992), 235 (1991), 237 (1990)
1992 Media Guide: Has never caught a pass during his collegiate career, but heads into the 1992 season as the No. 1 tight end … easily the most pleasant surprise of the spring … coachable, hard working and hungry for a chance to leave his mark … good blocker because of his exceptional upper body strength … has good hands and surprising speed … even though he has seen only limited action during his career at Ohio State, the coaching staff is very confident in Metzger's ability to get the job done … came to OSU as a linebacker, but was moved to tight end in the spring of 1990 … most of his playing time in prior seasons came as a special teams player … totaled 58 minutes in 12 games last year and did start the Minnesota game … solid in all areas.
1991 Media Guide: Reserve tight end who is in just his second year at the position … played a total of 31 minutes in nine games last year, mostly with the special teams … had no receptions … could see more playing time this year because of a lack of depth at tight end … does have good speed (holds his high school record for the 100) and is a good athlete.
1990 Media Guide: Good athlete who played outside linebacker last year … moved to tight end last spring to bolster OSU's depth there … was a high school tight end and should be a valuable addition once he reacquaints himself with his old position … has good speed (holds the Centerville High record in the 100-meter dash).
1990: Moved to tight end for the first time … played in nine games for a total of 31 minutes, almost all of that on special teams.
1989: Played in eight games, seeing action both at OLB and on the specialty teams … had three tackles.
1988: Redshirted.
HIGH SCHOOL: An all-Southwest Ohio and honorable mention all-state selection at tight end as a senior … also played defensive line and linebacker and had 218 career tackles to go along with his 26 lifetime receptions … was a regional qualifier in the 200-meter dash.
Offense
| Season | Team | G | GS | Tgt | Rec | Rec Yds | Fum |
| --- | --- | --- | --- | --- | --- | --- | --- |
| 1990 | Ohio State | 8 | 0 | 0 | 0 | 0 | 0 |
| 1991 | Ohio State | 9 | 0 | 0 | 0 | 0 | 0 |
| 1992 | Ohio State | 5 | 0 | 1 | 1 | 2 | 0 |
| Total | - | 22 | 0 | 1 | 1 | 2 | 0 |