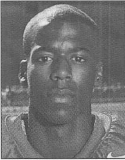 Nationality

United States

Position

DB, CB

Birthday

10/18/1979

Hometown

Westerville, OH

High School

South

Height

6'1"

Weight

195

Current Team

Ohio State

Seasons

1997, 1998, 1999, 2000
Post-OSU Update: David Mitchell was not selected in the 2001 NFL Draft. He spent time with the Chicago Bears in training camp, but was waived prior to the season.
Major: Physical Therapy (1998-00), Unknown (1997)
Weight: 195 (1998-00), 185 (1997)
2000 Media Guide: David Mitchell finds himself in an unfamiliar position leading into the 2000 season – but one that he has been dreaming about for three years. As the lone senior in the defensive backfield and a starter at cornerback, Mitchell is the senior statesman of the Ohio State secondary. A smart football player that just seems to get better and better, Mitchell has just one career start to his credit but is a veteran of 36 games – second most on the team. He has all the attributes of a solid corner, including speed, agility, leaping ability and natural athleticism. Mix that in with his exceptional understanding of the game and defensive schemes and you've got the makings of a great cornerback that can lead not only the secondary but the entire defense. "David Mitchell is really the leader of the group because he's been here the longest," Jon Tenuta, defensive backs coach, said. "Everyone looks up to him. He's done a great job for us. He can play both corner and safety. David is a great kids that works hard every day to get better."
1999: Played in all 12 games, both on special teams and as the nickel back … made his first career start against Purdue … an Academic All-Big Ten selection and an OSU Scholar-Athlete … made 25 tackles, including 22 solos … played 131 minutes, the fifth-most of any defensive back on the team … made a season- and career-high seven tackles against Purdue (all solos), including a TFL … had one pass break-up on the year, coming against Minnesota … made six tackles against Cincinnati and played a season-high 24 minutes in the game.
1999 Media Guide: David Mitchell is a talented student-athlete who will be utilized in a variety of ways on the football field in 1999. A two-time OSU Scholar-Athlete and a two-time Academic All-Big Ten honoree, Mitchell puts his intelligence to use on the football field, whether its playing cornerback or free safety. "David is intelligent," secondary coach Jon Tenuta said. "He understands schemes and he understands the game. He will be used in multiple situations this season and he has proven to be an excellent special teams player." Mitchell enters the 1999 season a veteran of 24 games with 28 career tackles and three pass breakups.
1998 Media Guide: An OSU Scholar-Athlete … played in all 12 regular-season games last year as a true freshman, with some backup time in the secondary and plenty of special teams play … was the backup to All-America Antoine Winfield at the field corner … also played on the special teams… has good size and speed and has shown signs of being a good cover corner … defensive backs coach Jon Tenuta says David is "still learning the game but he is an extremely intelligent football player" … from the same high school as current Buckeye linebackers Andy Katzenmoyer and Chris Kirk.
1997: Finished his rookie campaign with 16 tackles, including 13 solos … had a season-high four tackles against Illinois … had two passes broken up and recovered a fumble … longest stint was
an 11-minute effort against Illinois … totaled 52 minutes.
1997 Media Guide: Recruited as a defensive back but had an exceptional year as a wide receiver and may get a look there … had four interceptions as a defensive back and caught 37 passes on the year, averaging 17.5 yards per catch … Associated Press second-team All-State Defense (Division I) … played in the 1997 Ohio-Pennsylvania Big 33 Classic … from the same high school as current Buckeye linebackers Andy Katzenmoyer and Chris Kirk … son of Essex and Olivia Mitchell … born 10-18-79.
Defense
| Season | Team | G | GS | Tkl | Solo | Asst | TFL | TFL Yds | Sacks | Sack Yds | FF | FR | Int | Int Yds | PBU | Def TD | PR | FC | PR Yds |
| --- | --- | --- | --- | --- | --- | --- | --- | --- | --- | --- | --- | --- | --- | --- | --- | --- | --- | --- | --- |
| 1997 | Ohio State | 12 | 0 | 16 | 13 | 3 | 0 | 0 | 0 | 0 | 0 | 1 | 0 | 0 | 2 | 0 | 0 | 0 | 0 |
| 1998 | Ohio State | 12 | 0 | 12 | 8 | 4 | 1 | 10 | 1 | 10 | 0 | 0 | 1 | 0 | 1 | 0 | 1 | NA | 2 |
| 1999 | Ohio State | 12 | 1 | 25 | 22 | 3 | 1 | 4 | 0 | 0 | 0 | 0 | 0 | 0 | 1 | 0 | 0 | 0 | 0 |
| 2000 | Ohio State | 12 | 12 | 45 | 37 | 8 | 0 | 0 | 0 | 0 | 0 | 1 | 5 | 113 | 11 | 2 | 0 | 0 | 0 |
| Total | - | 48 | 13 | 98 | 80 | 18 | 2 | 14 | 1 | 10 | 0 | 2 | 6 | 113 | 15 | 2 | 1 | 0 | 2 |