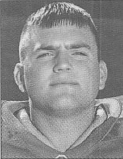 Nationality

United States

Position

ILB

Height

6'3"

Weight

235

Birthday

11/9/1976

Hometown

Westerville, OH

High School

South

Current Team

Ohio State

Seasons

1995, 1996, 1997, 1998, 1999
Major: Sport & Leisure Studies (1998-99), Sociology (1997), Undecided (1996), Unknown (1995)
Weight: 235 (1995-99)
1999 Media Guide: Chris Kirk is a physically tough football player who is battling for the starting middle linebacker position vacated by his good friend, All-America linebacker Andy Katzenmoyer, who left school a year early. Replacing the school's only Butkus Award-winning linebacker won't be an enviable task, but Kirk is more than ready for the challenge. "Chris is a tackle-to-tackle player who is physical and plays very strong," defensive coordinator Fred Pagac said. "He has a good feel for the schemes and for what we are trying to accomplish from the position." A fifth-year senior, Kirk has been the backup at middle linebacker for three years. He has played in 26 games during that time and recorded 27 tackles including four behind the line of scrimmage for losses totaling 14 yards.
1998: Saw action in eight games at middle linebacker and also on special teams.
1998 Media Guide: Will back-up close friend and former high school teammate Andy Katzenmoyer for the third straight year at middle linebacker … a fine linebacker in his own right, but has seen only limited playing time the past two seasons behind the talented Katzenmoyer … Fred Pagac says Chris "can help us win … he is an excellent run stopper and he is a physically tough player" … has played in 18 games over the past two years and has been in on 26 tackles … also plays on the special teams.
1997: Played in all 12 games and finished the season with 18 tackles, including 13 solos … recorded a career-high five tackles against Indiana, including his first career sack … also had a tackle for loss against Illinois … had a season-high 11 minutes against the Fighting Illini and played nine minutes in the win over Arizona.
1997 Media Guide: Will back up Andy Katzenmoyer in the middle for the second straight season … should also get a lot of playing time with the special teams.
1996: Appeared in six games and totaled 41 minutes … finished the year with eight tackles, including a season-best four stops against Pittsburgh … recorded his first career tackle for loss against Pitt … longest stint last year was 10 minutes against Minnesota … is a good football player, but is in the unenviable position of playing behind Katzenmoyer.
1995: Redshirted.
1995 Media Guide: First team All-Central Ohio and special mention Orne of the top offensive lineman in the state last all-state as a senior … helped his team reach the state Division I championship game last fall, before losing to Cleveland St. Ignatius … South finished 12-2 and defeated state-ranked Hilliard, Dublin and Cincinnati Colerain in the playoffs before reaching the title game … had six fumble recoveries and eight fumbles caused … selected to play in both the Ohio North-South and Central District all-star games … a three-year starter who played tackle as a sophomore before moving to linebacker.
Defense
| Season | Team | G | GS | Tkl | Solo | Asst | TFL | TFL Yds | Sacks | Sack Yds | FF | Int | PBU |
| --- | --- | --- | --- | --- | --- | --- | --- | --- | --- | --- | --- | --- | --- |
| 1995 | Ohio State | 0 | 0 | 0 | 0 | 0 | 0 | 0 | 0 | 0 | 0 | 0 | 0 |
| 1996 | Ohio State | 6 | 0 | 8 | 7 | 1 | 1 | 1 | 0 | 0 | 0 | 0 | 0 |
| 1997 | Ohio State | 12 | 0 | 18 | 13 | 5 | 2 | 8 | 1 | 6 | 0 | 0 | 0 |
| 1998 | Ohio State | 8 | 0 | 1 | 0 | 0 | 1 | 5 | 1 | 5 | 0 | 0 | 0 |
| Total | - | 26 | 0 | 27 | 20 | 6 | 4 | 14 | 2 | 11 | 0 | 0 | 0 |