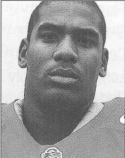 Nationality

United States

Position

TE

Birthday

3/16/1979

Hometown

Warrensville Heights, OH

High School

Warrensville Heights

Height

6'6"

Weight

265

Current Team

Ohio State

Seasons

1998, 1999, 2000, 2001
Post-OSU Update: Darnell Sanders left Ohio State after the 2001 season (he had one more year of eligibility) and was selected with the 122nd pick in the 2002 NFL Draft by the Cleveland Browns. Sanders played parts of three seasons in the NFL, starting most of the 2003 season and catching 15 passes for 95 yards with the Browns. He finished his career with 18 catches for 118 yards and two touchdowns. After his NFL career, Sanders started a landscaping business in Northeastern Ohio called Nature's Finest Landscaping. (updated: Aug 2022)
Major: Sociology (2001), Family Resource Management (1999-00), Business (1998)
Weight: 265 (1998-01), 235 (1997)
2001 Media Guide: Darnell Sanders is the starter at tight end and one of the top players in the Big Ten, if not the country, at his position … has size, speed, hands and great athletic ability, and is very coachable … started for the first time last year and wound up as the Buckeyes' second leading receiver (behind senior Ken-Yon Rambo) with 23 catches for 270 yards … led the team in touchdown receptions with five … became the Buckeyes' "money receiver" down the stretch, repeatedly making clutch catches in pressure situations … has a chance to earn postseason honors this year if he continues to improve … should be a very valuable part of the Ohio State arsenal.
2000 Season: Had at least one catch in 10 games … top game was five receptions for 47 yards against South Carolina in the Outback Bowl … three catches, two for touchdowns, at Illinois.
2000 Media Guide: The future looks bright – and big – at tight end for the Ohio State football program. Towering third-year sophomore Darnell Sanders will look to take over the starting spot created by the departures of seniors Steve Wisniewski and Kevin Houser. Sanders is extremely athletic and continues to get stronger and stronger. And don't let his size fool you – the former high school quarterback has exceptionally soft hands and can make the acrobatic play in his 6-foot, 6-inch frame. "Darnell Sanders is a young man with a lot of physical talent," tight ends coach Bill Conley said. "He can run and is a great athlete with sure hands and the ability to make the big play. Since coming to Ohio State, he has also become a very good blocker. He is really an all-around football player now. He has a great attitude and he's one of the leaders on our football team because he has such a great personality."
1999: Played in all 12 games … made one catch for 7 yards, a touchdown grab from halfback Michael Wiley against Purdue … played a total of 62 minutes, including a season-high nine minutes against Michigan in the season finale.
1999 Media Guide: Darnell Sanders is getting used to playing a new position and his new size. A high school quarterback and strong safety, Sanders is now a 265-pound tight end who has "excellent athletic ability, good hands and is improving as a blocker all the time," tight ends coach Bill Conley said.
1998: Redshirted the 1998 season as a true freshman. Enrolled in the winter of 1998 and was able to practice through spring drills.
1998 Media Guide: Very athletic tight end … is still learning the Ohio State scheme … enrolled at Ohio State this past January and participated in spring drills … has added weight and muscle in the short time he's been here … tight ends coach Bill Conley says Darnell "has speed and he is an athlete … he improved with each practice and he has a chance to get some playing time as a true freshman."
High School: Had an all-around solid season, picking off eight passes as a safety, throwing for over 800 yards and rushing for over 400 yards as a quarterback … will play tight end in college … All-America selection by PrepStar … was also chosen to the Big Ten region Super 26 team by PrepStar … played in the 1997 Ohio-Pennsylvania Big 33 Classic … son of Larry and Donna Sanders … born 3-16-79.
Offense
| Season | Team | G | GS | Tgt | Rec | Rec Yds | Rec Avg | Rec TD | Lng | Fum | Lost | KR | KR Yds | KR TD |
| --- | --- | --- | --- | --- | --- | --- | --- | --- | --- | --- | --- | --- | --- | --- |
| 1999 | Ohio State | 11 | 0 | 4 | 1 | 7 | 7.0 | 1 | 7 | 0 | 0 | 0 | 0 | 0 |
| 2000 | Ohio State | 12 | 12 | 39 | 23 | 270 | 11.7 | 5 | 29 | 0 | 0 | 0 | 0 | 0 |
| 2001 | Ohio State | 12 | 12 | 23 | 18 | 197 | 10.9 | 3 | 27 | 1 | 1 | 0 | 0 | 0 |
| Total | - | 35 | 24 | 66 | 42 | 474 | 11.3 | 9 | 29 | 1 | 1 | 0 | 0 | 0 |