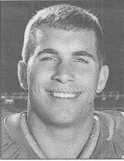 Nationality

United States

Position

LS, TE, DE

Birthday

8/23/1977

Hometown

Westlake, OH

High School

Westlake

Height

6'4"

Weight

250

Current Team

Ohio State

Seasons

1996, 1997, 1998, 1999
Pronunciation: HOWZ-er
Major: Finance (1999)
Weight: 250 (1996-99)
1999 Media Guide: Kevin Houser has spent three years as a special teams warrior for the Buckeyes and this fall one can expect to see him a lot more on the field as part of the Ohio State offense. A gifted long snapper who has handled all of the snapping chores – in 35 games the past three years, Houser will be a key tight end performer this coming season. "Kevin has been our most consistent tight end over the past year," tight ends coach Bill Conley said. "He is a consistent receiver and blocker and we expect him to have a great year." One of the friendliest guys on the team, Houser is also one of the best student-athletes. Three times he has been named an OSU Scholar-Athlete and twice he has made the Big Ten Conference's all-Academic Team.
1998: Played in all 12 games as a long snapper on special teams and also as a blocking tight end. A fractured left wrist during spring drills slowed an outstanding spring start. Caught his first collegiate pass, a 10-yard reception in the win over Indiana. Solid on special teams, recording seven tackles including six solo stops.
1998 Media Guide: An improving tight end who has been the Buckeyes' long snapper for punts and placements for the past two years … has played in 24 games and has proven to be a steady and dependable performer … was having an outstanding spring practice at tight end until he suffered a fracture of the left wrist … has good hands and is a fine receiver, but has been used primarily as a blocker and is still looking for his first collegiate reception … his position coach, Bill Conley, says Kevin "is a student of the game and we expect to see him getting lots of playing time at tight end this fall"… a two-time OSU Scholar-Athlete and an academic all-Big Ten honoree.
1997: Played in all 13 games as both a long snapper for all placements and punts and as a reserve tight end … played season high six minutes at Michigan State … recorded four tackles with the special teams.
1997 Media Guide: The holdover center for punts and ail placements … hopes to see additional playing time this year either at tight end or "H" back … was given the chance to redshirt last year,
but rejected it, preferring instead to play on the same team as his older brother, Bob, who was a senior … guaranteed himself playing time by winning a spot on the special teams as long snapper, even though he had not centered since the eighth grade … good young player who can help at several positions and is very team oriented … can catch the ball and is also a fine blocker … could be used in the latter capacity in short-yardage and goal-line situations.
High School: Caught 15 passes for 179 yards and five touchdowns as a senior at Westlake High School … Caught 13 passes as a junior and finished with 38 catches for 413 yards and six TDs for his career … Had 88 tackles as a senior and totaled 273 tackles and 13 sacks for his career … All-state honorable mention selection … Rated the seventh best tight end in the Midwest by Bluechip Illustrated … Rated the 60th best player in the Midwest by SuperPrep … Rated the 61st best player in the Midwest region by Prep Football Report … Rated the 20th best player in Ohio by The Ohio Football Recruiting News … Played in the Ohio-Pennsylvania Big 33 all-star game … High school coach is Vern Long … Lettered four times in football, four in track and twice in basketball … Co-MVP on the basketball team and a regional qualifier in track in the shotput and discus.
Personal: Chose Ohio State because "of great football and great education"… Is the younger brother of current Buckeye tight end Bob Houser … Both parents attended OSU, and his father, Tom, played for the Buckeyes from 1969-72 … Has one brother and one sister … Plans to major in business management … Full name is Kevin James Houser.
Offense
| Season | Team | G | GS | Tgt | Rec | Rec Yds | Rec TD | Lng | Fum | Lost | FR |
| --- | --- | --- | --- | --- | --- | --- | --- | --- | --- | --- | --- |
| 1996 | Ohio State | 11 | 0 | 0 | 0 | 0 | 0 | 0 | 0 | 0 | 0 |
| 1997 | Ohio State | 13 | 0 | 0 | 0 | 0 | 0 | 0 | 0 | 0 | 0 |
| 1998 | Ohio State | 12 | 2 | NA | 1 | 10 | 0 | 10 | NA | NA | 0 |
| 1999 | Ohio State | 12 | 5 | 12 | 6 | 55 | 2 | 20 | 1 | 1 | 2 |
| Total | - | 48 | 7 | 12 | 7 | 65 | 2 | 30 | 1 | 1 | 2 |
Defense
| Season | Team | G | GS | Tkl | Solo | Asst | TFL | FR |
| --- | --- | --- | --- | --- | --- | --- | --- | --- |
| 1996 | Ohio State | 11 | 0 | 1 | 1 | 0 | 0 | 0 |
| 1997 | Ohio State | 13 | 0 | 4 | 3 | 1 | 0 | 0 |
| 1998 | Ohio State | 12 | 2 | 7 | 6 | 1 | 0 | 0 |
| 1999 | Ohio State | 12 | 5 | 4 | 3 | 1 | 0 | 2 |
| Total | - | 48 | 7 | 16 | 13 | 3 | 0 | 2 |