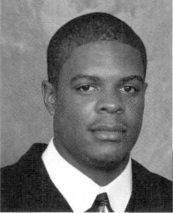 Nationality

United States

Position

FB, ILB, ST, TE

Birthday

7/13/1986

Hometown

Euclid, OH

High School

Euclid

Height

6'3"

Weight

252

Past Teams

Ohio State

Seasons

2004, 2005, 2006, 2007, 2008
Jersey #: 87 (2007-08), 54 (2004-06)
Major: Family Resources Management (2006-08)
Weight: 251 (2008), 252 (2006-07), 240 (2004-05)
2008 Media Guide: Team-oriented veteran in his fifth year at Ohio State … on track to graduate in December.
2007: An outstanding contributor on special teams … played on three of the special units … special teams dog tags: Illinois … third-year letterman.
2007 Media Guide: In his fourth year at Ohio State … came to Ohio State as a linebacker.
2006: Saw action in 11 games, mainly as a member of the special teams.
2006 Media Guide: Came to Ohio State as a linebacker and was redshirted as a freshman … began last season with the defense, but was switched to tight end after injuries claimed Rory Nicol and Ryan Hamby … he and Marcel Frost were the Buckeyes' "lonesome ends" much of the season … was used primarily as a blocker, but did have five receptions and has good hands … is a physical player with a great attitude … is still learning the position and has a chance to be an excellent tight end … also plays on the special teams.
2005: Began the year at linebacker, but was moved to tight end when injuries decimated the position … played in 11 games and earned his first letter … had three reception against San Diego State in week three of the season … also had receptions against Illinois and Northwestern … his 16-yard grab vs. Northwestern was his longest catch of the year.
2005 Media Guide: Was redshirted last year as a freshman … is a good athlete with size and speed … lends quality depth to an already deep position … can play either of the two outside linebacker spots (and he saw time at both in the springs so the coaches could get a better handle on where he would be most valuable) and could also move to a down position on the defensive line … most of his playing time this year will probably be with the special teams … should be a standout on the coverage units … is a physical player with a great attitude.
2004: Did not play any games.
High School: Versatile performer who can play linebacker or tight end … expected to concentrate on the former at Ohio State, but this is not cast in stone and can certainly change in the fall … is a highly regarded athlete who excelled in high school against good competition … has excellent closing speed and is a jarring hitter … could make a name for himself in the fall with the special teams … coming off a productive senior season in which he was credited with a career-high 125 tackles, including four sacks … also had three interceptions last season … started as a junior and finished the season with 70 tackles.
Personal: Is the son of Wilbert and Elzoria Smith … nickname is B-Smeezy … favorite subject is economics … favorite former Buckeye is Pepper Johnson.
Offense
| Season | Team | G | GS | Rec | Rec Yds | Rec Avg | Rec TD | Lng | Fum | Lost | FR | Def TD |
| --- | --- | --- | --- | --- | --- | --- | --- | --- | --- | --- | --- | --- |
| 2005 | Ohio State | 11 | 0 | 5 | 30 | 6.0 | 0 | 16 | NA | NA | 0 | 0 |
| 2006 | Ohio State | 8 | NA | 0 | 0 | 0 | 0 | 0 | 0 | 0 | 0 | 0 |
| 2007 | Ohio State | 13 | NA | 3 | 30 | 10.0 | 0 | 11 | NA | NA | 0 | 0 |
| 2008 | Ohio State | 13 | NA | 8 | 79 | 9.9 | 0 | 21 | NA | NA | 0 | 0 |
| Total | - | 45 | 0 | 16 | 139 | 8.7 | 0 | 21 | NA | NA | 0 | 0 |
Defense
| Season | Team | G | GS | Tkl | Solo | Asst | TFL | TFL Yds | Sacks | Sack Yds | FF | FR | Int | Int Yds | PBU | Blk | Def TD |
| --- | --- | --- | --- | --- | --- | --- | --- | --- | --- | --- | --- | --- | --- | --- | --- | --- | --- |
| 2005 | Ohio State | 11 | 0 | 4 | 2 | 2 | 0 | 0 | 0 | 0 | 0 | 0 | 0 | 0 | 0 | 0 | 0 |
| 2006 | Ohio State | 8 | NA | 4 | 1 | 3 | 0 | 0 | 0 | 0 | 0 | 0 | 0 | 0 | 0 | 0 | 0 |
| 2007 | Ohio State | 13 | NA | 0 | 0 | 0 | 0 | 0 | 0 | 0 | 0 | 0 | 0 | 0 | 0 | 0 | 0 |
| 2008 | Ohio State | 13 | NA | 0 | 0 | 0 | 0 | 0 | 0 | 0 | 0 | 0 | 0 | 0 | 0 | 0 | 0 |
| Total | - | 45 | 0 | 8 | 3 | 5 | 0 | 0 | 0 | 0 | 0 | 0 | 0 | 0 | 0 | 0 | 0 |